Rihanna & Hailey Bieber Wore The Same Outfit For Date Night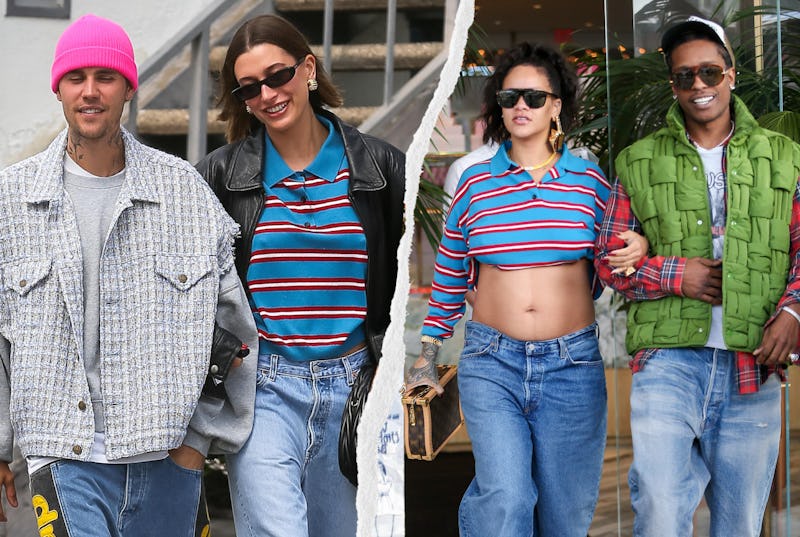 thecelebrityfinder/Bauer-Griffin/GC Images/Getty Images/
We may receive a portion of sales if you purchase a product through a link in this article.
What do Rihanna and Hailey Bieber have in common? A lot, apparently. Both founded beauty brands (Fenty Beauty and Rhode); both are in relationships with musicians (A$AP Rocky and Justin Bieber); and, most recently, both proved they have the similar date night style, stepping out in the same exact shirt.
Days after performing at the Oscars, Rihanna was spotted out with her partner A$AP Rocky in a casual date 'fit. Since Rihanna announced her pregnancy on the Super Bowl halftime stage, she's been chicly dressing around her baby bump — donning strategically-placed sheer belly panels, crop tops, and bejeweled bras to highlight baby number two.
In keeping with her fashion-forward maternity style, Rihanna wore a blue and red striped polo sweater by Loewe that she folded into a crop top. Going for a laid-back look, she paired the shirt with baggy jeans and accessorized with classic work boots, black sunnies, and a boxy Louis Vuitton clutch. Being RiRi, she added an edgy statement piece — an oversize gold earring in the shape of a hand flipping the bird.
To match her casual vibe, she tied her curly hair in a messy top ponytail and kept her glam natural-looking, dabbing just a swab of lip gloss. A$AP, who was by her side the entire time, was in a coordinating casual 'fit: jeans, a button-down, and a vest.
thecelebrityfinder/Bauer-Griffin/GC Images/Getty Images
thecelebrityfinder/Bauer-Griffin/GC Images/Getty Images
The Loewe sweater, which retails for $990, first made its celeb debut just two days earlier when Bieber was spotted in it. Though she had the same idea of wearing the casual item for a date, Bieber styled the shirt slightly differently.
True to the model's off-duty #dadcore aesthetic, Bieber paired the sweater with low-rise baggy jeans and merchandised with an oversized leather jacket (Bieber's go-to styling choice).
She also reached for chunky gold earrings to accessorize her 'fit, but kept the rest of her accouterments nondescript: sunnies, pointed-toe heels, and a Miu Miu handbag, all in black.
thecelebrityfinder/Bauer-Griffin/GC Images/Getty Images
thecelebrityfinder/Bauer-Griffin/GC Images/Getty Images
Just like Rihanna and A$AP, Justin's 'fit flawlessly matched his wife's laid-back energy, donning even baggier jeans and a gray sweater, topped with a tweed vest. (Come to think of it, Justin and A$AP were kind of matching too.)
Achieve a similar look below.
Great fashion minds dress alike.
This article was originally published on