Sol De Janeiro's Cheirosa '62 Has PerfumeTok Completely Spellbound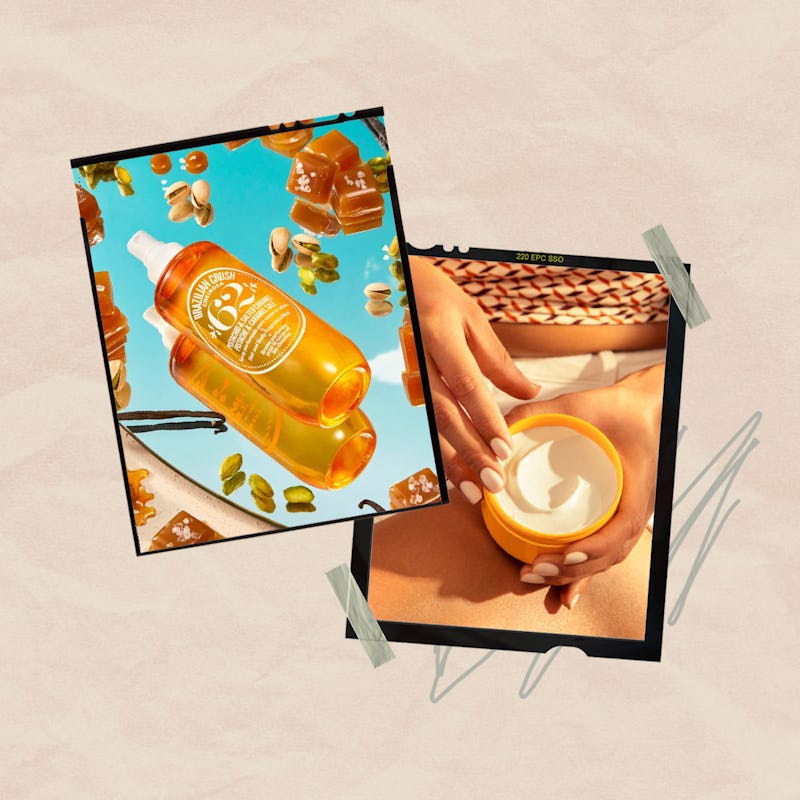 Sol De Janeiro
We may receive a portion of sales if you purchase a product through a link in this article.
When you think of Brazil, the first images that may vividly flash through your mind are otherworldly white sand beaches, the colorful costumes worn for Carnival, or perhaps even mouthwatering local dishes (like feijoada, for one).
For the fragrance-collecting, Sephora frequenters, however, the sun-kissed range of body-loving products à la Sol de Janeiro have become synonymous with the essence of Brazil. And what's more, the OG scent that threads through many of its beloved products is not only easily recognizable with its delectably sweet gourmand notes. It has also gone completely viral on social media, becoming one of PerfumeTok's MVPs.
"Brazilian Bum Bum Cream has a signature fragrance base of pistachio and vanilla. We call this scent Cheirosa '62," Heela Yang, who founded the brand during the summer of 2015, tells Bustle. When combined with notes of salted caramel, the result is a warm (and very distinct) aroma that many have deemed irresistible. "Cheirosa means to 'smell incredibly good and delicious' in Portuguese, [and] 1962 [is] the year Brazil became globally known for its culture." She notes that 1962 is when Havaianas flip-flops became popular and The Girl from Ipanema was released, bringing Brazil's lively culture to the forefront in a major way.
"The scent is so recognizable, it always amazes me when I experience it in the wild," shares Yang, explaining how she's noticed the smell of "Brazilian Bum Bum" more and more when out and about. "It has always been my mission to share the joy and essence of Brazilian spirit — the culture that inspired the brand — and to see that mission being fulfilled has been incredible."
If you're at all a mainstay on BeautyTok, you've likely seen the signature Sol de Janeiro clementine-orange bottles and jars make an appearance on your For You page — and the #Cheirosa62, #BrazilianBumBum, and #BrazilianBumBumCream hashtags collectively have over 160 million views (and counting) on the app.
While countless TikTok scrollers and influencers alike have become completely obsessed with layering all Brazilian Bum Bum everything — the beauty of Cheirosa '62 has also captured the attention of some A-list fans. In recent interview with Bustle, Meghan Trainor shared that she loved the signature smell of the brand's body cream, while Euphoria's Barbie Ferreira has been named the most recent face of the brand's buzzy body mists.
Craving a little bit of vanilla, pistachio, and salted caramel in your life? Shop some of Sol de Janeiro's most popular picks below.