13 Exciting Spring 2023 Fashion Trends That Feel So Fresh
Cropped blazers, loud prints, and all-over cutouts.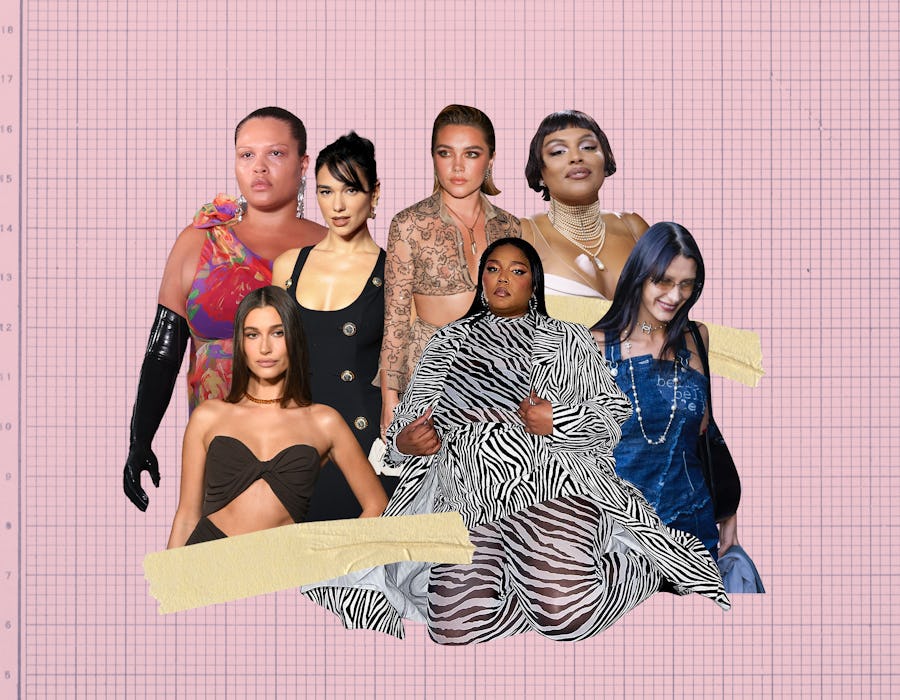 Courtesy of Getty Images/Instagram
We may receive a portion of sales if you purchase a product through a link in this article.
While I'm deeply invested in my winter wardrobe (read: a sleeping bag puffer, chunky knits, and shearling joggers tucked into Docs), I'd be a liar if I said the thought of transitioning my closet into spring didn't put a pep in my step.
For me, there are few feelings that transcend finally stripping off that heavy parka after months of frigid temps. Milder weather is on the horizon, people, and the trends taking hold this year have me giddy. I'm so ready to bid winter adieu and step out in, well...less.
Speaking of wearing less and going out more (shoutout Drake), sheer everything continues to dominate the fashion space. The moment, sartorially speaking, is all about 'fits that are transparent, flashy cut-outs, and slinky, lingerie-inspired looks.
Celebrities and influencers alike are taking more risks, putting their skin and underwear on display with confidence. (A cursory scroll of Bustle's style section will confirm this.) Beyond that — looking to the runway and the streets — many are embracing more unconventional, attention-grabbing prints. Not to mention, the '60s are making quite the comeback.
Now that you've read the SparkNotes version, keep scrolling for a comprehensive breakdown of the biggest spring trends that will be ubiquitous in 2023.
Retro Rosettes
It just takes one peek at Instagram to show that SATC-era rosettes are trending. The fanciful floral embellishments have been spotted on necks, breasts, waists, shoulders, and ankles of the fashion elite. Celebs like Kendall Jenner, Hailey Bieber, and Camila Cabello are all proven fans of the delightfully spring-y look, and I predict rosettes will continue to bloom through to next fall. Time will tell.
Details From The Lingerie Drawer
Why should skimpy, lacy, slip dresses and the like be kept behind closed doors? A bevy of celebs have been pushing back against the idea that these sultry looks should remain solely for the bedroom and, I for one, applaud their boldness.
Just look to my girl Florence Pugh, who stunned in a fabulous, pink satin Rodarte dress recently, and Kendall Jenner wearing a lace-embroidered Miu Miu set out on the town. Brands like For Love & Lemons and Mirror Palais will have you sorted should you choose to take on the trend yourself.
Unexpected Cut-Outs
Cut-out designs — from tops to dresses to skirts and so on — show no signs of dissipating. On the catwalk, big, round, torso-baring cut-outs were seen at Off-White, Alessandra Rich, Marques'Almeida, and more. As for celebs, just about every tastemaker (Dua Lipa, Hailey Bieber, Lori Harvey, and more) is embracing the skin-exposing trend these days.
With this look, you can choose to go dramatic or super subtle, depending on your mood, the weather, and the occasion. There are endless options to choose from here.
Eccentric Prints
Minimalism will always have its place, but currently, it seems that the louder the print, the better. As you can see, Emily Ratajkowski wore a fierce black-and-yellow denim 'fit not long ago, while Lizzo decked herself out in layers of zebra stripes.
Meanwhile, Schiaparelli, Christopher Kane, Christian Wijnants, and Miaou are just a few brands that showed unique and weird girl prints on the runway for Spring 2023.
Denim Dresses
Made popular decades ago in the 1970s, the denim dress prevails. From minis to midis to shirt dresses to corseted and embellished styles, there are countless variations in every wash on the market.
Recently, Bella Hadid nailed the look when she paired a long, dark denim dress with leg warmers, Mary Janes, and a pearl Chanel necklace. Kendall Jenner, on the other hand, styled her slightly-shorter bodycon with knee-high boots, creating a nostalgic, '90s-inspired look.
Cropped Blazers
While oversize blazers are still abundant, cropped styles are popping up more and more as of late. Sydney Sweeney, Yara Shahidi, and Ella Emhoff are among those reaching for shorter iterations of the sophisticated look (which was also seen at a number of Spring 2023 shows). Sweeney even debuted a chic, bustier-inspired design. Meanwhile, Bella Hadid went for a higher crop above the ribcage — a micro blazer, if you will.
1960s Style
On this season's runways, there was no shortage of mod (or modernist) looks — from shift dresses to mini skirts to go-go boots, reminiscent of the Swinging Sixties. I can't help but wonder what British fashion designer Mary Quant — who is often credited as the creator of the mini skirt, more or less defining the decade's aesthetic — would think of her trademark design living on today.
Luxury designers like Coach, Louis Vuitton, Prada, Lanvin, and Akris all featured '60s-inspired pieces in their recent collections.
Patent Outerwear
There's just something about a sleek, glossy coat that instantly levels up a 'fit, especially for a night out. Celebs taking note of such include, but are not limited to: Dua Lipa, Lizzo, and Anya Taylor-Joy.
If you really want to make a statement, I recommend going with a vibrant color, but classic black is a no-fail choice.
Statement Pearls
Pearlescent accessories were omnipresent at Spring 2023 shows, with designers showing rings and necklaces, as well as pearl-adorned bags, shoes, and garments. Though generally associated with a more polished style, pearls swing across the fashion spectrum. Paired with edgy staples and lots of leather, they can feel glam goth. On the other hand, wearing a strand with a graphic-print tee gives off a breezy, laid-back vibe.
Jumbo Studs
One thing I can't stop thinking about? All the stud-furnished looks I've been witnessing on the runway and the red carpet. Specifically, Louis Vuitton served up chic bags with super-sized studs, while other brands gave us shoes covered in chunky, ball-shaped hardware. And can we talk about Dua Lipa in the above vintage Versace dress? It lives in my brain rent-free.
See-Through Fabrics
"Naked" dressing is at its peak right now. Everywhere I turn (on the internet), someone — like Olivia Wilde, Halsey, or EmRata — is rocking a translucent ensemble. As for what goes underneath, some choose to stylishly free the nipple, while others prefer to add statement undergarments, like the ever-popular visible thong. It's really hard to go wrong with this saucy trend. Confidence is all you need.
Bermuda Shorts
I swore I would never go back to the days of mid-thigh shorts, but here we are. Long, Bermuda shorts are in again. As a teen, I detested them, but after their appearance on various catwalks (Chanel, Givenchy, Jason Wu, and Jil Sander), I'm officially sold. Personally, I think I'm going to start out with a pair of cozy sweat shorts like the style Gigi Hadid rocked above.
Whimsical Crochet
Crochet continues to surge like nobody's business. Also associated with the '60s aesthetic, as well as the '70s, there's something innately playful about crochet accessories. From bags to hats to scarves and belts, crocheted accent pieces offer a fun, retro vibe. Influenced by the many ways this look has been styled on social media and beyond, I've already purchased a colorful bandana like the one below that I can't wait to wear this spring.
This article was originally published on