11 Square Manicure Ideas You'll Want To Try ASAP
Including mood-boosting smiley faces.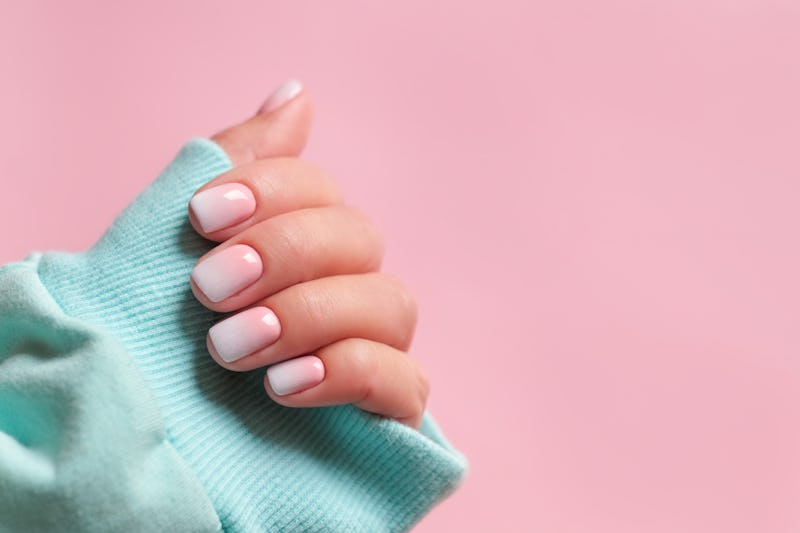 Shutterstock
You know that choosing your nail art is a process (so. many. options.) but it's easy to forget that you also have to settle on a nail shape. In that realm, you've also got numerous choices, including the classic round, a piercing stiletto tip, or squared-off ends. For the latter category, there are plenty of prime square nail designs that'll take your manicure game up a notch.
There are two persuasive reasons to choose square nails. The first is the more obvious: You might simply prefer the aesthetic allure of the straight, angular finish and the way it plays off the roundness of your cuticles. The second aspect has to do with practicality. Nail care brand Orosa founder Carolyn Chen previously told Bustle that the shape is low maintenance, easy to DIY, and optimal for short nails. That being said, when square nails have length, the tip style can add a dash of chicness along with more real estate to experiment with.
For what it's worth, you can find a way to make practically any dream nail design fit onto your nail beds, regardless of shape — including fall's biggest trends, like vintage-style graphics and color blocking. But if you're looking to experiment — nail shapes are temporary, after all — or are in need of ideas for your go-to square tips, these square nail designs will help you decide what to get (or create) for your next manicure.