Summer 2021 Jewelry Trends To Shop Now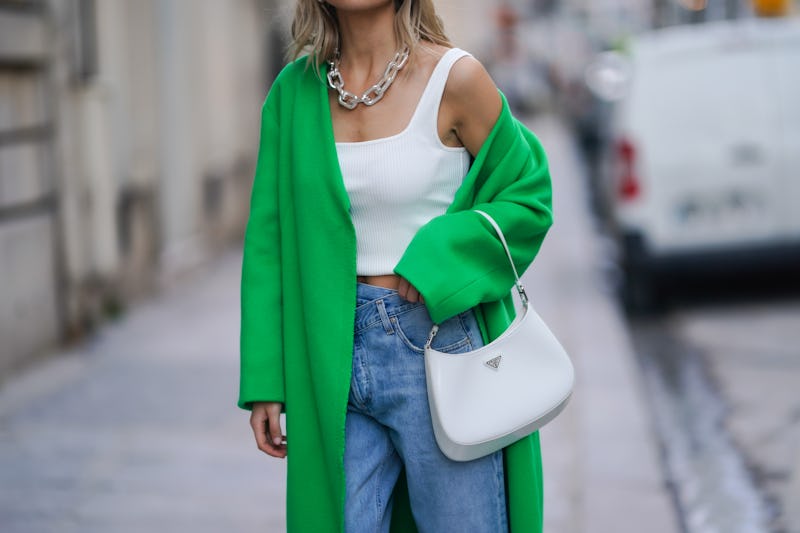 Edward Berthelot/Getty Images Entertainment/Getty Images
Jewelry trends are cyclical. One season, we're all wearing hoops; the next, we're back in studs. Then, like clockwork, six months later we have something big hanging from our ears again. It might feel confusing to rotate through pieces so often, but really, that's the beauty of it: You can invest in items, and they never actually go out of style. They just go into hibernation for a little while.
As our wardrobes have shifted more toward the practical, it makes sense that the ways we accessorize have evolved, too. Where jewelry has, for so long, veered on the side of delicate, we're now using it to turn any item of clothing — sweatshirts included— into a style statement. Bold in shape, size, and even color, we're putting more thought than ever into the finishing touches of our looks for the season ahead.
Below, find four summer jewelry trends we're letting guide the season's aesthetic.
Extra Chunky Chains
Extra-large hardware and chains can toughen up even the flirtiest of dresses. With an emphasis on thick chokers and bangles, opt for a version in a classic silver or gold metal for easy wear. Seen styled on the runways with everything from oversized trenches (Louis Vuitton) to boho maxi skirts (Chloe), you'll be surprised by just how many pieces these chains actually go with.
Mood-Boosting Enamel
Pieces that make us smile? Yes, please. A modern-day interpretation of '80s neon, these bold enamel necklaces, bracelets, and more inject a much-needed dose of color into your every day. (Plus, they look great on-camera.) With this trend, there's only one rule: the more fluorescent, the better. That, and if it feels kitschy, you'll know you're doing it right.
Not-So-Perfect Pearls
Pearls are forever timeless, but this season's iteration looks a little different than you might imagine. Skip the classically round pearls in favor of perfectly imperfect freshwater options that vary in size, color, and shape. Styled on a necklace or pair of drop earrings with mismatched accoutrements (think: glass beads or mother-of-pearl pendants), they're proof that the age-old adage "more is more" definitely rings true.
All Cuffed Up
Styled solo or layered as part of a group, a cuff is a subtle way to elevate a look. Whether in a solid, shiny metal (Sportmax) or a bold print (Lanvin), their resurgence has been ignited by their versatility. Wear on any and all parts of your arm, from the wrist upward, for just the right amount of drama.