Summer 2023's Hottest Bag Trends Are Giving Opulence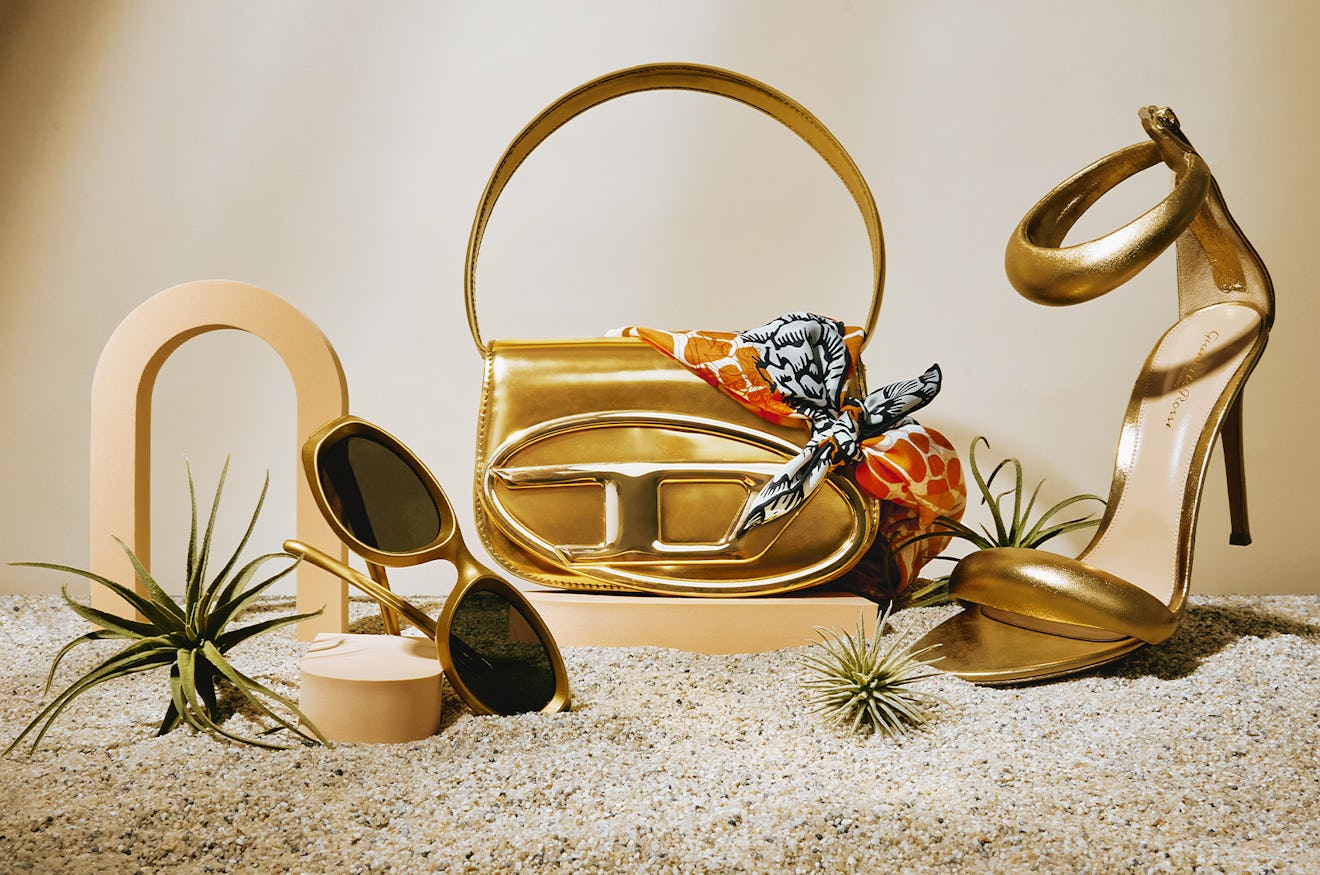 A cursory glance at Sophia Richie's closet will tell you the secret to "stealth wealth" dressing is all in the finer details. Think: well-made products with sumptuous textures.
In clothing, that generally means luxurious wool, artful embellishments, and the finest silks. When you're talking about bags, on the other hand, the "quiet luxury" aesthetic presents itself via embossed leathers, thick natural weaves, and luxe finishes, like earthy snakeskin and glimmering gold — all the styles that are, coincidentally, trending for summer 2023.
Though each of these design details comes with an inherent sophistication, it doesn't mean they're in any way boring; these aren't your mother's hand-me-down totes. Thanks to playful, of-the-moment add-ons — like military-inspired utility pockets, novelty top handles, and a range of denim washes — the most popular bag styles all feel subtly opulent (sans the opulent price tag).
Ahead, shop the hottest styles summer collections have to offer, from beloved brands like Tory Burch, Zara, JW Pei, Simon Miller, and more. From '90s shoulder bags and dainty clutches to jumbo carry-alls perfect for a Euro trip, these are the chicest of chic.
Beachy Rattan
Nothing says "I'm rich" like an extravagant beach bag. While most of us would simply throw sunscreen and towel into a worn-out tote, the 1% are carrying their vacation necessities in designer bags made from the finest rattan — hence why woven styles from Miu Miu, Celine, Prada, and Loewe are trending. That same vibe can easily be replicated with basket-style bags from brands like Mango, Coach, and Bembien.
Denim Washed
A cool-girl favorite seen on the likes of Julia Fox and Kim Kardashian, denim accessories are a top contender for summer. Though boots made from the material were trending for fall and winter, blue-washed jags (read: jean bags) are making moves for summertime. Purses are popping up in every shade: rich indigo, black-tinted, light-wash, and pristine, medium-wash blue. And, like your favorite blue jeans, these beauties go with everything.
Shades Of Chartreuse
Though Pantone dubbed Viva Magenta the color of the year, based on the summer 2023 collections, chartreuse is the clear runner-up. The pear-ish hue has been omnipresent in every sector of fashion, from clothing to shoes and, now, handbags. Naturally, the joyful colorway is set to ramp up during the summer months, when the brightest staples in your closet come out to play.
Novelty Handles
Behold: Bottega Veneta's impact. Ever since its celeb-favorite Sardine Bag came into the spotlight (largely helped by one Kendall Jenner), fellow handbag designers have been following suit, releasing their own iterations of the novelty handle. Beaded, lucite, and pearlescent grips are topping simplistic body styles, for a textbook example of "all in the finer details." Shop looks from more accessible labels, like Charles & Keith and 8 Other Reasons.
Spicy Snakeskin
Snakeskin has been the handbag material of choice for centuries, and the scaly texture continues its fashion reign for summer 2023. Today, snake-inspired accessories run the gamut from the all-neutral patterns most commonly found in nature to electric neons and metallics. Though perennially present in designer collections from Gucci and Hermes, Luar's Anna bag — one of the year's most popular accessories — can be partially credited for the look's ongoing popularity.
Gilded In Gold
These shimmering styles are, admittedly, on the louder end of the "quiet luxury" spectrum, but you can't deny they're incredibly glamorous. Once reserved for grandma's poker weekend in Atlantic City, reflective gold patent leather (usually faux) is now taking center stage. Fast fashion and luxury houses alike are embracing metallic sheens, releasing ornate outfit add-ons in every imaginable style. Toted by Carrie Bradshaw in early seasons of SATC, this dazzling sheen is, in a word, fabulous.
Pockets On Pockets
If you're not familiar with Homage Year's Minimini, I suggest you take a deep dive into the Instagram feed of the most stylish streetwear influencers. The shapely arm candy has been having a major moment, with a very noticeable trickle down (and up, TBH) effect. Find cargo-inspired pockets popping out of bags from Poppy Lissiman and JW Pei, creating a cool 3D effect.
Flamboyant Florals
This year's wildy popular shoulder bag goes hand-in-hand with the traditional floral print. A star player in Coach and Loewe's latest releases, flowery purses are now shoppable in a virtual rainbow of colors. The reason behind its popularity is clear: Just one teeny tote adds a dash of sweetness to any given ensemble — perfect for summertime, IMO.
Top Image Credit: Bottega Veneta sunglasses, Diesel bag, Hermès scarf, Gianvito Rossi heel
Photographs by Xin Xin
Set Designer: Emma Chao
Accessories Editor: Copelyn Bengel
Photo Director: Alex Pollack
SVP Fashion: Tiffany Reid
SVP Creative: Karen Hibbert