4 Derm-Approved Serums That Won't Irritate Rosacea-Prone Skin
We only recommend products we love and that we think you will, too. We may receive a portion of sales from products purchased from this article, which was written by our Commerce team.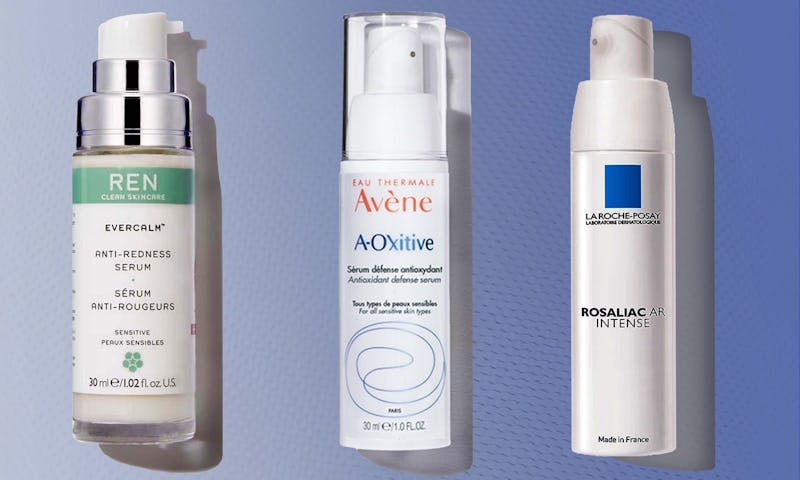 Amazon/Fotolia
Finding the right beauty products for your skin type can be tough — it's literally my job, and even I find it overwhelming at times. Not only are there more options out there than ever, but it also requires a lot of trial and error. And while having too many choices is certainly better than not having enough, if you have a skin concern like rosacea, you want to get it right the first time. That's where this roundup of the best serums for rosacea comes in.
Those with rosacea are all too aware that any number of things can set off a flare-up. "Some of the more common triggers include sun exposure, wind, hot or cold weather, emotional stress, heavy exercise, spicy foods, alcoholic beverages, and certain ingredients in skincare products," says dermatologist Dr. Sejal Shah of SmarterSkin Dermatology in New York. While the list of environmental and lifestyle triggers varies depending on the individual, luckily, when it comes to choosing a serum that won't increase irritation and redness in rosacea-prone skin, there are some hard and fast rules. "Avoid products with alcohol, fragrance, ingredients that are harsh or overly drying, and any potential chemical and mechanical irritants," Dr. Shah says.
So what can you put on your skin without exacerbating rosacea? Dr. Shah says to look for a serum that includes anti-inflammatory and calming ingredients, as well as antioxidants. Some popular ingredients that fit the bill are vitamins C and E, which help with everything from firming and evening out skin and to protecting your face from environmental aggressors like UV rays. Common skin-soothing ingredients in serums that are best for rosacea include colloidal oatmeal and niacinamide, as well as moisturizers like hyaluronic acid and squalane.
Check out four of the best serums for redness and rosacea, ahead (including one of Dr. Shah's picks). And don't forget to brush up on the best cleansers for rosacea and the best moisturizers for rosacea to complete your skin care routine, as Dr. Shah notes that "choosing the right cleansers and moisturizers are also key" when it comes to managing this condition.