10 UK Fashion Rental Sites To Refresh Your Wardrobe
Wear designer clothes for a fraction of the price.
by Lauren Sharkey and Aisha Rimi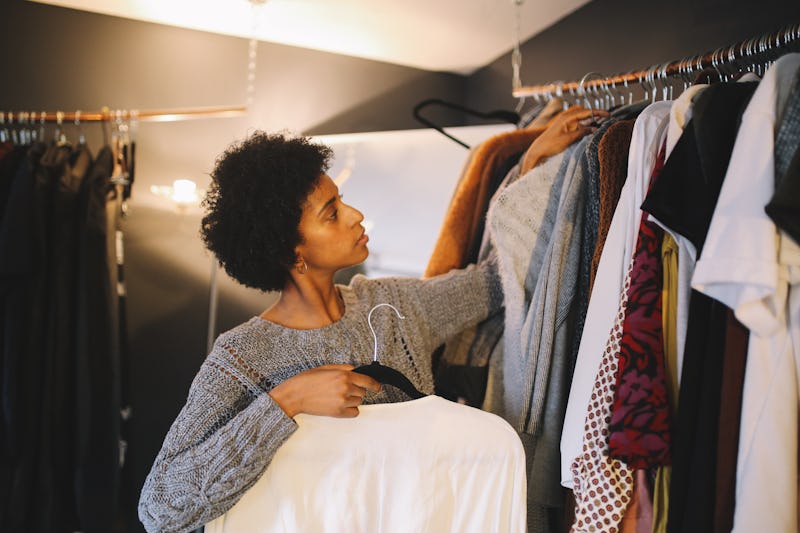 lechatnoir/Getty
Clothes buying often falls into one of two categories: you invest in a piece that you adore forever, or splash out on something that sees the light of day just once. But what if you could snap up a show-stopping designer piece for a fraction of the cost, and pass it along for someone else to love when you're done?
Renting clothes, instead of buying them, isn't an entirely new concept. Some sites (Girl Meets Dress, for example) have existed for years, but with Carrie Johnson (née Symonds) recently renting her wedding dress for the special occasion, the concept has resurfaced. Lots of the brands listed below are relatively new, offering you both discounted designer looks and entire everyday wardrobes. Some are even giving you the chance to shop your favourite influencers' wardrobe, and hand it back when you're done. Even the world famous Harrods is launching their first fashion rental service in partnership with My Wardrobe HQ (listed below). They will be showcasing designers such as Giambattista Valli, as well as a range of brands for more everyday occasions.
One thing to note before renting your whole wardrobe, though, is the environmental impact. Although once considered a green option, renting has recently been revealed to be far less sustainable than we assumed.
Speaking to the Guardian, Dana Thomas, author of Fashionopolis: The Price of Fast Fashion and the Future of Clothes, said: "We should think of renting like second-hand shopping. It's not something we do all the time, instead of buying our clothes and swapping out outfits nonstop, but on occasion, when the need arises, like proms [or] weddings."
Being conscious of how and when we rent clothing, and using it as a substitute to purchases rather than in addition to buying pieces, can help you get your fashion fix while keeping the process as eco-friendly as possible. If you're in need of a temporary new look, here are the UK-based fashion rental companies you need to know about.
Editorial note: This piece was update on July 16, 2021, to reflect findings from this study.
This article was originally published on