For Founder Amira Rasool, The Folklore Is A Form Of Activism
"My form of Black liberation was to be able to help people provide for themselves economically. It was my form of activism."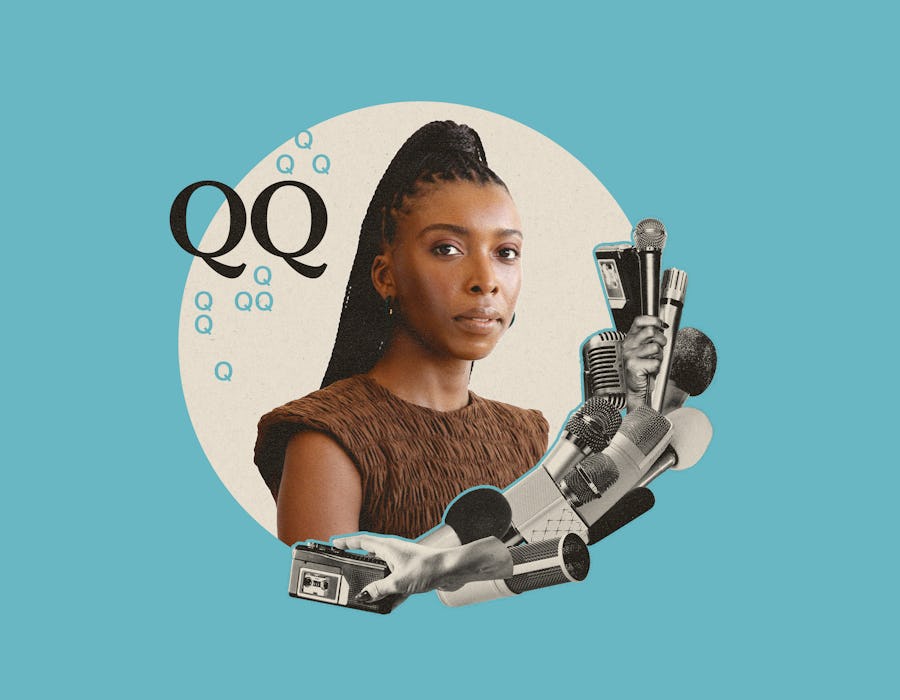 As a journalist with bylines in Marie Claire, Glamour, and Teen Vogue, among others, Amira Rasool had dreams of becoming Vogue's next editor-in-chief. That all changed when she took her first trip to Africa. "I discovered all these great brands that I'd never heard of and when I got back to the US, tons of people were stopping me on the street asking me where I got my dress or my bag," she tells Bustle. Rasool quickly realized there was a gap she could accommodate.
"I saw that [it] was an issue not just in South Africa, but in all of Africa," she says, adding, "It was also an issue for the people in the diaspora, Black people who might've been in the US or the UK, but still weren't given the opportunity to succeed in this way." So she promptly pivoted careers and founded The Folklore Group in 2018.
Five years in, the company serves as a middle man, introducing diverse brands from all over the world to retailers and clients. Meanwhile, Rasool launched a sub-brand called The Folklore Connect, a software company that equips brands with the tools to compete in today's tech-driven landscape. "My form of Black liberation was to be able to help people provide for themselves economically. It was my form of activism," says Rasool.
With NYFW starting, The Folklore is opening its NYC showroom and highlighting 15 inclusive brands. Below, Rasool talks more about this venture — plus, her favorite organizational tools and best negotiating tips.
Since founding the Folklore Group, what has been your most fulfilling contribution to the fashion industry?
Actually seeing brands profit from their talent. The past few years, there's been a lot of pushing for the visibility of diverse brands, but it hasn't always translated into money. That was the whole purpose of starting The Folklore — to be able to economically empower them. I can walk into Bergdorf and buy V.Bellan because Bergdorf's discovered them through The Folklore, or I can go on Shopbop and shop five different brands discovered through our platform. Being able to see the tangible proof [that] we've accomplished our mission is really impactful for me.
How do you celebrate those wins and how would you advise others to celebrate their own?
Even something as small as a really good investor call or [closing] a really big deal, I'll put on some hype music. I have this playlist called Hustle Harder. I think that's one of my best qualities and what's led me to be to this point, is I'm super confident in myself, and I never doubt that I can do anything. So I have to recognize, "What you thought about yourself is true." Celebrate that, let that sink in and then get back to work.
Do you have a go-to outfit or a beauty look that boosts your confidence?
Anything that's comfortable. My boss look isn't putting on a blazer or putting on a suit. I don't even own a blazer or a suit. I'm a Issey Miyake or Dries brand [fan]. When I graduated from my master's program, I had this beige set. It was a long dress that has the Issey Miyake pleats and these long flowing wide-leg pants. I put on a cute little heel, slicked my hair back, and put on some cute earrings, and I felt really great that day. That was my boss look.
You negotiate a lot on behalf of your designers and your company. Do you have any tips or tricks?
Ask for the stars and negotiate down. You have to be able to qualify why you are asking for those things. Don't just come and say you want something just for the sake of trying to negotiate them down. There needs to be a reason. You have to be well-studied and super prepared. I usually prepare for meetings at least the day before. If it's a more important meeting, I'll prepare a few days ahead of time. Come prepared with notes and questions.
What's your favorite organizational tool?
Every day I use this planner, it's called the Highly Effective Planner. My dad recommended it to me, so I've been using it for a few years. It's where I can list my actual task and then I can time block my day. I'm really strict when it comes to time blocking.
And then for tasks, I use Asana. Calendly really helps in terms of meetings. I only take meetings Monday, Wednesday, Friday, and it has to be after 10:00 AM. So Tuesdays and Thursdays I can focus on just doing independent work. I live a very structured lifestyle when it comes to business and every day is a different focus.
What is the best piece of advice that you've ever received from somebody in the industry?
Fail fast. Don't just keep trying to do the same thing over and over again with no variance in result. If you put a bunch of effort and time into something that's not working, then you're going to fail indefinitely. But if you are able to take from your learnings, then you'll be able to succeed in the long run. So I think not being afraid to pivot, not being afraid to do something different than what you originally planned.
This interview has been edited and condensed for clarity.