There Are Lots Of Stylish Things Under $35 On Amazon, But These Have The Best Reviews
Trendy pieces with glowing reviews.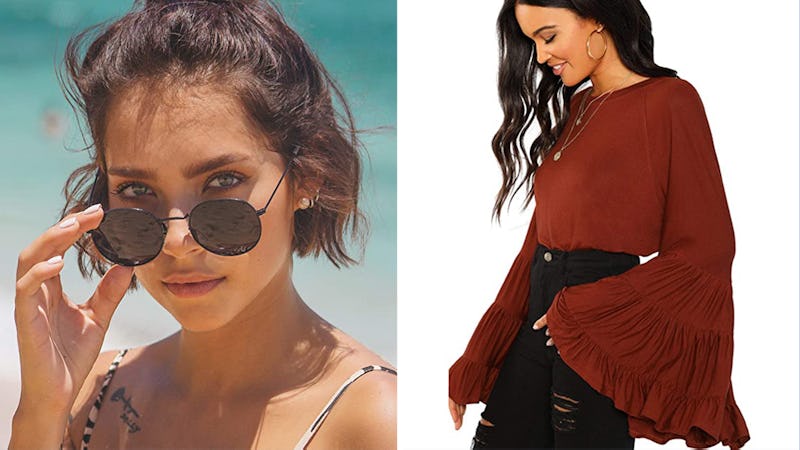 We may receive a portion of sales if you purchase a product through a link in this article.
Buying clothes online was once a risky endeavor. It's so hard to tell from a digital picture how a garment feels, fits, or flows. So it's easy to assume something with a price that's too good to be true is junk. Or, that's the way it was before humans flocked in droves to the Amazon reviews section to report on their finds. Now reviews are an essential part of the process. Is this cute top tiny, oversize, transparent, or flimsy? There are always people who bought the thing, tried it on, loved or hated it, and came back to tell their tale and save you the trouble. More than for most things, the quantity and quality of reviews make picking out a new fit online easier (and keep returns to a minimum). There are loads of stylish things under $35 on Amazon, but these have the best, most glowing reviews.
Sometimes, reviewers can even help you try a new style of wearing something or fix a wardrobe failure. Because people like to share their tricks and hacks for making a garment work, you can learn all sorts of things. It's like there are thousands of friends in the dressing room helping make your look work, or warning you away from something that just isn't it. I would never have thought, for example, that this top with flowy sleeves would work for me if it weren't for the advice on how to wear it in reviews. Now I'm trying to pick a color. And I had no idea how many people were pining for a romantic rural past till I stumbled upon this ruffled midi dress and learned about the trend. But, I most appreciated the selfies people posted of these slick sunglasses, so I could see just how much like a rock star I would look if I also wore them.
Want to go shopping?
This article was originally published on