TikTok Is Convinced Skinny Jeans Are Back, But In A Whole New Way
The cheugy staple has returned.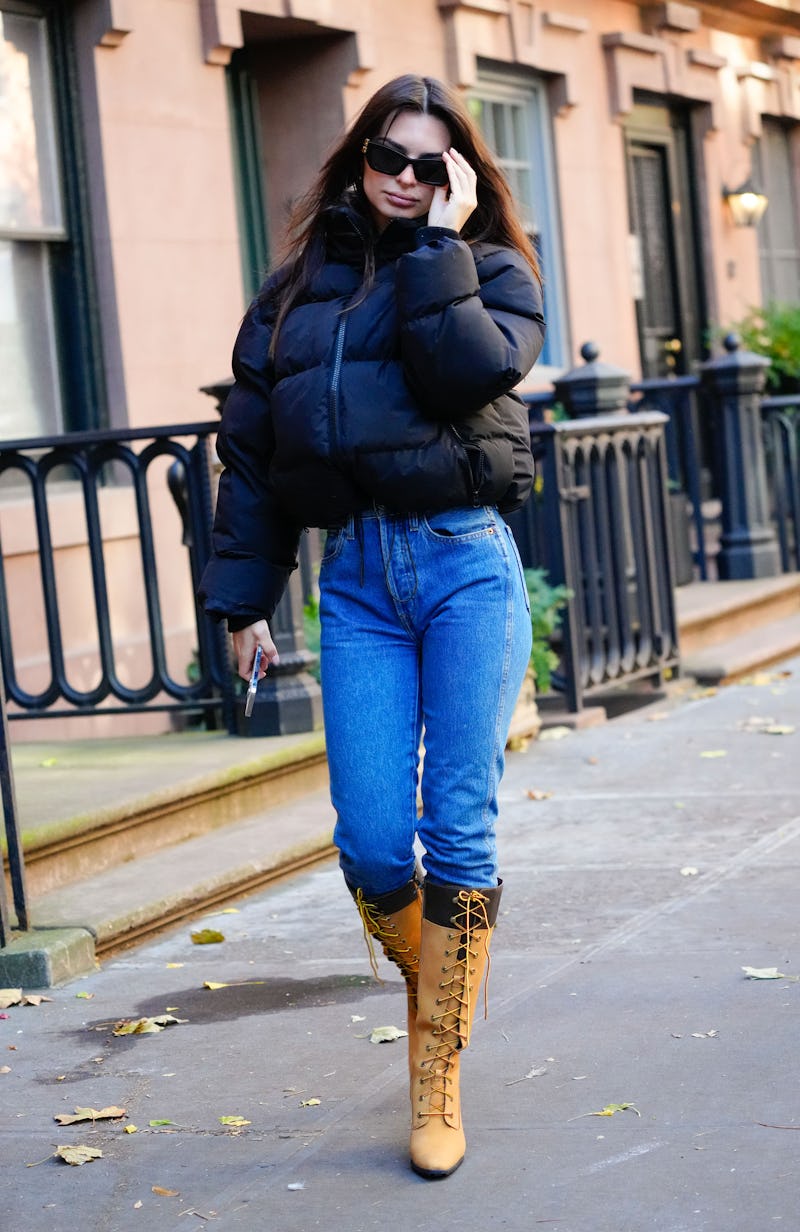 Gotham/GC Images/Getty Images
We may receive a portion of sales if you purchase a product through a link in this article.
Fellow Gen Zers, the day you've been dreading is officially upon us. That's right — it's time to pull out your old, dusty, long-forgotten pair of American Eagle skinny jeans from the depths of your closet, because this controversial 2010s staple is apparently in its comeback era.
It's no secret that "cheugy" 2010s trends like platform UGG boots, ballet flats, and colored tights à la Gossip Girl are making a resurgence in 2023. And next on the hitlist is none other than millennial favorite skinny jeans — according to TikTok, anyway.
Recently, fashion-forward celebrities and royals alike (read: Emily Ratajkowski, Kendall Jenner, and Meghan Markle) have all been seen sporting the polarizing denim silhouette, leading TikTok creators to dub the style an incoming trend. Models Ratajkowski and Jenner opted for true blue skinny jeans, both tucking high-rise iterations into camel-toned knee high boots.
Markle, on the other hand, donned a black pair covered in a leather-look coating for date night with Prince Harry, but the royal has also been known to reach for traditional indigo washes. Most recently, Lady Gaga wore a pair of black rip-knee cigarette jeans during her Oscars performance of "Hold My Hand" from Top Gun: Maverick.
Gotham/GC Images/Getty Images
Backgrid
Patrick van Katwijk/Getty Images Entertainment/Getty Images
While Gen Z may have cancelled skinny jeans in the past, fashion trends are always cyclical — meaning, it was about time they made a dramatic return. One TikTok creator @emilythankunext even pointed out: "At the rate that we are cycling through trends, we are so close to the 2012 low-rise skinny jean."
That being said, this denim may be emerging with a fresh twist. Instead of the skin-tight, painted-on skinny jean that dominated the 2010s wardrobe (you know, the kind that took five minutes to shimmy into), TikTok fashion creators are predicting that the new wave will toe the line.
As seen on celebs like Ratajkowski and Jenner, current designs sit in between a straight leg and the quintessential skinny jean that we all know and hate — I mean, love. 2023 versions still hug the upper legs, but tend to be looser around the knee, calves, and ankles, making the traditional, hyper-fitted shape a little less intense. (Cutting off your blood circulation is so 2016, babe.)
In a now-viral video, TikTok creator @victoriacasalinoo shared her thoughts on the look, saying: "I feel like this skinny jean is not going to be so, so skinny where you feel like you need to unbutton your pants because that's how it used to feel like." Essentially, 2023's skinny jean is 2013's relaxed, carefree younger sister.
If you sold, donated, or burned your old pair long ago, shop not-so-skinny skinny jeans that perfectly encompass this nostalgic look. Sorry, Gen Z, but I'm not sorry.