Veronica Beard's Founders On The Professional Power Of Decisiveness
The design duo discusses dressing for confidence, being unapologetic, and how they built the Meghan Markle-approved brand.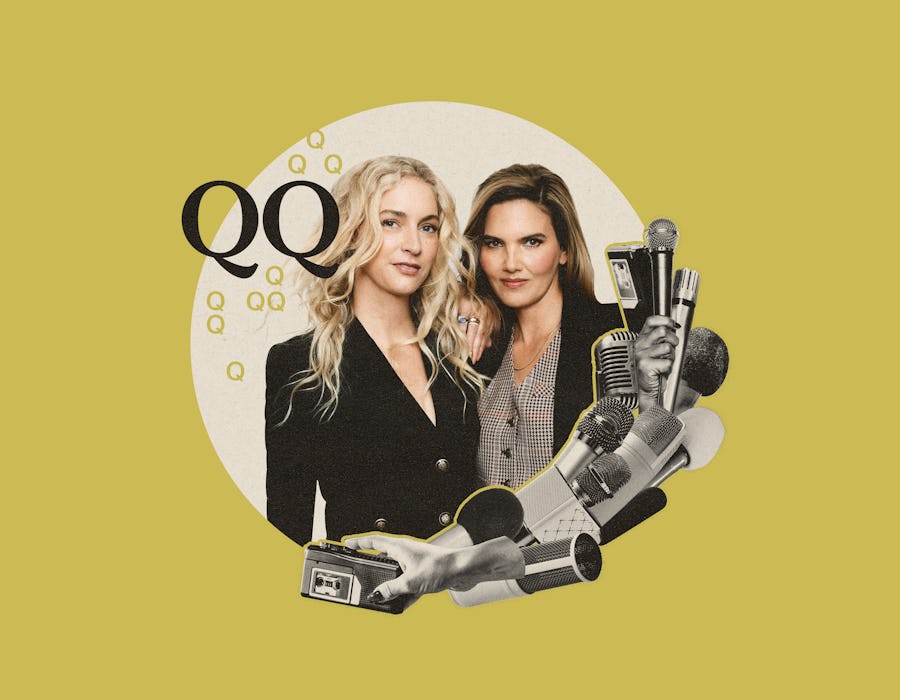 Photo courtesy of Veronica Beard
Since Veronica Beard launched in 2010, the brand has been lifting women up by way of clothes. "I think women listening to each other's perspectives, their stories, learning from each other, raising each other up is the greatest thing in the world," says Veronica Swanson Beard, one-half of the sister-in-law duo (both named Veronica). "Women love to sit, talk, help each other, look each other in the eye, and really do the work."
Enter: the Dickey, the best-selling tailored blazer referred to lovingly as the "Wonder Woman cape." Of the staple, Veronica Miele Beard says, "It's a metaphor for our entire brand where we help empower women, but we also are a resource. It's a uniform item that women rely on."
As the Meghan Markle-approved label expanded (now with 24 stores and counting), their efforts to help women have also grown. The Veronicas launched the Make It Happen program (a series spotlighting women leaders ranging from Nobel Prize nominees to fashion influencers), as well as the VB Gives Back initiative, a program that offers funds and support to women-led organizations. "'To whom much is given much is expected," says Swanson Beard. "We really believe that."
Below, the Veronicas share their own advice for women in business (read: have a clear vision and build a loyal customer base).
What are some power moves women can do in meetings or negotiations? Or is there anything to avoid?
Swanson Beard: It's very important to have a clear direction and vision for whatever you're doing — and that doesn't mean that doesn't change. Having a North Star and really doing your research about something, truly understanding what it is you're going after — knowledge is power in that sense.
Miele Beard: My mom, for the last 20 years, she said to me, "Stop saying you're sorry. Just go. Men, don't say they're sorry." So stop apologizing for loving fashion or for being happy about something or admitting that you want to look like Cindy Crawford today. Stop being apologetic for actually going for it. I think a lot of women hold back and they're apologetic and it's like, "No, don't be [sorry]. Just go."
What does being a powerful woman mean to you?
Miele Beard: To me it means fulfilled. We seem to have figured out that a woman who looks good, feels good and does good. And that's our motto, look good, feel good, do good.
Swanson Beard: Women are so multifaceted and I think fashion is a very important piece of it, but it's a piece. These women have families and careers and interests and community obligations and all of the things. So I think when a woman feels fulfilled, passionate, and part of something, I think that that is when she feels most powerful.
What do you wear to feel most confident?
Swanson Beard: My personal uniform is a blazer and jeans and heels. If you can throw a blazer over a blouse, you've got great jeans on, and amazing heels or a chic flat, you feel pulled together.
What about a beauty look?
Miele Beard: I'm not sorry to say that I feel done when my hair is big. I have a big face and so I need my Wonder Woman, big-ass hair. I'm also from New Jersey, and I think that's where I got that. But I have the flattest, straightest hair, and I just feel like it's just dragging me down when it's not done.
Swanson Beard: I think for me, I need to have bronzer and dewy skin. That is an important thing. And some mascara.
Your clothes have been worn by everyone from Selena Gomez to Meghan Markle, what celeb look excited you the most?
Swanson Beard: So many. When Gisele [Bundchen] wore our blazer with old Levi's and they were rolled over and she was coming out of yoga class, it couldn't have been a better campaign shoot than if we had planned for it, hired her, all the rest.
Miele Beard: The biggest though was Meghan Markle. We sold out instantly. But I want to say one person is Sydney Carter, a women's college basketball coach. She was being ridiculed by men for being a distraction on the court. And she gets dressed for courtside and she wears Veronica Beard so proudly and is a boss and gorgeous and unapologetic for it.
What advice would you give those looking to open a brick-and-mortar store in an increasingly digital space?
Miele Beard: I worked in finance for Philippe Laffont, and we built a hedge fund — one of the most successful technology hedge funds right now. He said to me: "Never build a stadium before the fans." I took that to this business. Make sure you have that fan base and confidence in the fact that it's going to sell before you go opening up brick-and-mortar. We weren't ready for years and it was disciplinary, because everybody wants a store — that's the most "I've made it. I have a store." But it's not where you make it, profitability is where you make it. And you've got to have a major following before you can take that risk.
What's your most powerful accomplishment since launching the brand?
Swanson Beard: Being able to give away a significant chunk of money. The quote is, "To whom much is given much is expected." We really believe that. This quarter we're working with Women's Alzheimer's Movement founded by Maria Shriver. We have [VB Gives Back] Day, which is when all stores are having events and proceeds from those events will go to Women's Alzheimer's Movement. It really amplifies the organization that we're working with and it's very important to our brand.
This interview has been edited and condensed for clarity.