Versed's Bubble Headband Is Back For 24 Hours — Here's How To Get It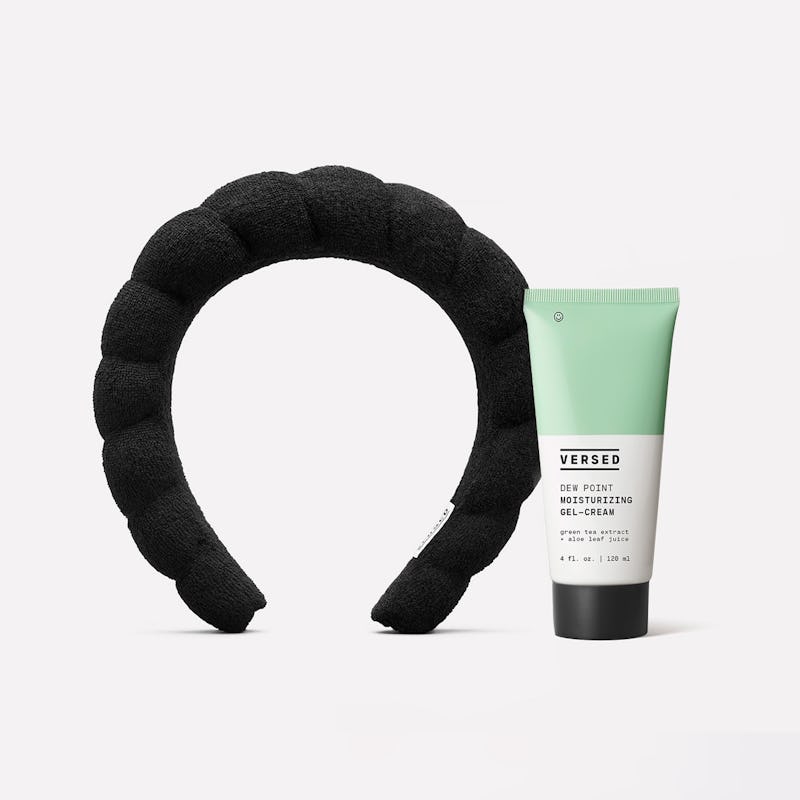 Versed Skincare
We may receive a portion of sales if you purchase a product through a link in this article.
When it comes to keeping their hair out of their faces while they film multi-step skin care routines and intricate #GRWM videos, TikTok's accessory of choice is undoubtedly Versed's "bubble" headband. Spotted on thousands upon thousands of creators, the skin care brand's hard-to-get knotted headband quickly went viral on the platform and ignited frenzied searches for dupes. If you've been searching for one yourself, Versed just made an announcement that is sure to make your ears perk up. The infamous bubble headband is officially back — but you'll need to act very fast if you want to snag one.
Versed's Big Dew Energy Bundle is dropping on March 21, and it includes a black bubble headband (pink and mint green versions have been released in the past) and Dew Point XL (a supersized, 4-ounce gel-cream moisturizer that contains hyaluronic acid, aloe leaf juice, and green tea extract). The catch? The limited-edition duo is available for one day only (yep, you only have a mere 24 hours to click add-to cart).
As with any product that rises to fame on TikTok, the headbands are known to sell out quickly (so there's no guarantee the set will be available for the entire day). If the oversized accessory has been on your wishlist, there's no telling when your next opportunity will arise.
The Big Dew Energy Bundle will be available on March 21, 2023 on versedskin.com.