Visible Thongs Are Trending Again, But At What Cost?
Making a case for full-coverage undies.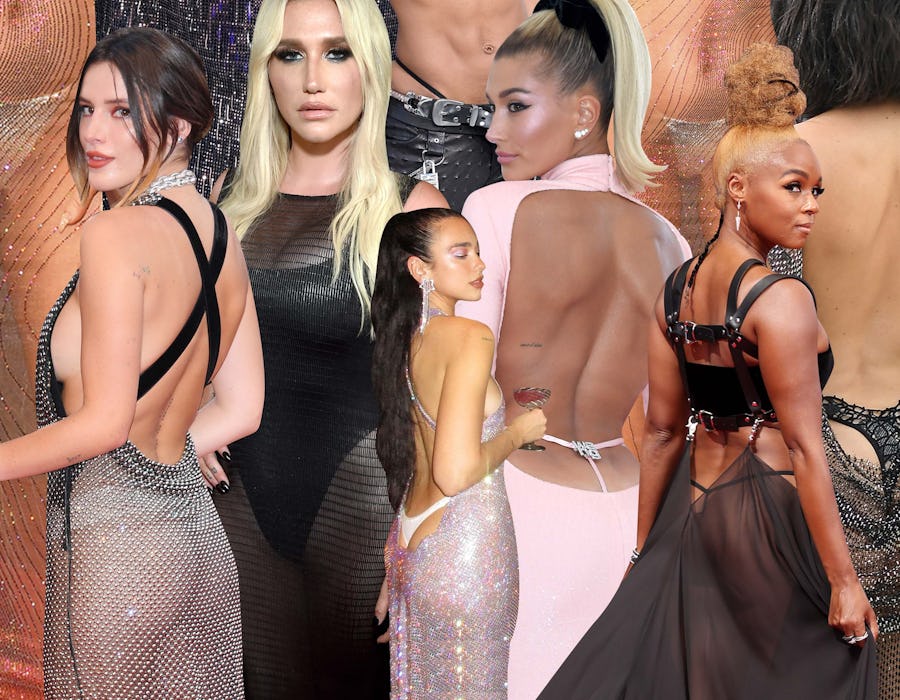 In 2003, I bought my first thong. It was garish — bright pink, with red flame-shaped embellishments at the hip, and the word "HOTTIE" emblazoned across the front in a shimmery fuchsia font. I got it at Spencer's, so all fire imagery aside, it probably was highly flammable. My best friend and I each bought one and we decided in advance what day we would wear them "together" to school.
We considered this an important purchase — one that we felt marked our final ascent into womanhood, as we were about to start eighth grade. Outside of my suburban middle school friend group, whale tails were taking over the fashion scene, due to celebrities like Christina Aguilera and Britney Spears — not to mention that iconic Degrassi moment. And though buying it was a classic (if misguided) coming-of-age ritual, reflecting my desire to feel older and more mature, "visible thong" was not a trend I wanted to partake in.
These were secret thongs — hidden from our mothers, above all — and I dreaded the thought of anyone seeing mine. The only thing worse than someone spotting my G-string, I thought, was the fact that my butthole felt like it was on fire every time I wore it.
"Taint" wasn't in my vocabulary when I bought my first thong — at least, not in terms of anatomy. But with all the wisdom I've accumulated in the past 20 years, I now know what was happening to my poor perineum: It was being rubbed raw between my "HOTTIE" thong and my flared Aeropostale jeans.
I think the first time I ever got a yeast infection was because of that damn thong. So imagine my fury — nay, my horror — to see that visible thongs are trending again, in the year of our lord 2023. Dua Lipa rang in the new year with one, while Kendall Jenner and Hailey Bieber have both worn them to the Met Gala.
So how do I convey to the Gen Z girlies that you don't have to suffer for this trend? Because wearing a visible thong is essentially showcasing to the world that your groin is on fire — and not in the fun, romance-novel way.
Visible thongs are a conundrum — we've simply swapped out underwear lines on our butts for underwear lines on our lower backs. We really just moved the lines. It's nothing new. We're uncovering and recovering lingerie the same way we have throughout history. In fact, I wouldn't be surprised if some archeologist discovered depictions of visible thongs in the cave paintings of Lascaux. (I still think the Bella Hadids of the Upper Paleolithic era deserved to be comfortable!)
So why are we going out of our way to remove panty lines if we're just going to turn around and expose the fact that we are wearing a thong? Why are we choosing to wear the most uncomfortable aspect of early 2000s fashion with such abandon? Wearing a dress over jeans has never ended with such pain. Butterfly clips are not going to chafe your skin. As far as I know, blue eyeshadow has never caused a yeast infection.
If we truly want to be subversive, I propose we embrace full-coverage underwear without shame. Fashion should be playful — and what's more playful than scrunched-up underwear shoved into leggings, like toddlers in their first tumbling class? What could be more "model off-duty" than giant swaths of comfortable cotton gently caressing your cheeks?
Let's give maximalism a true go with the biggest underwear you've ever seen in your life. I won't rest until I see visible panty lines on the red carpet. Now that's what I call a trend.