Experts Explain The Health Issues That Come From Not Drinking Enough Water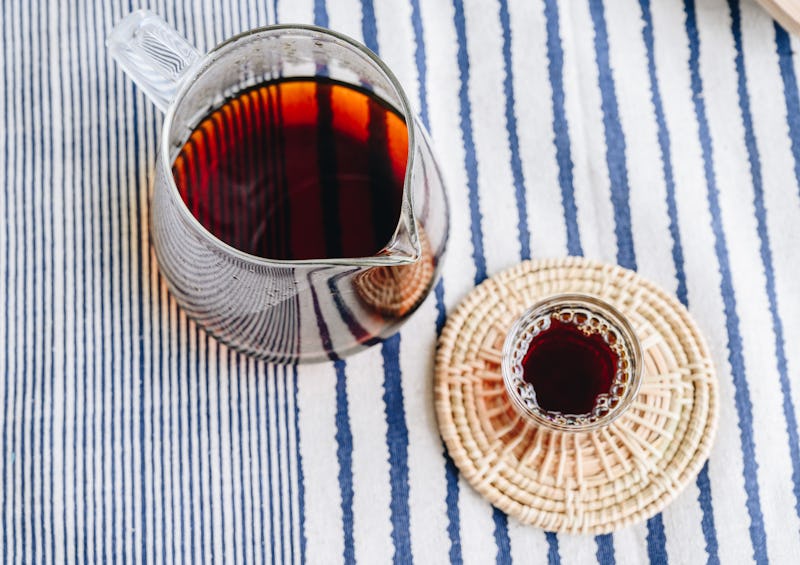 Boy_Anupong/Moment/Getty Images
Dehydration can creep up on the best of us. Hot days are for lounging in the park with a frosé, and water can drift to the bottom of your priority list. "As the weather heats up, it's more important to make sure to keep yourself hydrated," Dr. Natasha Trentacosta M.D., sports medicine specialist at Cedars-Sinai Kerlan-Jobe Institute, tells Bustle. "When you lose more water through sweating, breathing, or urinating than you take in through drinking foods or ingesting water-heavy foods, your body is at a net loss for water and may not have enough fluid to carry out its normal functions." And dehydration can lead to some health issues that might seem counterintuitive, from dry eye to cramping legs.
This doesn't mean you necessarily need eight glasses of water a day; experts instead recommend listening to your body. You can tell if you're dehydrated by looking out for signs like dizziness, dry mouth, or not having to pee. If you notice them, drink up — whether it's a bottle of cold water, or an electrolyte-rich sports drink designed to refresh you after a hard workout.
Here are some health issues you may not know can be caused by dehydration.
Moral of the story? Dehydration can be hard on pretty much every part of your body and brain. Drink whenever you're thirsty, and if you have any of these issues, ask yourself if a lack of water might be the culprit.
Experts:
Caleb Backe
Dr. Ryan Parker O.D.
Dr. Natasha Trentacosta M.D.
Studies cited:
Palma, L., Marques, L. T., Bujan, J., & Rodrigues, L. M. (2015). Dietary water affects human skin hydration and biomechanics. Clinical, cosmetic and investigational dermatology, 8, 413–421. https://doi.org/10.2147/CCID.S86822
Zhang, J., Zhang, N., Du, S., He, H., Xu, Y., Cai, H., Guo, X., & Ma, G. (2018). The Effects of Hydration Status on Cognitive Performances among Young Adults in Hebei, China: A Randomized Controlled Trial (RCT). International journal of environmental research and public health, 15(7), 1477. https://doi.org/10.3390/ijerph15071477
This article was originally published on