Expert-Approved Tips For Dealing With Loneliness Over The Holidays
#6: Lean into your feelings.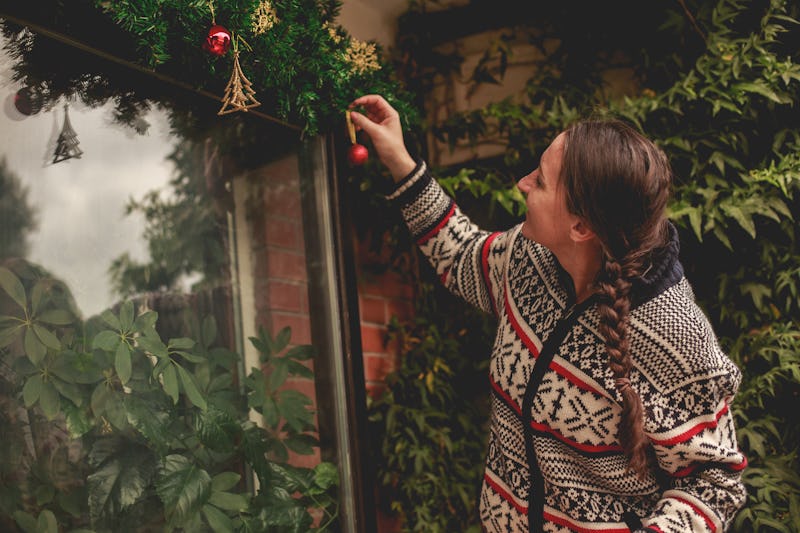 fotostorm/E+/Getty Images
The holidays are upon us, and the time of year when you're supposed to be feeling warmest and fuzziest can often be when you feel the most empty. Whether dealing with seasonal depression, grief, or not being home for the holidays, it's hard to keep those feelings at bay with the emphasis on ~togetherness~ that's part and parcel of the season. These tips on how to deal with loneliness over the holidays are a useful starting point for figuring out ways to cope, whether it be through distraction, processing feelings with patience, or coming up with creative ways to meet new people.
"This holiday season, I am dealing with the loss of my grandmother and coping with loneliness by spending extra time with my girlfriends, along with retail therapy," Je'Coven, 26, tells Bustle. "I also have a journal that has gotten me through the nights that have been harder to cope with."
The reality is that this time of year is incredibly difficult for many people. It can be easy to forget that we're actually not alone in feeling lonely or sad. But self-care strategies for dealing with loneliness over the holidays abound. Here are some places experts suggest starting.
Above all, it's important to remember that you're doing your best during a notoriously stressful time. There's nothing inherently wrong with feeling lonely, and while it can be an unpleasant experience, riding out the wave of your feelings will always land you on other side eventually.
Sources:
Dr. Kristen Fuller, M.D., eating disorder treatment organization Center for Discovery
Jeannie Assimos, chief of advice at eHarmony
Life coach Ricki Friedman
Therapist Chantel Cohen
Helena Plater-Zyberk, co-founder of online support network Supportiv
Psychologist Jennifer Wolkinm, PhD
Matchmaker Stef Safran
This article was originally published on