Doctors Debunk 8 Myths About Wearing Face Masks
There's still a risk of spreading the virus in a closed environment — say, a hermetically sealed White House car.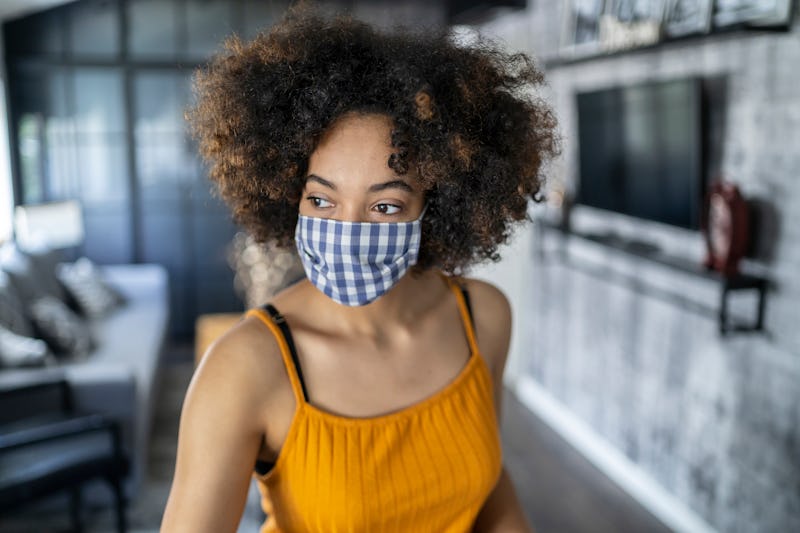 Vladimir Vladimirov/E+/Getty Images
Face masks are the new black — and orange, and pink, and any other trend you'd care to name. The Centers for Disease Control and Prevention (CDC) says that people should wear cloth face coverings in public settings where it's difficult to socially distance, like pharmacies and grocery stores. It's not just to stop you from getting the virus; it's also to prevent people who might not have symptoms from unknowingly spreading it to others. But along with the flood of DIY mask tutorials, people, knowingly or not, have begun to spread myths about masks and COVID-19.
"It's easy to be confused," Dr. Larry Burchett, M.D., an emergency physician, tells Bustle. Guidelines on masks have changed over time, he says, as scientists get more information about how COVID-19 spreads and what to do to slow infection rates. First, the CDC advised people to avoid masks if they weren't health care workers; now they've issued advice to use them all the time outside.
That means that myths about mask use have evolved over time. "There has been a ton of misinformation on ways to protect yourself and loved ones from the virus, including but not limited to the use of face masks," Dr. Robert Quigley, M.D., senior vice president and regional medical director of medical emergency logistics service International SOS, tells Bustle. If you're not sure what's real and what's just advice from Twitter, here are seven common myths and what doctors have to say about each one.
Experts:
Dr. Teresa Bartlett, M.D., senior medical officer, Sedgwick
Dr. Larry Burchett, M.D., emergency physician
Dr. Robert Quigley, M.D., SVP and regional medical director, International SOS
This article was originally published on