8 Reasons Why Your Vagina May Hurt During Your Period
Plus, what to do about it.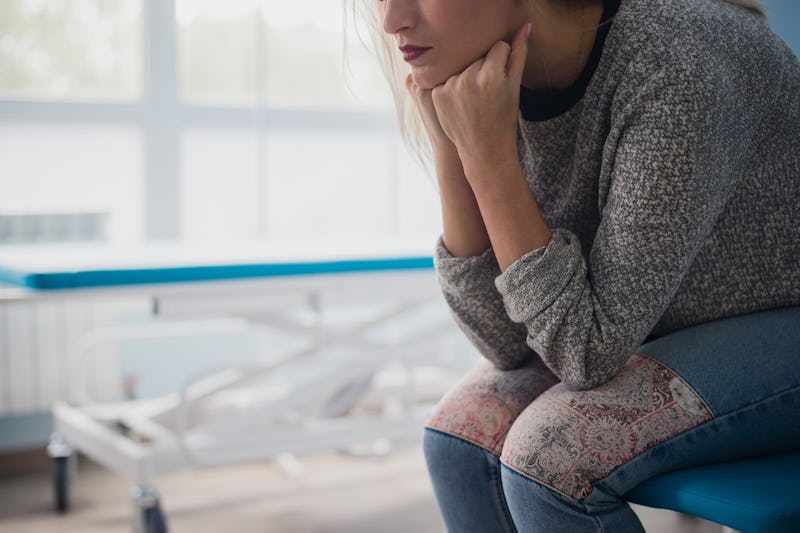 RK-studio/Shutterstock
Studies report that nearly 85% of people with periods experience period pain. But when you think of pain during your period, you probably think about cramps, which typically occur in the lower abdomen or lower back. Some people, however, also experience vaginal pain during their period. This can be a side effect of the typical processes associated with menstruation, or it could point toward an underlying problem.
"If you feel like you have to hold your vagina and take a moment to breathe in and out when you're on your period, realize that you're not alone," reproductive endocrinologist and OB/GYN Dr. Aimee Eyvazzadeh, M.D., tells Bustle. Dr. Eyvazzadeh adds that it's common to feel a little bit of pain, but if the pain is significant, interferes with your life, or occurs outside your period, there could be other circumstances that are contributing to vaginal or vulvar pain. What's more, there could be a cure.
A good rule of thumb, Dr. Eyvazzadeh says, is that if NSAIDs like aspirin and ibuprofen aren't enough to relieve the pain, you should get evaluated by a doctor. There are many different ways to prevent or reduce vaginal pain during your period, so if there's an undiagnosed condition that's making your period pain intolerable, medical intervention could lead to more answers and less distress. Read: you shouldn't have to suffer once a month.
Here are some reasons that might explain why your vagina hurts during your period more than it should.
While talking about vaginal discomfort can be uncomfortable in and of itself, it's important to know that unrelenting pain around your period is not a normal sentencing that you have to endure. Even if your pain is not caused by a medical condition, it can often be reduced by lifestyle changes and medication.
Sources:
Dr. Angela Jones, M.D
Dr. Moushumi Shoma Datta, M.D.
This article was originally published on