8 Things Your OB-GYN Wants You To Know About IUDs Before You Get One
Three to 12 years of (sorta) hassle-free birth control, explained.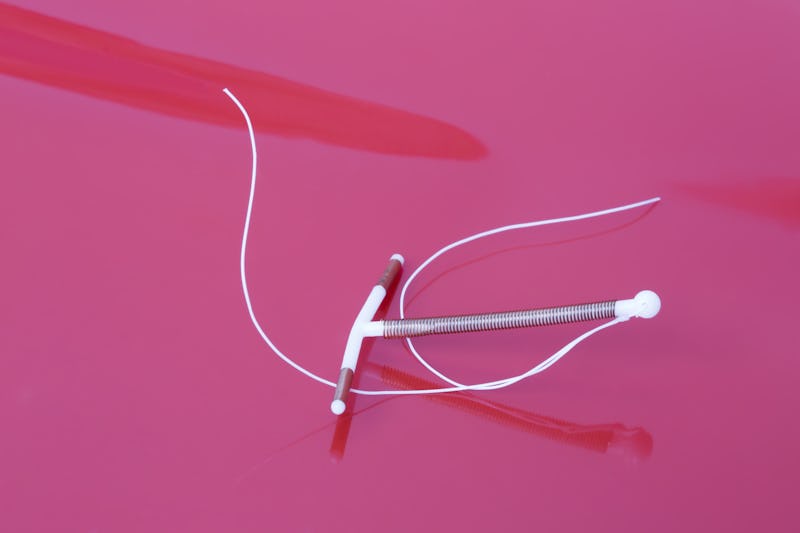 Beate Panosch/Fotolia
Over the last half-decade, there's been a number of catalysts for people with uteruses to rush to their OB-GYN's office to get an IUD: President Trump's election, Justice Kennedy's 2018 retirement, and now conservative justice Amy Coney Barrett's confirmation to the Supreme Court. Each of these events sparked fears that reproductive rights could be under renewed attack. As a result, some people are contemplating reliable, long-term birth control, such as intrauterine devices (IUDs).
Coney Barrett, who replaces the liberal justice Ruth Bader Ginsburg, has signaled anti-choices views, signing a letter calling Roe v. Wade, the 1973 ruling legalizing abortion, "barbaric", and supporting anti-abortion groups and speakers throughout her career. A lot of people are afraid that her appointment will impact their accessibility to birth control or abortion, especially if Roe gets overturned. There was also a spike in IUDs after President Trump was elected in 2016, since they're a long-term birth control option that's often free… at the moment, anyway. However, before you run out and get one, there are key things you should know before getting an IUD, because they may not be not the right choice for everyone.
Dr. Sherry A. Ross M.D., women's health expert and author of she-ology. The Definitive Guide to Women's Intimate Health. Period., is an advocate of IUDs. "With the anticipated balance of power with the Supreme Court leaning in a direction away from supporting women's reproductive rights, easy access and affordable birth control is in jeopardy," she told Bustle in 2018, when Justice Kennedy retired. "The IUD could be the best way to ensure safe and reliable birth control up to around 10 years or until the balance of the Supreme Court is more in favor of protecting women's reproductive rights."
If you don't already have one, you may wonder about the pros and cons of IUDs — and there are things your OB-GYN wants you to know, too.
Of course, only you can decide if an IUD is the best contraceptive choice for you. But with Amy Coney Barrett on the Supreme Court, it may be the time to make birth control decisions in general, IUD-related or not.
Experts:
Dr. Kecia Gaither, M.D
Dr. Sherry A. Ross M.D.
Dr. Kendra Segura, M.D. M.P.H
This article was originally published on