Here's What 2,000 People Are Fantasizing About
From new sex positions to video chat sex.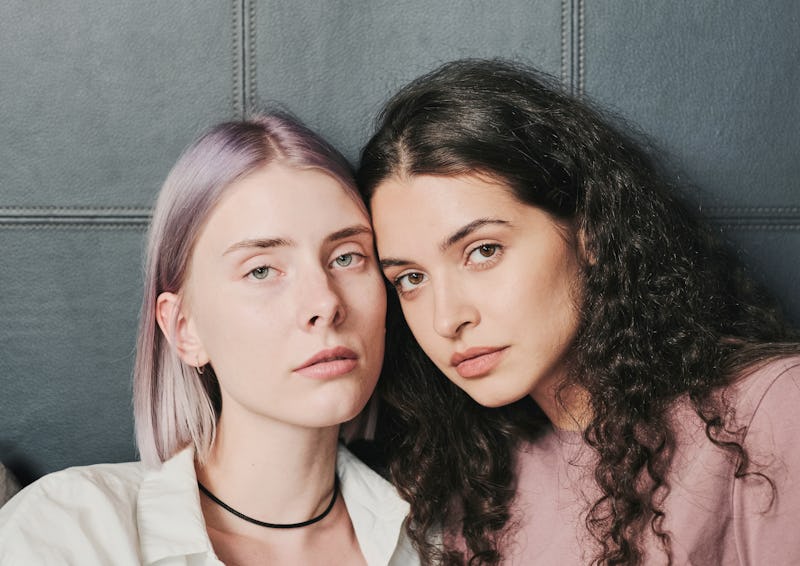 mediaphotos/E+/Getty Images
What are the biggest sexual turn ons? It's a big and, sometimes confusing question. Because sex is so subjective, different people fantasize about different things. And if you've never had the time or space to really explore your body and sexuality, you may not even know all turns on you have.
As sex educator Cassandra Corrado explains, most people don't inherently know what feels good sexually. Like finding the perfect face serum for your complexion, learning what turns you on takes time and practice.
"Your best friend or partner may absolutely love something that you find pretty 'meh' or downright annoying," Corrado tells Bustle. "Everyone's desires and preferences are different, so explore for the sake of knowing yourself better."
When discovering what gets you hot and bothered, Astroglide's resident sexologist Dr. Jess O'Reilly encourages the use of fantasy. "Fantasies may offer a glimpse into the thematic elements of your real-life desires," Dr. O'Reilly tells Bustle. "But it's important to note that sexual fantasies often include acts, people, and scenarios that we'd never want to pursue in real life."
Dr. O'Reilly says that fantasies offer a form of escapism from the stress of daily life. Because fantasies are make-believe, they can be a low-stake way to discover what feels sexy to you. When touching yourself or getting it on with a partner, you can mentally be on an island in the tropics or a groupie at a Chainsmokers concert.
If you're looking for some sexy inspiration or just want to know what other people find hot, sex toy retailer MysteryVibe surveyed 2,000 Americans in 2021 about spicing up their sex lives and pinpointing their post-pandemic turn-ons. Here's what the survey found.
Experts:
Cassandra Corrado, sex educator
Dr. Jess O'Reilly, Astroglide's resident sexologist
Jonathan Bennett, dating and relationships expert at Double Trust Dating
Stacy Rybchin, sex toy expert and founder of My Secret Luxury
Dr. Laura Deitsch, Vibrant's resident sexologist
Vanessa Marin, licensed sex psychotherapist
Dana Myers, sex expert
Carol Queen, Ph.D., author and staff sexologist for Good Vibrations
Tatyana Dyachenko, B.Sc., a relationship expert and sex therapist with Peaches and Screams
This article was originally published on