Black Girls Breathing Founder Jasmine Marie's Unconventional Approach To Pumping Herself Up
"When I feel like I'm supercharged or excited, I'm not as grounded as I would like to be."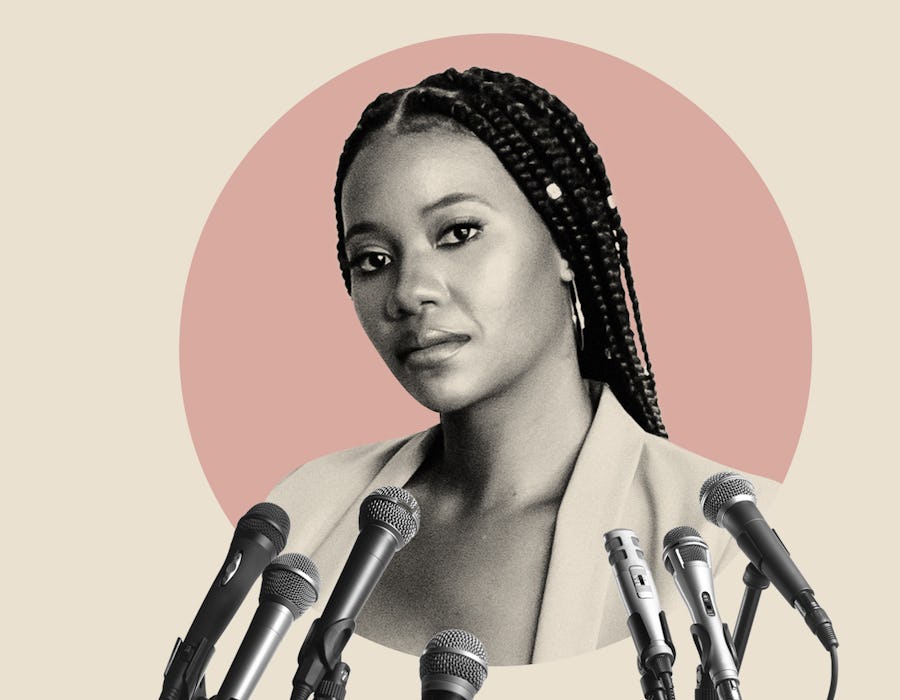 Gerald Carter
In Bustle's Quick Question, we ask women leaders all about advice — from the best guidance they've ever gotten to what they're still figuring out. Here, Jasmine Marie, CEO and founder of Black Girls Breathing and House of BGB, tells Bustle about her unique business mindset and the suggestions she shuts down immediately.
Despite having founded a community that promotes healing through breathwork, Black Girls Breathing CEO and founder Jasmine Marie doesn't consider herself part of the wellness industry. She calls breathwork, a practice of regulating breath to bolster physical, mental, and spiritual health, "very 'luxe wellness,'" citing services that can cost up to $300 a session. Her introduction to the modality, however, came free through her church.
A recent business school graduate at the time, she had developed rashes from the stress of working in global brand management in New York City. "I wasn't able to listen to what my body was telling me," Marie, 30, tells Bustle. Breathwork, she says, was so helpful in restoring that connection that she decided to get trained in it in 2018, and founded Black Girls Breathing later that year. "I knew this tool could be helpful to our community, who experience chronic stress on a daily basis, generational traumas, and microaggressions."
"Mindfulness is showing up, meeting ourselves where we are, witnessing without judgment."
Black Girls Breathing's approach is tailored to the experiences of Black women, who are at higher risk of mental health issues, breast cancer, heart disease, high blood pressure, and more, because of the stress imposed by systemic racism. "It isn't just going to a breathwork class and simply breathing in and out. It's specific to us. I don't feel free as a Black person in this world. How do I deal with the psychological impacts of that?" Marie says.
Since its founding, the organization has pivoted from hosting in-person breathwork workshops to offering virtual sessions for free and up to $25. In light of the company's initial successes, Marie has even bigger plans: She's pledged to expand the currently 15,000-person strong community to impact 1 million Black women and girls by 2025, between offering breathwork services and using data and research to improve mental health outcomes. It's a feat the Atlanta-based Virgo feels rooted enough to pull off.
Below, Marie tells Bustle about confidence, career advice, and her biggest entrepreneurial learnings.
Before a big meeting or presentation, how do you pump yourself up?
I don't, which is interesting. I believe in having a calm state, so that I can access what I need in the moment. When I feel like I'm supercharged or excited, I'm not as grounded as I would like to be. I want to show up fully and leave the meeting being very clear about next steps. I want to plant seeds.
Sometimes we pump ourselves up because we believe that we may not be ready or deserving of the opportunity. When you embody the mindset of "I deserve to be here. No one is more important or less important than the people we're about to meet with," everything will be OK.
In those moments where you feel supercharged, how do you quiet that noise?
I've stopped trying to control it and instead work with it more. Mindfulness is showing up, meeting ourselves where we are, witnessing without judgment. Maybe that's me saying to myself, "Hey, Jasmine, your mind is still going because you had a very eventful day and there's so much on your to-do list. Would it be helpful to jump on the computer and get these things out of your mind? Or do you have to listen to the voice that says you should be quiet right now?" When I give my body and thoughts the attention they need, it turns out OK.
What's the best piece of career advice you've received?
A mentor recently reminded me to "Always operate in your worth," especially with bigger opportunities with companies that don't operate in ways we would like to work or where their culture sucks. If you feel like a company is looking down on you, remind yourself that they need you more than you need them. Instead, work from a mindset that the right partners are going to come and it'll feel good to work with them. You'll get to operate in the way that you want to.
What about the worst advice?
At a previous job, I met a Black man who was at the top of an ad agency. I told him I felt like it would take years to be able to make certain decisions. He was like, "Well, that's the game. You've got to stay in line."
I heard that and was like, "No, I don't. I don't want to play the game." I ended up leaving corporate and starting my own companies. When I reconnected with him later and told him about Black Girls Breathing, he said, "I'm so proud of you." It was just beautiful.
Is there something you need advice on?
As a Black woman, I'm tired of other people giving me unsolicited advice. I have so much support from advisers, business coaches, and my team. There's only so much advice that one can give to prepare you for business. I would say guidance is more important than advice, but I've got all the bases covered on what I need to ask for.
Your business is doing amazing, but do you have a backup plan?
This is not my first rodeo as an entrepreneur. Black Girls Breathing is my fourth business — our sister agency, House of BGB, collects insights from our target market to solve the systemic issue of how lack of data on Black women impacts prevention and treatment in health care. If all else fails, I'll go back to marketing. I don't have a backup plan, but I have the tools to figure it out if I need to.
What would you tell someone just starting off in your industry?
Be curious. Ask questions and learn as much as you can. Every level's going to require you to operate with a different subset of knowledge. Position yourself around people who are where you want to be. Don't be stagnant — have your ear to the market.
What sticks out to you most from your journey building Black Girls Breathing?
Especially in the past year, it's been seeing how it's impacted Black women. We get emails about how having this resource has helped women leave abusive relationships or provided comfort when they lost their spouse. It helped people feeling depressed, alone, and isolated. I love the way we've been able to provide that communal space for Black women to be seen and feel heard and understood.
This interview has been edited and condensed for clarity.
Correction: A previous version of this story misidentified Jasmine Marie's sun sign. It has been updated with correct information.
This article was originally published on