Snowboarder Chloe Kim Swears By This Mood-Boosting Wellness Practice
The Olympian chats about prioritizing mental health in a high-stress sport.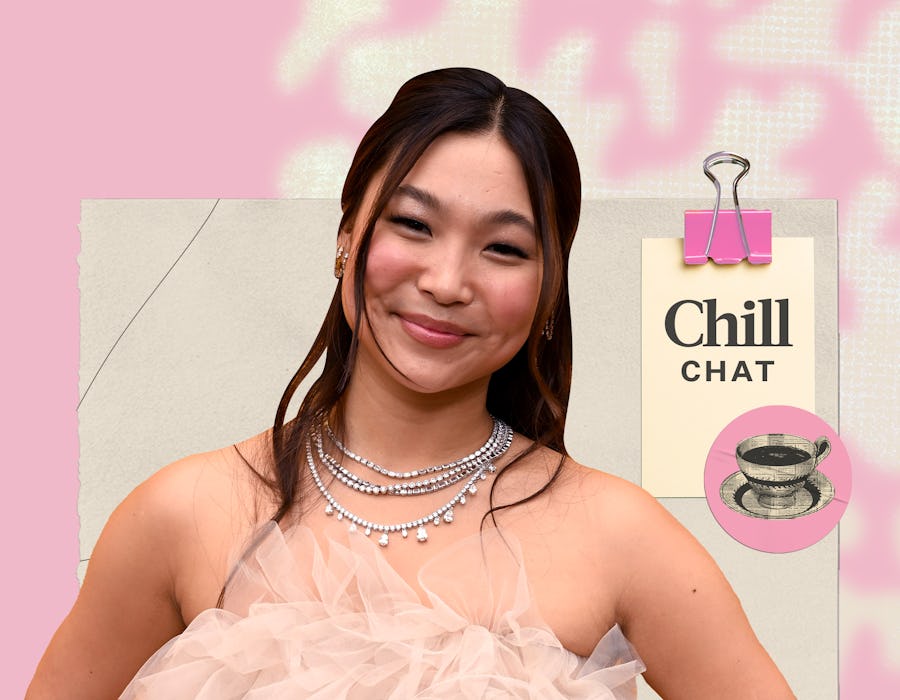 Getty Images/Michael Kovac / Contributor
In Chill Chat, Bustle sits down with stars to chat about all things wellness, from their favorite skin care products to their hacks for getting a good night's sleep. Here, Olympic snowboarder Chloe Kim shares the rituals that keep her grounded, her favorite mood-boosting activities, and the one thing she always does before dropping into the half-pipe.
Chloe Kim became a household name in 2018 after becoming the youngest woman ever to win the gold medal in the snowboarding half-pipe at the Pyeongchang Olympics (she was just 17!). Given her accolades in the sport, you might think the California native's life revolves around the slopes. But Kim recently announced that she was taking a step back from the 2022-23 snowboarding season to focus on her mental health and other priorities.
"I just wanted to give myself a year to do whatever and relax," Kim tells Bustle. "Each Olympic cycle is quite stressful, and I always feel the need to unwind a bit afterwards."
There's no shortage of other priorities to attend to during her time off — at just 22, Kim has co-founded a storytelling platform called Togethxr (along with fellow professional athletes Alex Morgan, Simone Manuel, and Sue Bird) that drives representation and equality in sports media and beyond. She also recently partnered with Mucinex Fast-Max on its Small but Mighty Campaign to spotlight five YMCA chapters across the country with $100,000 in donations to support their winter sports youth programs.
Beyond her professional pursuits, Kim is also candid about the importance of dedicating time and attention to her overall well-being. Here, the athlete shares the habits that keep her well happy and strong on and off the slopes.
What is your overall approach to wellness?
My approach to wellness typically involves me being in tune with myself and listening to my body and mind.
Why is prioritizing mental health important for you as an athlete, and what are you doing to take care of your emotional well-being?
I wholeheartedly believe that in order to be a great athlete, you have to take care of your mental health. Sport is of course physical, but it's taxing on the mind as well. Personally, I've been spending a lot of time with my family and my "kids" — my dog, Reese, and my horse, Mochi. They help me feel grounded and level-headed.
What's your favorite thing to do when you need a mood boost?
Just getting outside — it could be skateboarding, walking, outdoor runs, a workout... anything to keep me busy. I also like to practice gratitude and remind myself of how blessed I am.
Outside of snowboarding, what does your workout routine look like?
I do a lot of strength training. My trainer, Roy, is incredible, and I feel much stronger than I ever have. I've also been working on my cardio a bit because I'm sick of being out of breath after a run.
To recover, I get physical therapy. When I'm in Los Angeles, my physical therapist, Vinh, takes care of me. When I'm in the snow, my physical therapist is Emilie. I always need someone with me on the road to ensure I'm good and ready to go.
What's one wellness ritual that you can't live without?
My main one is knocking on my snowboard before I drop in. I've done it forever and it's a thing for me now.
What's your typical morning routine?
I like to wake up around 8 a.m. I'll have my morning smoothie, brush my teeth, and go work out. I prefer to get most of my work and errands out of the way as soon as possible so I can enjoy the rest of the day.
How do you wind down after a long day?
I love taking baths — especially bubble baths. Ironically, I get cold relatively easily, so I love getting in a warm bath after a long day.
So much of your snowboarding career involves looking forward to upcoming events like the Olympics. What do you do to stay present?
I think staying present is one of my strengths. I enjoy taking things one step at a time. For the longest time, I regretted not being more present in certain moments, big or small, so I've started to practice being more present as a result. I'll try to stay off my phone and spend quality time with loved ones, or even just myself.
This interview has been edited and condensed for clarity.