7 Things Couples Fight About That Can Actually Be Healthy
Just don't bring up past arguments.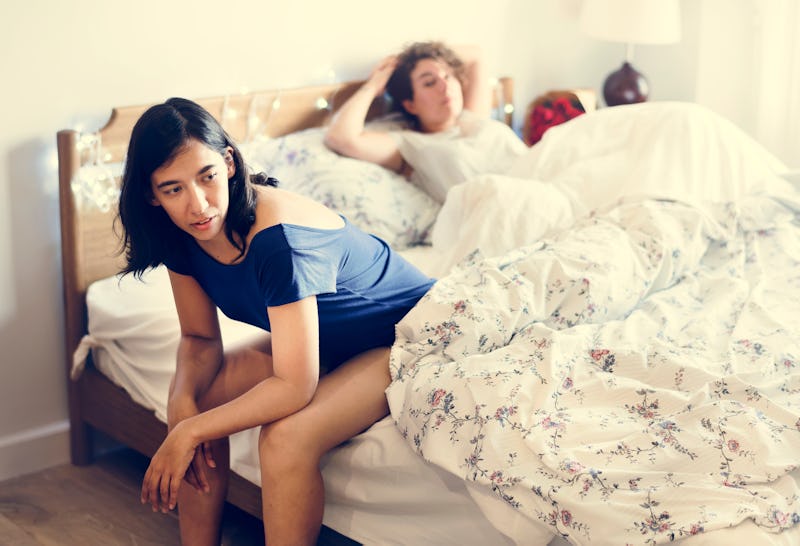 Shutterstock
Getting into arguments with your significant other sucks, especially when they're ones that have reared their ugly heads in the past. Disagreements can also make you feel like you don't see eye-to-eye with your partner, but that's not necessarily a bad thing. Although fighting with your significant other can be disheartening, there are some common couple arguments that are healthy, provided that both parties commit to handling them appropriately.
"Conflict is an inevitable part of any relationship, and it doesn't mean that the relationship is doomed," Megan Cannon, licensed clinical social worker and owner of Back to Balance Counseling tells Bustle. "Having disagreements can lead to resolutions, so why not hash it out when the time comes? Choosing those battles can lead to positive outcomes, as long as you're choosing the proper battle to fight."
More often than not, the topic you're arguing about isn't the real problem, but rather it's how you fight with your partner that's the issue, says intimacy coach Irene Fehr.
"In healthy relationships, when couples find themselves in a situation that's heading towards a fight, they slow down and listen more to each other — not less," Fehr says. "They get curious. They make an effort to hear each others side of the story and, most importantly, the deep hurt underneath."
While it's good to hash out disagreements about your sex life or needing space from family members, these seemingly "healthy" argument can turn unhealthy quickly if either person starts playing the blame game or brings up past fights.
If you're trying to fight in a healthier way, relationship and communication coach Chloe Ballatore tells Bustle that it's important to avoid words like "should" and use "I" statements to prevent one person from feeling attacked. "Unhealthy communication refers to language that is blaming and usually begin with the word 'you,'" she says. For example, "You should have told me you were going to be late tonight," or "You should have paid the bill last week." These kinds of statements can cause someone to get defensive, and when someone is playing defense, they're more likely to say mean things they may regret later. "I" statements, on the other hand, put the focus on you and your feelings. It's a much softer approach.
Additionally, if you know you're going to have a difficult conversation with your partner, let them know beforehand. You could say something as simple as, "Hey, I just need to get this off my chest and it might be a little uncomfortable." You should also choose a neutral time to raise the issue that won't create more stress for them or put pressure on the situation to be resolved quickly — so the ten minutes before they're leaving for their friend's birthday party? Probably not the best idea.
"When you use conscious communication as described above, you can create a foundation for resolving conflict and that makes your relationship stronger than it was before," Ballatore says.
So if you're worried that your back-and-forth with your partner isn't helping your relationship, don't panic. Here are seven arguments that most couples encounter and might even help your relationship grow stronger if you handle them carefully.
At the end of the day, disagreements and arguments can help you learn more about your partner and what you both want out of your relationship, but the outcome depends on how you approach these conversations. They can be healthy, but only if they are done constructively.
Sources
Megan Cannon, licensed clinical social worker and owner of Back to Balance Counseling
Ashley Chambrello, licensed marriage and family therapist
Robyn Koenig, certified professional dating coach, CEO and founder of Rare Find
Steven Reigns, licensed psychotherapist and founder of Therapy For Adults
Chloe Ballatore, relationship and communication expert
This article was originally published on