Meet The Running Coach Advocating For POC Representation On The Trails
"We've done years of listening and learning," says Dora Atim, founder of Ultra Black Running. "Now it's time to put it into play."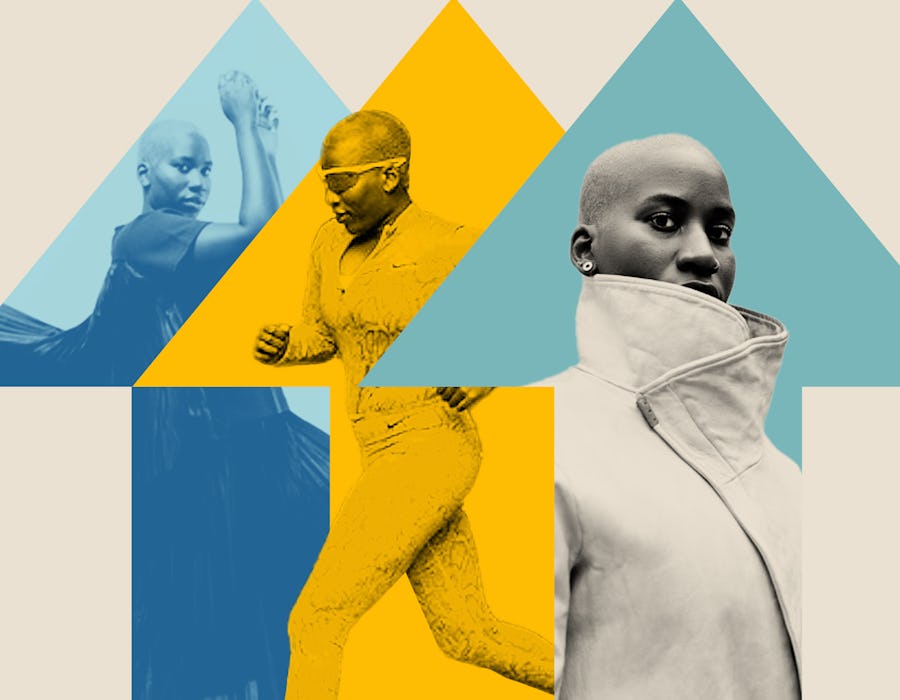 Dora Atim
In "The Level Up," changemakers in the fitness and wellness industries tell us how they're making an impact in their communities, from pushing for inclusivity to promoting body acceptance and so much more. Here, Dora Atim, Nike coach and founder of Ultra Black Running, talks about the importance of seeing yourself represented in your sport.
When Dora Atim started running at 19, she never expected it to stick. She was only doing it to supplement her boxing training. "I'd go running super late at night because I was embarrassed to be out doing something I had no idea how to do," says London-based Atim, now 30.
One day, everything clicked. After settling into a routine where she pushed herself a little further each time — running to one traffic light before taking a break, then two — Atim decided to run without stopping. She fired up her usual house music playlist, hit the pavement, and didn't stop until she completed her first 10-kilometer run. "That opened up so many possibilities," she says. "I felt like I could do anything, even if it was hard, as long as I broke it up into smaller goals."
Since then, she's run countless races, become a mentor to transgender youth in the sport, and earned the title of Nike running coach in 2018. When she moved to the countryside in 2020 at the beginning of the lockdowns, she took up trail running and quickly noticed non-Black people questioning her presence. That's when Atim founded Ultra Black Running, a community for Black women and non-binary runners.
What started as a trail run with a group of friends swiftly morphed into in-person and online community thousands of followers strong where folks can go on group trail runs, participate in races, talk about running and beyond, and forge community in a historically white, male-dominated sport.
Here, Atim tells Bustle about her mission to help Black women and queer people find belonging — and joy — in the sport.
Tell me more about why a community like Ultra Black Running is so badly needed.
In 2020, trail running was making me feel amazing. It was the only way I could process that time. But when I was out on the trails, people would stop and ask me what I was doing. It was bizarre — clearly, I was running, but it made me feel like I didn't belong. I became really anxious and depressed and decided not to run for a while.
After my friends asked me why I'd stopped running, I went out for a sunrise run while listening to an old house music playlist. I ended up breaking down while running through the forest — bawling, ugly crying — but it was a feeling of relief. It was also a feeling of sadness about what was going to happen next [during the pandemic] and about where we stand in this world. I was just letting it all out.
When I got back from the run, I realized I want everyone else to feel like this — specifically people who look like me and can relate to me. I texted the group chat and said, 'Girlies, we're going on a trail run.' And that's how I birthed Ultra Black Running.
What can non-Black folks do to make the running community more inclusive?
It doesn't have to just be me; it doesn't have to just be Black women. Those who are supporting us and who are in our corner every step of the way can also help.
I think there's a reluctance with supporting marginalized groups sometimes, because no one wants to do or say anything wrong. But everyone gets things wrong — instead, the intention just has to be there. We've done years of listening and learning. Now it's time to put it into play with relationship building, utilizing resources, coming together, and creating spaces to talk.
What can the running industry do to make itself more accessible to all runners?
It's all about removing barriers to entry. For example, people from London don't necessarily drive, so are you hosting a race closer to train stations? Or do you have shuttle services?
It's the same with race entry fees. Do you have a program where part of every entry fee goes towards a fund that gives people tickets who otherwise can't access them? Just because you can't afford something doesn't mean that you should be excluded from it. These changes come with talking to community leaders and organizers. Don't guess.
Tell me about your work with youth.
My greatest accomplishment is a mentorship program with Badu Sports for young women of color. It connects them with jobs in the world of sports or as athletes. It's incredible seeing what the girls are doing now — some have internships at Sky Sports, and some have gone on to train and qualify as athletes in skeleton.
I've also coached kids and young people for about 15 years in various sports and worked on youth projects to support employment. This all links back to running. When working with vulnerable young people who are dealing with serious situations, I always tell them, 'I don't have the answers, and I don't know how it feels to be in your shoes. But just go for a run to clear your head.'
What do you hope the running world looks like in the future?
Very colorful. Lots of ages. I hope it's a place where everyone is from different walks of life, and where people can just come and feel joy.
This interview has been edited and condensed for clarity.