The Science Behind Why You Get Déjà Vu Is Actually Really Creepy
The mechanisms behind déjà vu are still not very well understood.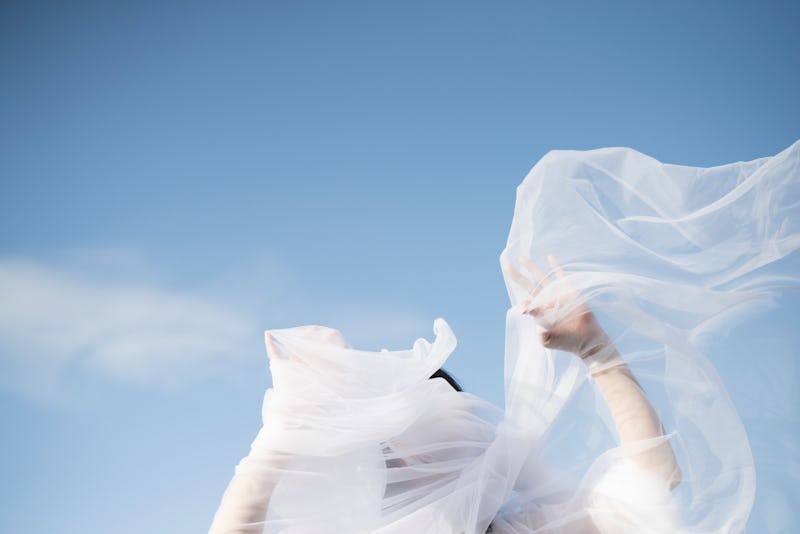 Rieko Honma/DigitalVision/Getty Images
If you've experienced a flicker of recognition as you do something — pet a cat, watch a film, enter a house you know you've never been in before — you've experienced the puzzling psychological phenomenon that is déjà vu. It's a sudden sensation, often short-lived, that suggests that you've experienced your current situation before, and are recalling it vividly, even when you know you haven't. Déjà vu is a psychiatric oddity that's extremely common, occurring in about 60% of the population. And understanding how déjà vu works might shed light on the functions of human memory and our complex brains.
"Though the reasons behind why people experience déjà vu are not yet fully understood, over the past two decades, great scientific progress has been made toward understanding it," Anne Cleary Ph.D., head of the Human Memory Lab at Colorado State University, tells Bustle.
Déjà vu first entered scientific circles in 1876, when the French philosopher and investigator of the paranormal Émile Boirac coined the term in a letter. Freud thought it was prompted by repressed desires (because of course he did), Marcel Proust's madeleine sequence is based on it, and the makers of the Matrix trilogy made the feeling a sign of a "glitch" in the artificial world. As it happens, the truth might actually not be much less bizarre.
It's possible that there are several kinds of déjà vu created by different situations, and that we won't fully understand the mechanisms and how they interact until a lot more experimentation is done. For the time being, though, don't worry if you experience déjà vu a few times a year. You're not being haunted or having a premonition. Bits of your brain are just ever-so-slightly, briefly, putting a memory in the wrong box.
Experts:
Anne M. Cleary Ph.D.
Sanam Hafeez Psy.D.
Studies:
Bartolomei, F., Barbeau, E., Gavaret, M., Guye, M., McGonigal, A., Régis, J., & Chauvel, P. (2004). Cortical stimulation study of the role of rhinal cortex in déjà vu and reminiscence of memories. Neurology, 63(5), 858–864. https://doi.org/10.1212/01.wnl.0000137037.56916.3f
Brown, A. S. (2004). The Déjà Vu Illusion. Current Directions in Psychological Science, 13(6), 256–259. https://doi.org/10.1111/j.0963-7214.2004.00320.x
Cleary, A. M. (2008). Recognition Memory, Familiarity, and Déjà vu Experiences. Current Directions in Psychological Science, 17(5), 353–357. https://doi.org/10.1111/j.1467-8721.2008.00605.x
Cleary, A. M., Brown, A. S., Sawyer, B. D., Nomi, J. S., Ajoku, A. C., & Ryals, A. J. (2012). Familiarity from the configuration of objects in 3-dimensional space and its relation to déjà vu: a virtual reality investigation. Consciousness and cognition, 21(2), 969–975. https://doi.org/10.1016/j.concog.2011.12.010
Collins, A., & Koechlin, E. (2012). Reasoning, learning, and creativity: frontal lobe function and human decision-making. PLoS biology, 10(3), e1001293. https://doi.org/10.1371/journal.pbio.1001293
Nigro, S., Cavalli, S. M., Cerasa, A., Riccelli, R., Fortunato, F., Bianco, M. G., Martino, I., Chiriaco, C., Vaccaro, M. G., Quattrone, A., Gambardella, A., & Labate, A. (2019). Functional activity changes in memory and emotional systems of healthy subjects with déjà vu. Epilepsy & behavior : E&B, 97, 8–14. https://doi.org/10.1016/j.yebeh.2019.05.018
O'Connor, A. R., & Moulin, C. J. (2013). Déjà vu experiences in healthy subjects are unrelated to laboratory tests of recollection and familiarity for word stimuli. Frontiers in psychology, 4, 881. https://doi.org/10.3389/fpsyg.2013.00881
Pešlová, E., Mareček, R., Shaw, D. J., Kašpárek, T., Pail, M., & Brázdil, M. (2018). Hippocampal involvement in nonpathological déjà vu: Subfield vulnerability rather than temporal lobe epilepsy equivalent. Brain and behavior, 8(7), e00996. https://doi.org/10.1002/brb3.996
Urquhart, J. A., Sivakumaran, M. H., Macfarlane, J. A., & O'Connor, A. R. (2018). fMRI evidence supporting the role of memory conflict in the déjà vu experience. Memory (Hove, England), 1–12. Advance online publication. https://doi.org/10.1080/09658211.2018.1524496
Vlasov, P N et al. "Déjà vu phenomenon-related EEG pattern. Case report." Epilepsy & behavior case reports vol. 1 136-41. 18 Sep. 2013, doi:10.1016/j.ebcr.2013.08.001