In The 'Kimberly Akimbo' Musical, Bonnie Milligan Steals The Show
The Broadway actor steals the show in Kimberly Akimbo.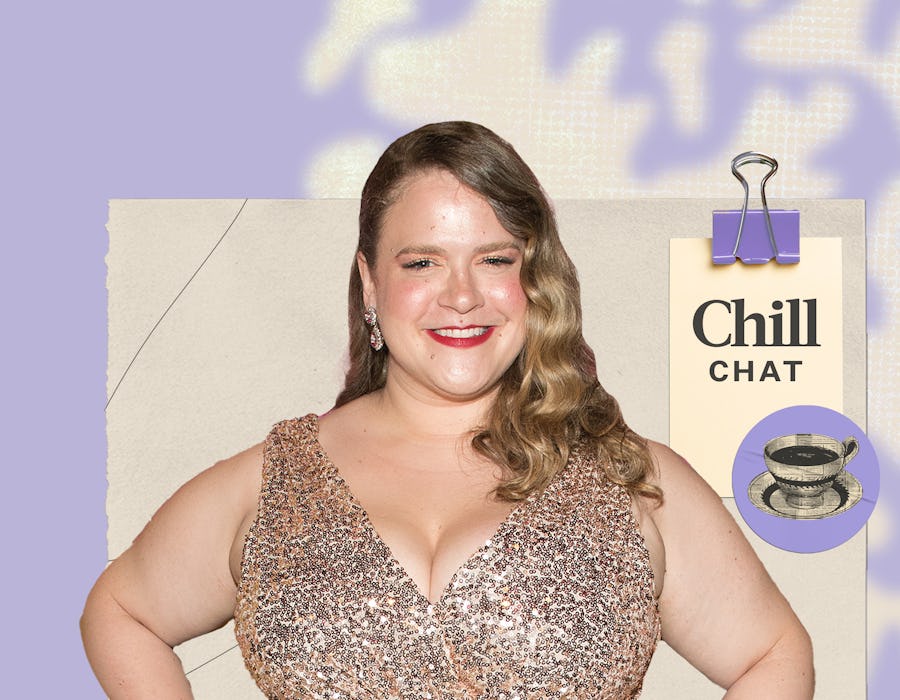 In Chill Chat, Bustle sits down with stars to chat all things wellness, from skin care products to hacks for staying healthy. This week, sidle up to Broadway standout Bonnie Milligan.
Although Bonnie Milligan doesn't appear onstage in the musical Kimberly Akimbo until partway through Act One, when she does, the actor deploys her comedic timing and powerful pipes — her Instagram handle is @beltingbons — to scene-stealing effect in a song about "make[ing] your sh*tty life better."
"Better" is an instant mood booster, even if her character, a chaotic schemer named Debra, uses methods that are morally and often legally questionable (one pearl of wisdom: "You gotta catch a break/snatch a purse"). Performing it has a similar effect on the 38-year-old. "It feels like being shot out of a cannon," Milligan tells Bustle.
Akimbo, which opened on Broadway last fall to rave reviews, centers on New Jersey teen Kimberly Levaco (played by Tony winner Victoria Clark), who has a condition that makes her body age rapidly. About to turn 16 but looking closer to 70, she'd rather enjoy her age group's typical rites of passage than dwell on the fact that she's nearing life's end. So when her Aunt Debra comes literally crashing in, Kimberly and her classmates volunteer to take part in her latest grift.
The show combines many disparate elements — rapidly aging teen, dysfunctional parents, and an anagrams-obsessed crush among them — in a heartwarming reminder to cherish loved ones since time is fleeting. "That's life, right? It's both heartbreaking and hopeful, and painful and joyful and deep," says Milligan, who made her Broadway debut in 2018's euphoric Go-Go's musical Head Over Heels and has had recurring roles on Search Party and in the miniseries Escape at Dannemora.
Milligan's father passed away in 2020, right before she was asked to audition for Akimbo's off-Broadway run, so grieving has been a fundamental part of how she's experienced the show. "I still have days where I leave the theater and just cry, and am sort of taken aback," she says. "And it's funny, because my character has so much of the comic relief, but I have such ties to [this show] emotionally. It's healing to do it every night and bring that catharsis to the audience."
Below, Milligan reflects on cast camaraderie and how she stays healthy.
Milligan with Akimbo's Victoria Clark.Bruce Glikas/Getty Images Entertainment/Getty Images
Milligan on the opening night of Head Over HeelsWalter McBride/WireImage/Getty Images
What's one routine you've adopted that's made your (not) sh*tty life better?
I get [to the theater] pretty early and do a bunch of stretches and try to get into my body. Connecting with everybody, being really open and honest about when I'm struggling has been helpful. I've gone over to Alli [Mauzey, who plays Kimberly's mother] at times and said, "I'm feeling sad today and I'd like to be on my couch under a blanket, watching a movie and crying." We're very open about where we are, mental health-wise.
Mondays are sacred for people in the theater, since that's often your only day off each week. What do you like to do with yours?
It varies, but mostly I rest. Doing eight shows a week is really hard. I think Elaine Stritch was quoted once — she was quoting someone but she said, "If you want to do musical comedy right, you've gotta live like a f*cking nun." And I kind of do that. I don't go out during the week, I don't drink, I try to sleep, I try to drink as much water as possible.
Are you a coffee person?
I had an iced coffee today but I'm not a coffee-all-the-time gal.
Do you have a go-to remedy for when you have a sore throat?
If it feels like I might be getting a cold, I talk to my ENT, because the doctor is gonna know better than me. I also have throat coat tea and I'll make that with some honey. And I try not to use my voice.
Let's say it's the night before a two-show day, and you can't sleep. How do you wind down?
I sometimes have trouble sleeping because my brain doesn't turn off right when I come home from work — and I come home from work at like, 11 p.m. I'll take a hot shower and journal a little bit to get any extra thoughts out of my head.
What about between shows?
I have a little couch in my dressing room. On Saturdays, I'll usually get a nap in there. Wednesdays are hard because our shows are at 2 and 7, so there's not a lot of time in between. Usually I just lie down, [to] try to lower the heart rate, and let my body rest and heal if it needs to.
How do you prioritize your own mental health?
Being brutally honest with myself about where I am and not trying to be a hero. Talking with people [has helped], whether you have a therapist, whether you have your friends, your mom. I play Debra from a place of, she's alone in the world, and that comes home with me a little. When you're an actor and give so much of yourself, that can be hard. Luckily the people around me don't shame me for that.
This interview has been edited and condensed for clarity.
Kimberly Akimbo is playing at the Booth Theatre (222 West 45th Street) in New York City.