How To Make Friends In A New City, According To Experts
One fresh group chat, coming up!
by Eva Taylor Grant and Kaitlyn Wylde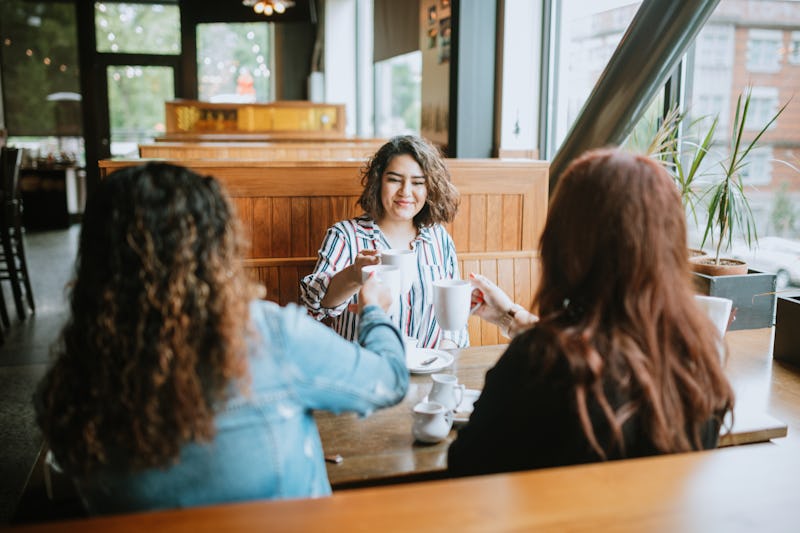 RyanJLane/E+/Getty Images
When Halle, 23, moved from NorCal to SoCal with her fiancé, she knew it would be hard making friends in a new city, but didn't anticipate spending all of her time alone in an empty apartment with her new dog, working remotely. "I knew I was going to be lonely, but moving to a new place with no friends is hard. Nobody talks about how making friends as an adult is so awkward," she tells Bustle.
Trying to make friends at all in your 20s and 30s can have you feeling like the new kid on the playground again. A 2018 study published in the Journal of Social and Personal Relationships found that it took adults about 94 hours to turn acquaintances into casual friends, and an average of 164 hours to turn casual friends in to friends. Add in some post-lockdown social anxiety and a new city, and making new friends becomes quite the challenge.
In June, Monse, 25, moved from Kansas to Dallas, Texas, for a new job, which went virtual days after she signed her new lease. Since then, she's found creative ways to socialize. "I've met a couple people here and there with who I've exchanged social media accounts: One was working at a car shop that I took my car to, another one was my Uber driver, and another was a family friend," she says, adding that she also follows a "thing to do in Dallas" Facebook group which she hopes will lead to IRL connections when she feels comfortable meeting up in-person.
"One of the things that makes finding friends so intimidating is because we're so quick to believe our perception of the situation is reality," life coach Desiree Wiercyski tells Bustle. "We think that everyone else has their lives together, all the friends they would ever want, and wouldn't care or having time for new connections." In reality, many people are in the same position as you: wondering how to meet people in a new city.
According to life coach Erica McCurdy, the key to making friends in your new town is making a commitment to something. "While not exciting, the truth is that most people meet new friends in the places they spend the most time," McCurdy tells Bustle. "Something about the regularity of seeing the same person day after day or week after week makes it easier to start a conversation, connect, and let that connection develop into a friendship."
But just signing up for a class or course or club isn't always the most intuitive endeavor, especially when you're new. "When we are out of our comfort zone we forget how we even made friends in the beginning and have a tendency to become more shy or nervous of being vulnerable to new people and experiences," Jenn DeWall, a millennial life and career coach, tells Bustle. While the basic places — work, networking groups, and bars — can be good options for finding your new group sometimes new friends are hiding in much more obscure places.
Here are some unexpected ways to make friends in a new city.
Study cited:
Hall, J. A. (n.d.). How many hours does it take to make a friend? - Jeffrey A. Hall, 2019. SAGE Journals. Retrieved September 14, 2021, from https://journals.sagepub.com/doi/10.1177/0265407518761225.
This article was originally published on