These Lustie Libido Gummies Are 15% Off Right Now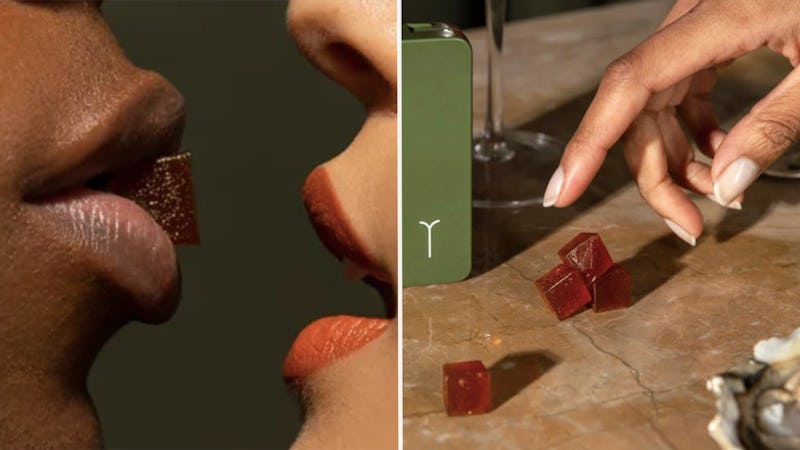 We may receive a portion of sales if you purchase a product through a link in this article.
Sexual wellness company maude and techy supplement brand ASYSTEM have done their fair share of sensual-leaning research. According to the brand, about half the adults they surveyed want to try libido-lifting supplements — but far, far fewer have taken the plunge.
If you're one of those folks that have been interested in trying a libido-enhancing supplement, now could be a perfect time. maude x ASYSTEM's deliciously potent Libido Gummy is 15% off for Bustle readers. Just use the promo code BUSTLE15 at check out.
What Are Libido Gummies?
These lusty little gummies aim to enhance sensual elements of the body and the brain (both heavily involved in "tapping that"). The formula includes clinically-proven ingredients, adaptogens, and botanicals, and when their powers combine, they can help get your libido stirred up in a few different ways:
Increasing blood flow: A lack of blood flow to the erotic regions — whether penis, vagina, or beyond — can negatively impact one's ability to get aroused. Key ingredients like L-Citrulline and L-Arginine (amino acids found in food that can help open arteries and blood vessels) and a proprietary S7® complex (to help relax genital muscles) aim to help get everything pumping down below.
Alleviating stress: If you're stressed, it stands to reason that sex might be the furthest thing from your mind. Libido gummies are formulated to help optimize neurotransmitters in the brain that communicate with the bod to stimulate blood flow to the sensual organs. Ingredients include magnesium and L-theanine to help soothe stress and anxiety.
Boosting key hormones: The gummies aim to naturally heighten hormones with ingredients like pine bark extract (which studies show can enhance physical arousal) and boron (a natural element that can increase testosterone and estradiol, a type of estrogen).
Of course, like many supplements, maude x ASYSTEM's Libido Gummies have not been evaluated by the Food and Drug Administration and they're not intended to cure or treat any health issues. If you are concerned about your diminished sex drive, you should make an appointment with your doctor to discuss possible underlying causes and possible treatments. It's also generally a good idea to talk to your doctor before adding a supplement to your diet, especially if you are taking any medication. That being said, if you're looking to enhance you libido for a bit of cheeky fun, maude x ASYSTEM's Libido may be the gummie for you.
So, Do They Work?
Results and experiences will vary from person to person, but I had the pleasure of sampling Libido, and though I came in a skeptic, I emerged a convert. After just a couple days of taking the (actually very delicious) gummies, I felt more at ease and, you could say, more easily titillated. It felt special to treat myself to an enhanced level of arousal. After all, an SO isn't the only reason to get down.
For those who are partnered up — whether just for V-Day or beyond — adding sensual gummies to the mix is a little off the beaten path, and feels exciting and intimate in and of itself. Boosted hormones, soothed stress, and enhanced blood flow to the sexy regions are all icing on the come-hither cake.
With a discount to the mix, what's not to love? This year, maybe skip the chocolates and treat yourselves to a gift that keeps on giving — all night long.
This article was originally published on