8 Things No One Tells You About Sex On Your Period
Sure, it can be messy.... but there are workarounds.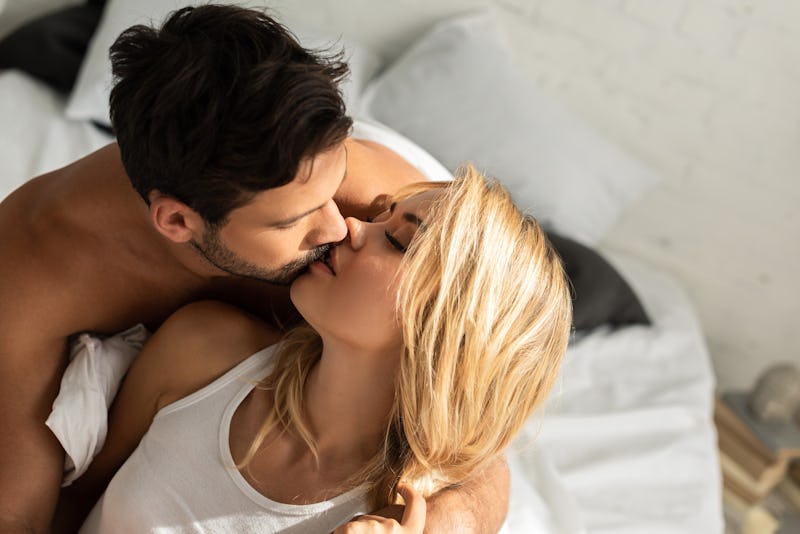 Shutterstock
Though there are plenty of fun things to do in bed while on your period — penetrative sex isn't the only option — by no means should bleeding stop you from getting it on however you'd like. I've had sex on my period twice in my life. The first time it was with a friend of a friend I kept running into around my neighborhood and was casually hooking up with for months. During one one of these "run-ins" I had my period but really wanted to have sex with him. Before I took him home, I told him I had my period, and his response was "I love period sex." I knew some friends who really enjoyed period sex, mostly because an orgasm is amazing for cramps, but I couldn't imagine a guy would go so far as to say he loved it. But he did, and we had a bloody good time.
The second time I had period sex was actually not too long ago. As we lay in my bed, my partner said that he didn't think vaginal sex should be off-limits "because of a little blood." We went for it, but first I grabbed a dark towel to put on the bed — something I had learned was necessary after having period sex the first time around.
But when we collectively discuss period sex, we don't always cover all the details. Yes, orgasm endorphins can ease menstrual cramps, according to board-certified OB/GYN Dr. Kameelah Phillips, M.D., and, no, it's not going to be some sort of insane blood bath (although there will be blood). According to Phillips, misconceptions about period sex go way, way back: "Sex and menstruation are two very natural events that are wrapped up in long-standing historical, cultural, and social taboos," she tells Bustle. "When we discuss the two together — period sex — it invokes conversations that challenge our traditional thinking about women's bodies and what is 'normal' in terms of sex and human sexuality."
For one, if you've ever wondered, "Does having sex on your period make you bleed more?", the answer, according to Phillips, is a resounding no. "Period sex will not make your periods heavier or longer, but the rhythmic contractions from an orgasm can push some blood out of the uterus, and penetration can bring blood out of the vagina," she tells Bustle. "This is nothing a well-placed (preferably) dark towel cannot handle." Another idea many people are misled to believe is that when you're on your period, you lose sexual desire — which is simply false. "People with vaginas can have the desire at any time during their cycle," Phillips tells Bustle. "If there is consent, then sex is absolutely an option."
Unfortunately, this is just the tipping point when it comes to myths about sex and menstruation. To get straight to the facts, here are eight things no one tells you about period sex. (Spoiler alert: It can actually be really fun.)
The takeaway? Period sex can be pretty awesome; you just need to go into it realizing what's involved. Of course, you may try it and think it's the worst, and that's totally fine, too — everyone is different! But with this information in your pocket, you'll have a good idea of what to expect when you decide to get it on.
Studies referenced:
Bancroft, J. (2009). Sexual arousal and response — the psychosomatic circle. Human Sexuality and Its Problems, 55–143. https://doi.org/10.1016/b978-0-443-05161-6.00004-5
Magon, N., & Kalra, S. (2011). The orgasmic history of oxytocin: Love, Lust, and Labor. Indian Journal of Endocrinology and Metabolism, 15(7), 156. https://doi.org/10.4103/2230-8210.84851
Experts:
Dr. Alyssa Dweck, OB/GYN, Assistant Clinical Professor at Mount Sinai School of Medicine, and author of V is for Vagina: Your A-Z Guide to Piercings, Periods, Pleasure, and So Much More
Dr. Sherry Ross, OB/GYN and author of She-ology
Experts:
Dr. Alyssa Dweck, OB/GYN, Assistant Clinical Professor at Mount Sinai School of Medicine, and author of V is for Vagina: Your A-Z Guide to Piercings, Periods, Pleasure, and So Much More
Dr. Sherry Ross, OB/GYN and author of She-ology
Dr. Kameelah Phillips, M.D., board-certified OB/GYN and founder of Calla Women's Health
This article was originally published on