My Night At A Queer Rope-Bondage Class
It was intimate in unexpected ways.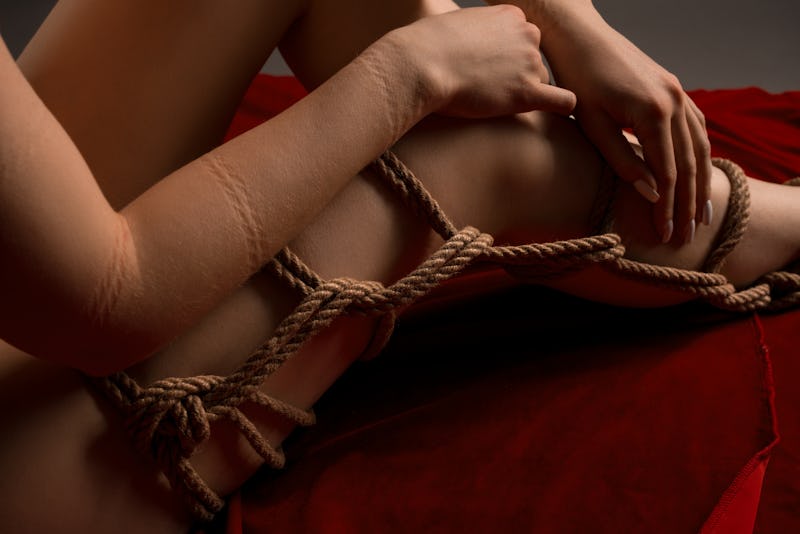 Guryanov Andrey/Shutterstock
On a random Wednesday night, my girlfriend and I find ourselves sitting in a warmly lit Brooklyn apartment surrounded by suspension hooks and bundles of rope. We waited in nervous silence for the Queer Rope Bondage 101 workshop to begin.
I'd recently stumbled across the Instagram account @FreaksnotCreeps, New York City-based rope artist Liv's visual diary of rope suspension and deviant bondage imagery. As a curious queer, I was hesitant but highly intrigued to know more. I learned that rope bondage is a form of shibari, also known as kinbaku, that originates from Japan. In modern Western culture, the stereotype of an older man tying a skinny, flexible white woman is widespread, but from festivals to meet-ups, there's actually a thriving, diverse queer rope-bondage community around the world.
After watching a few videos about rope on YouTube, I was curious about taking one of Liv's workshops with my girlfriend; it seemed safer to try this with professional guidance. Although the idea of attempting something totally new was nerve-wracking, the idea of learning alongside fellow freaky gays eased our anxiety.
Instead of the harsh hues of red and black that I'd expected, the studio had dim lighting and plenty of plants. The other people in the class were cool. I presumed the other participants might look Goth, with head-to-toe leather, piercings, and tattoos — instead, one arrived in Maison Margiela Mary Janes. I would never have picked any of them off the street to be even the slightest bit interested in rope, but it was exciting to be wrong. We had yet to even begin class, and I already had my first takeaway from the night: Don't judge a book by its cover.
Liv is a self-identifying sadomasochist and pervert with blunt bangs and a soft smize. They began class by explaining that their goal is to create a queer safe space within rope bondage that isn't intimidating and doesn't necessarily have to be sexual. While rope can get serious down the road, Liv's beginner class would be solely sweet and cute. This felt like a breath of fresh air; I'd been anxious about being rushed into a rough practice that didn't resonate with me. I was ready to learn.
I learned to like letting go and being the one to feel.
We each began by untangling a long bundle of rope and practiced self-tying with the single-column tie, the most versatile and simple knot. Next, we tried the double-column version. As I maneuvered from my calves to my thighs to my waist, I started to get the hang of it. Once my beginner's frustration of figuring out the knots wore off, I could tune into how the rope felt on my body. It was coarse and harsh, but in a relaxing way. Everything around me paused, and my main focus became the tenderness of the twisted fibers on my legs.
Once we were somewhat confident in our self-tying abilities, my girlfriend and I began tying on each other. It was intimate and nerve-wracking at the same time. We were touching each other in ways we never had before, and the tightness of the rope was unfamiliar but strangely calming. The energy in the room was uplifting as everyone around me was focusing on tying their partners. I felt so safe in a queer space; there was no judgment to be found but instead an uplifting feeling of all-togetherness. I loved seeing people tied up alongside me. We'd just met, but we were all enjoying an intimate experience with one another.
I joined the class with the intention of using my new skills on my girlfriend. She has always expressed interest in restriction on various parts of her body, and I enjoyed the idea of being the restrictor. However, when she started practicing on me, I had no choice but to comply. It turned out to be an uncomfortable thrill. I learned to like letting go and being the one to feel.
During the class, we all talked about how disconnected we felt from our own bodies in our daily lives. According to Liv, although tying is often thought of in a sexual context, it can also be a way to connect with yourself or a friend. For this reason, Liv encourages people to come to class alone or with a group. Although I plan to continue to use rope bondage sexually, I enjoy the idea of practicing new knots as a form of self-care.
If you're curious about tying, too, let me pass along a few tips from Liv: Communication and trust are pre-requisites. You know you've tied rope tightly enough if you try to sit down and your knees can't meet your ankles. Keep a pair of safety scissors around just in case.
I'm grateful I didn't let my nerves get the best of me. The experience taught me that the "scary" and "intense" stereotypes of the BDSM world aren't universal. Tying can be gentle and kind, something to create connection of all types — with yourself, friends, or sexual partners. I left the class with a fun new hobby and a charge on my credit card for my very own bundle of rope.