Rhiane Fatinikun Is Leading A Movement To Reclaim The Outdoors
The Black Girls Hike founder discusses building community, dismantling stereotypes, & getting back to nature.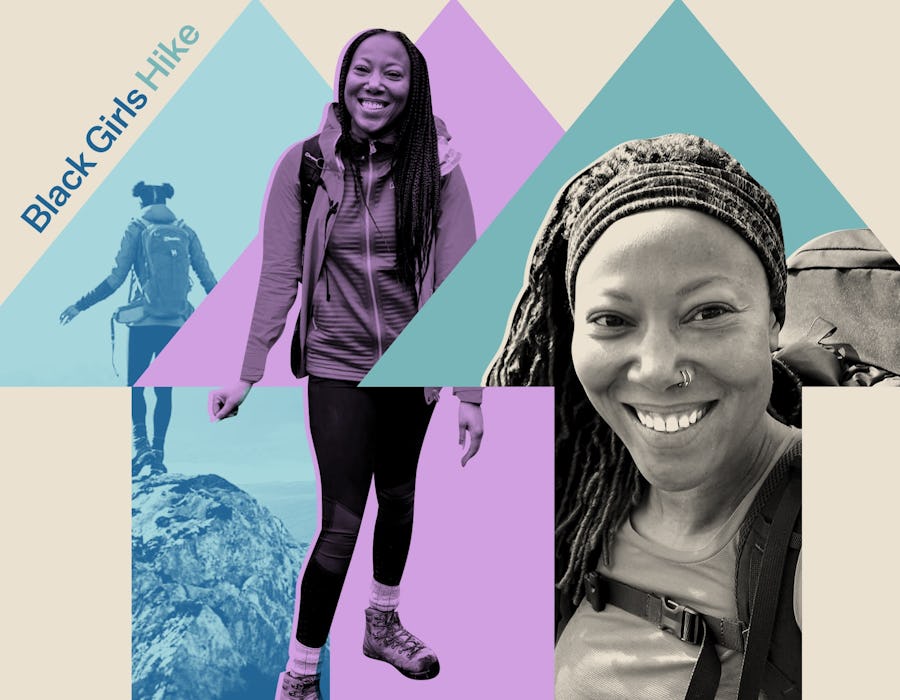 Images courtesy of Rhiane Fatinikun
It was a near-death experience that pulled Rhiane Fatinikun, founder of the award-nominated group Black Girls Hike, from the monotonous slumber of city life into nature. A blurry viral video shows Fatinikun unassumingly standing at a crossing before a car crashes into the barrier next to her.
"After that happened, I started getting extremely anxious," she tells me. "I had a really unfulfilling job in the civil service, and I thought, 'Oh my goodness, I almost got taken out, and all I'm doing is going to this shit job, going home, and watching TV.' That's one of the main reasons I took up hiking".
Fatinikun was born and raised in Manchester before moving to Blackburn in Lancashire, right on the edge of the West Pennines. Despite being so close to nature, she says it never appealed to her before the car crash. "The more rural you go, the more white it is, and you're more likely to experience racism," she explains.
"Over time, our connection to nature has been severed by racism and all the different ways that it manifests."
Countryside racism is a huge issue in the UK and is one reason Black communities have a strained relationship with the British outdoors. "Over time, our connection to nature has been severed by racism and all the different ways that it manifests," says Fatinikun. "We are from nature, and we used to be so intune with the land before we became urbanised. It is important to get that connection back as Black people; we have a spiritual connection to nature."
Being the only Black girl in her school, Fatinikun desperately needed a community of other Black women, especially as her interest in the outdoors grew. When she couldn't find a community of Black hikers, she created it.
Black Girls Hike (BGH) started in Manchester, but now new groups are popping up in Devon, Weymouth, East Sussex, and the Midlands. "I wanted to create a safe space for Black women to reconnect with nature and explore," she tells me. As well as hikes, she curates activity weekends and trains other Black women to lead hikes. Her hiking groups have helped Black women of all ages step out of their shells.
"We had a girl come on a hike from London, and she'd never left London before. So many people don't know what the UK has to offer," Fatinikun says. "You'd be surprised that the UK has so many amazing landscapes you can get to, and they're all so varied as well. Hiking is a great way to connect with nature and learn more about yourself."
"I wanted to create a safe space for Black women to reconnect with nature and explore."
When we speak, she's just completed a London walk with over 54 people in attendance, and she's buzzing. "We've just registered as a nonprofit now and hired a business development manager. It's all going on for us; everything is really positive," she tells me.
After a year of lockdown where one of the few things people could do was walk for exercise, it is no surprise that walking is the most popular exercise in the UK. The massive uptick in walking and hiking has helped to boost Fatinikun's community.
"I like to think that Black Girls Hike has played a role in putting [hiking] on people's radar; I feel like we've had a lot of exposure recently." They also took over a segment on BBC's popular show Country File, which has over six million regular viewers.
Below, Fantinikun talks more about building a community, dismantling stereotypes, and enjoying the mental health benefits of being outdoors.
From your experience, what are people's reactions to hiking for the first time?
It gives them a whole new lease of life. It's like suddenly they have discovered something totally new. Not only is it a massive boost to their mental health but a boost to their confidence as well. That first step, hiking, is the first step to loads of other things. We were nominated for a diversity award, and one of the nominees said we inspired her to take her daughter on a nature walk. Her mother never took her, and her grandmother never took her mother, so she felt she created a new legacy for her family.
Has hiking changed your perception of what fitness is?
Definitely. People just think of hiking as walking, but when you're walking up to something steep, it's good for the glutes! Some days after a hike, you feel like you've done leg day at the gym. It's really good exercise, and most importantly it's very accessible. You can start off with walking, maybe in your local park, and then you can start building up. Hiking is just walking with elevation.
What do you think puts people off hiking, and what makes BGH different?
One thing that puts people off hiking is thinking that it is a competition; it makes people question their abilities before they have even started. People always use words like challenging and endurance when they think about exercise. However, one thing about Black Girls Hike is that we're all beginners, so there isn't that intimidating element of challenge and endurance that beginners fear; it's a nice and easy pace.
I also think it is because of historical attitudes. Hiking is seen as a white thing, and the representations of hiking are very white also. When people think of hiking, they imagine a white guy up a really steep mountain with a backpack on and shorts, and they believe everything feels like climbing Everest when it's not!
What barriers do people face when they want to hike or even become aware of hiking?
If you go to a school in a middle-class area and have trips abroad, you get exposure to activities such as hiking. In schools with no resources, they aren't able to provide this. Some schools don't even do swimming lessons, and I found that out recently. If you've never been taken to the countryside, you won't even know how to get started. Even the language they use in hiking can be alienating and intimidating. I went on my first skills weekend, and I had to google some of the stuff on the kit list because I was like, 'What the hell is that?'
What role has social media played in creating your community?
Instagram has been our main tool really, because that's the first platform I started the group. Social media can be really positive when you use it in the right ways. With the hiking community on Instagram specifically, it tends to be quite wholesome; it's just people getting out in nature. So far, it has been really successful for us, and Instagram has been our main thing.