100 Epic Truth Or Drink Questions To Play 'Say It Or Shot It' With
Are you ready to bring your A-game?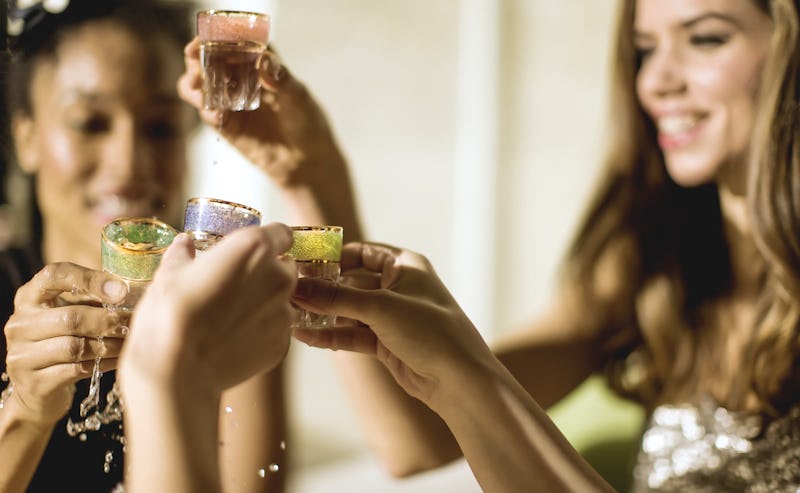 Mint Images/Mint Images RF/Getty Images
You just can't beat a good party game, and for Brits, it's all about the drinking games. With our keen pub culture and love of a good time, there's nothing quite like combining the two. And one game that does it best is Truth or Drink, otherwise known as 'Say It Or Shot It.'
Whatever you call this one, it's a great go-to for all sorts of occasions when you're around friends and/or family, whether you feel like hosting or taking the game on a night out. There's nothing like getting together and having a good laugh, which this drinking game will definitely produce wherever you decide to play it.
The rules are simple: when given a question, you choose to either answer honestly, or take a sip of your drink/shot. Questions can range from funny, lighthearted ones to get the game going, to deeper queries or even X-rated flirty Q's that are probably best reserved for when family aren't around.
The following questions have to be the best of the best, and will be perfect for celebrations such as birthdays, dinner parties, nights out, and on timely calendar dates like New Year's Eve, when drinks will likely already be flowing. You could even spruce up date night or Valentine's Day by focusing on the sexual Qs to ramp up the romantic tension. These are also questions you can ask on Zoom, meaning anybody not able to make it IRL can still join in the fun.
Get pouring!
This article was originally published on