Venus Williams' Favorite Workout Isn't Tennis
The star athlete shares her wellness rituals and go-to self-care practices.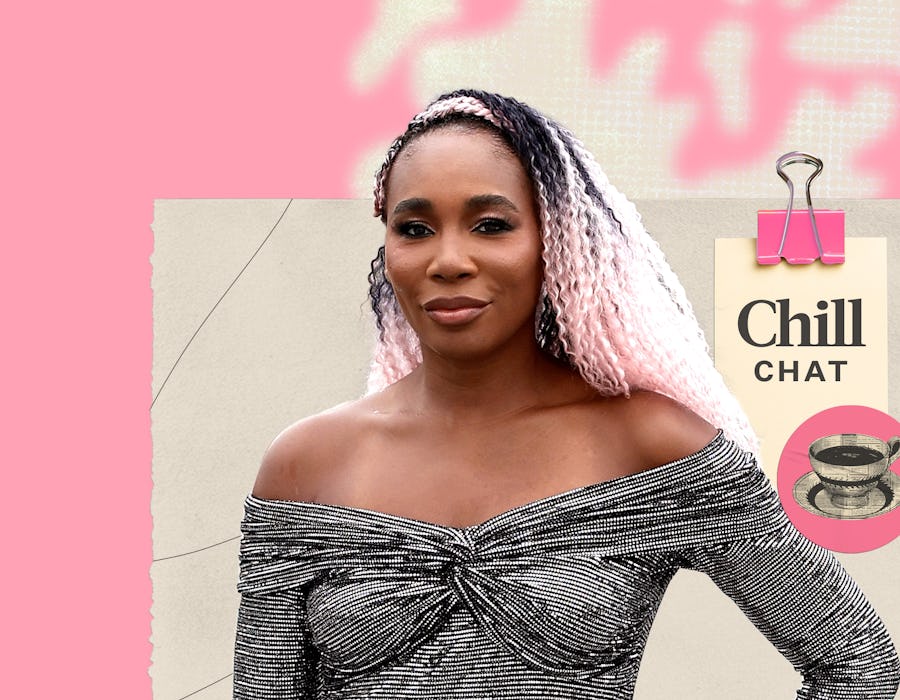 Getty Images
In Chill Chat, Bustle sits down with stars to discuss all things wellness, from their favorite skin care products to their hacks for getting a good night's sleep. Here, Venus Williams talks about mental health, the aromatherapy mist she swears by, and why tennis isn't her favorite workout anymore.
When it comes to tennis, Venus Williams is one of the GOATs. She's won seven Grand Slams, she has been ranked No. 1 in both singles and doubles, and she has officially been playing pro level since she was 14 (though she has slayed on the court since she was 7 years old). But the renowned athlete says she couldn't have done it if she didn't prioritize her mental health.
"My parents were big proponents of self-confidence and instilled it in my sisters and me from a young age," Williams tells Bustle. "For them, our mental health and self-esteem always came first, so they're the reason I grew up confident in my body and in myself."
This is why Williams has teamed up with Dove and Nike on their Body Confident Sport program, which offers online coaching tools that help young girls increase their body esteem, reduce self-objectification, and encourage them to stay in sports. "I know not everyone is fortunate to have a support system in place, which is why [this program] is so important," says Williams.
Other ways the athlete takes care of her mental health? By prioritizing her skin care routine, hanging with her dog, and rolling out her yoga mat. Here, Williams shares her self-care rituals, including the a.m. beverage that satisfies her sweet tooth.
What's your advice to younger women who don't feel confident in their bodies?
Something my mom used to say to me was, "Do what you came to do." Appreciate everything your body has done and will do instead of focusing on how others perceive you. You are strong and powerful, and confidence comes from within yourself.
Can you talk more about the Body Confident Sport program?
Every girl should feel empowered and confident to play sports, no matter the circumstances. New research from the campaign shows that 2 in 3 girls say they would be more confident if they'd stayed in sports longer, and I encourage all young girls to get involved in the sport or activity of their choosing. When young people feel supported, I believe it can arm them with life skills that can guide them through adulthood.
What does your morning routine look like?
I am not an early bird by any means, but I typically start my day with training. I split my time equally between the court and the gym.
It's tough for me to eat early in the morning but I always try to drink juice or eat some fruit for energy to sustain me through my workout. It's my job to stay healthy and in shape, but listening to your body and knowing when you need to rest is really important, so I'll take a day off if I need to.
Coffee or tea?
I actually don't drink coffee or tea at the moment. But I do love my Happy Viking protein powder, which I use to make a breakfast shake mixed with some almond milk. Currently, I'm loving the strawberry flavor — I have such a sweet tooth, and this helps satisfy that craving while also fueling my body.
What's your favorite workout right now?
I've been into yoga recently. I am not flexible at all, but I'm working on it. I love the mind-body connection that yoga promotes, because mental wellness is just as important as physical wellness. I prefer a fast flow class — tennis is a fast-paced and cardio-heavy sport, so it's right up my alley.
What's a wellness treatment you'll never do?
I can't do cryotherapy. I'm from Florida so I don't do well with cold. The most I can do is icing during rehab after a hard practice or match.
What's on your workout playlist?
I've been listening to Usher recently. When I was in Paris for fashion week, I went to his concert with some friends and was blown away.
"Something my mom used to say to me was, 'Do what you came to do.'"
How do you deal with feeling stressed or overwhelmed?
Every experience and emotion is temporary — especially negative ones — so it's important to be kind to yourself during those moments. I try to do breathing exercises when I'm feeling stressed, and sometimes I'll combine it with stretching as well to give myself a full body release. Being able to take time to reflect on my emotions and why I'm feeling that way gives me the power to let things go and move on.
What other forms of self-care are you into?
I love skin care and have actually become the go-to person in my family on all things skin. I love facials, and sometimes I even experiment and make my own serums and masks. I love trying out different tools like gua sha and ice rollers, too.
How do you like to relax at the end of a long day?
By hanging out with my dog Harry. He's my best friend. I also love candles — I have so many different ones all over my house, so I'll light a few and that helps to calm my mood.
What do you need in order to get a good night's sleep?
I think having a consistent routine, no matter where you are, is so important for getting good sleep. For me, doing my skin care regimen every night has become a ritual. I also love using Asutra's products to unwind and will spritz their lavender Mist Your Mood spray all over my pillow and sheets. It smells so amazing.
This interview has been edited and condensed for clarity.