Are Relationship Ultimatums Ever Really A Good Idea?
"I wanted to give it another shot, but without the source of our issues."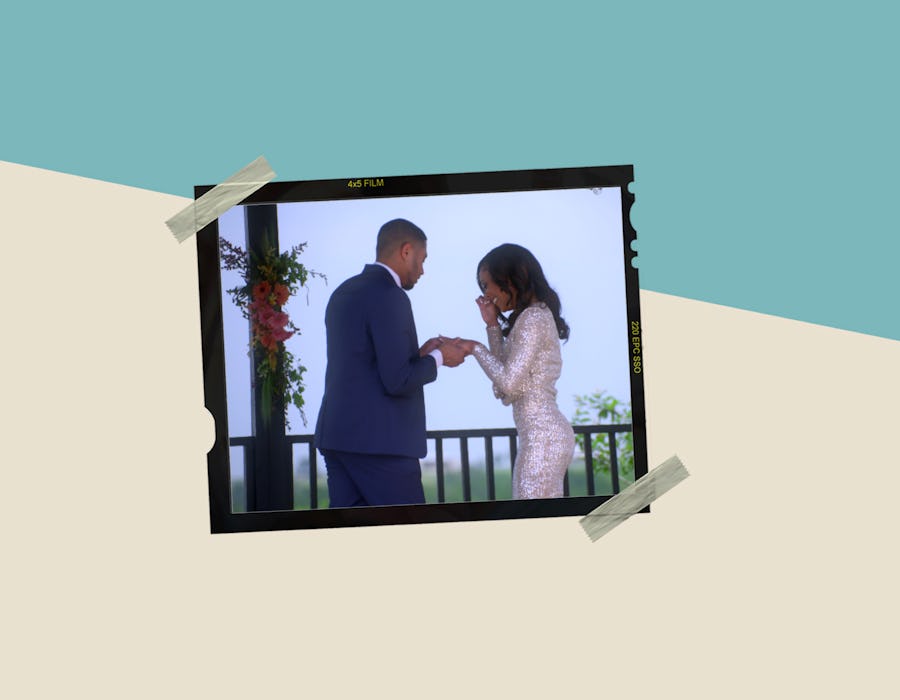 Since Netflix debuted The Ultimatum in April, the Twitterverse has been sharing Big Feelings about take-it-or-leave-it offers in relationships. ICYMI, the reality show features six couples in which one partner wants to get married while the other is dragging their feet. The former gives their partner two options: Propose to me or we break up. Each person tests out "married life" with one of the other contestants for three weeks, then with their own partner for three weeks, in order to figure out whether they want to stay in their original relationship or not.
While you're unlikely to live out such a wacky scenario IRL, many folks have set their partners an ultimatum and had it work out in their favor. Below, three women share the deal-breakers that made them say "enough is enough" — and a relationship expert explains when ultimatums are actually a good idea.
The Relationship Ultimatums
The women interviewed didn't issue an ultimatum lightly; in all cases, aspects of their relationships left them feeling like they had no choice. After seven years of friendship with her now-husband, plus a few more dating and happily living together, Erin — who was 31 at the time — didn't understand why she and her partner, Roberto, weren't taking the next step in their relationship. "I was going away for Christmas to visit my family and told him that if he didn't propose before I left for the holidays, when I came home, I would be making some big decisions he might not like, like moving forward without him," Vancouver-based Erin, 40, tells Bustle.
In Grace's* case, her fiancé, Nick*, eroded her trust when he secretly flirted with a co-worker on Snapchat for a few weeks. "When I found out, we had a huge argument, and I told him that if he didn't cut all contact with her entirely, I couldn't be with him," the U.K.-based 21-year-old tells Bustle. "I asked him to uninstall Snapchat from his phone completely and to block her on all social media."
In the summer of 2021, 27-year-old Maryan reached her limit. Her boyfriend of 18 months, Kaiden, had been working in a toxic work environment for about five years. "They overworked him, underpaid him, and never approved any time off," California-based Maryan tells Bustle. Other employees would show up inebriated, and Kaiden's co-workers were transphobic toward him on two separate occasions. Despite all this, Kaiden was dedicated to the workplace he considered his "family." Maryan knew that Kaiden's behavior wasn't in character, but it began to take a toll on their relationship. She says they never got to spend time together, and he was constantly burned out and short-tempered. "He'd lash out almost daily, and then apologize, and then turn around and do it again the next day." At the end of the summer, she gave him an ultimatum: quit or she'd walk.
All three women set a breakup as the second option for their ultimatums — which Betsy Chung, Psy.D., a clinical psychologist and relationship expert at XOXO dating app, says is fair enough. "Ultimatums are hard boundaries that help a person meet a very important relationship need they know they can't be happy without," she tells Bustle. "Rather than being seen as a threat, an ultimatum offers the recipient a choice to stay in the relationship with particular conditions or leave." An ultimatum is a bad idea, though, if a problem can be solved through communication, if ultimatum-setting becomes a habit, or the person giving it out doesn't actually intend to follow through with it, Chung says.
What Happened After The Ultimatums Were Given
While Chung warns that ultimatums should be used sparingly since they can breed resentment, they can work out. "Ultimatums can be beneficial because they're decisive and force resolution to long-standing issues," she says. "For example, if a couple has been in ongoing conflict over whether or not to get married, an ultimatum will be a means to relieve that conflict once and for all."
This rang true for Erin. "The day before I left for the holidays, [Roberto] proposed and we were married in August 2014," she recalls. The two are still happily married, even making TikToks about their relationship.
Grace's story also has a happy ending. "[Nick] agreed to the ultimatum straight away, was super apologetic about the whole thing, and made clear it was a mistake," she says. He was already in the process of leaving his job, so wouldn't be seeing the co-worker he was flirting with anymore. "Neither of us has had any contact with her since or any similar experiences with other people, and we are still together and engaged," Grace adds.
Although Kaiden wasn't thrilled about being asked to leave his job, he decided it wasn't worth losing Maryan over: He put in his two-week notice the day after she set him an ultimatum. "After the first two weeks of unemployment, where he recovered and recuperated, it was like he saw clearly for the first time in a long time," Maryan says. Kaiden got a new job in a healthy environment, which has been a game-changer for his mental health — and his relationship with Maryan. "We both are much better versions of ourselves because we haven't given every last drop of ourselves to our jobs before we get home."
How Do They Feel About Ultimatums Now?
None of the women interviewed have regrets over issuing an ultimatum — they feel it was needed in their situations and a way to take back some agency. Asked whether she would do it again, Erin says, "You bet I would. I'm an 'ask for what you want' girl." While she was scared her ultimatum wouldn't end in a proposal, she knew it was what she needed, and she was ready to walk away from the relationship if she didn't get it.
Grace felt powerless when she found out about Nick's flirting, and she says setting an ultimatum was the best solution for her at the time. She would probably do it again, but she hopes she doesn't have to. "Now that I have been in the same relationship for longer, I would probably seriously question my trust for my partner in a similar situation before setting an ultimatum," she says.
Maryan generally doesn't agree with the concept of ultimatums, but she felt the circumstances with Kaiden were different. "Usually if I'm not happy in a relationship, I'll just leave," she says. "But this is the most I've ever loved someone, and I wanted to give it another shot, but without the source of our issues."
And she's incredibly grateful she made that decision: "If I was in a similar situation, I would 100% do it again," she says. "Life is too short for toxicity in relationships, and if someone you love needs a little push (of course with support), then I am willing to risk it!"
*Name has been changed to protect privacy.
Expert:
Betsy Chung, Psy.D., clinical psychologist and relationship expert at XOXO dating app