Will This Emotional Video Convince Biden To Run?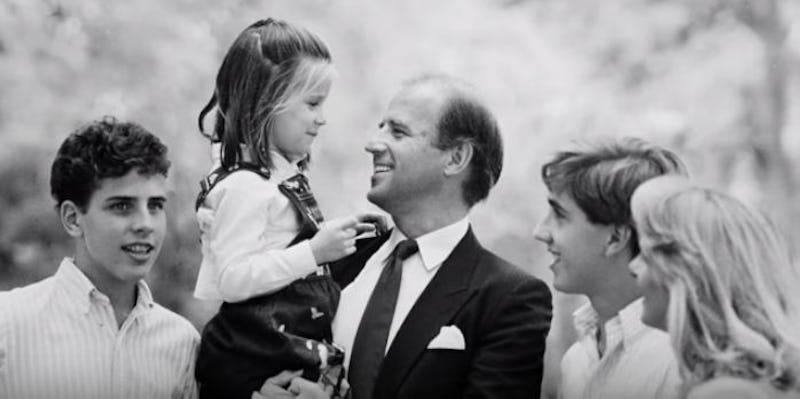 A new television ad by super PAC Draft Biden is pulling out all the emotional stops to get Vice President Joe Biden to run for president. The video features a speech Biden gave about some of the hardships he's faced with images of the first time he was elected, his children, and him at his son Beau Biden's funeral. Will the emotional Draft Biden video convince Biden to run? The ad could remind Biden of just why he doesn't have the energy for the mud slinging that comes with a presidential race, but Draft Biden is hoping it will invigorate him, according to The Hill.
The commercial, titled "Joe's Redemption," premiered on NBC's Today show Wednesday morning, according to The New York Times. It is also scheduled to air again on CNN before the Democratic debate Tuesday, Oct. 13. Draft Biden hopes the commercial will super a conversation, like some Super Bowl ads, and generate more interest in a Biden campaign on social media, according to the Times. Recently, Biden has said he might not have the "emotional energy" necessary for a presidential race, but it's that emotional energy that this ad actually seeks to build on.
The ad uses a commencement speech Biden have at Yale University in May, just a few days before his oldest son, Beau, died of brain cancer, according to the Times.
The video begins with Biden's voice saying, "Things can change in a heartbeat. I know," while showing scenes of a snow-covered road. "Six weeks after my election, my whole world was altered forever," Biden says, as the video shows photos of him speaking after winning his first Senate race for a Delaware seat and of him sitting with his wife, according to the video:
I got a phone call. My wife and three children were out Christmas shopping, a tractor trailer broad-sided them, killed my wife and killed my daughter. They weren't sure that my sons would live.
Biden says that he doesn't think he would have the same "incredible bond" with his children now if he hadn't been through that hardship. "By focusing on my sons, I found my redemption," he says, as the camera shows photos of his sons in the hospital just after the accident.
Biden says that many people have gone through things like that, though — a statement he has repeated since his son's death to show why he doesn't deserve any more sympathy than people around the world who have suffered far greater losses, in his eyes.
Then, the video shows a photo of Biden and his son Beau, who served in the National Guard and completed a year-long service in Iraq and recently died of brain cancer, while Biden describes how he measures his success:
My dad's definition of success is when you look at your son and daughter and realize that they turned out better than you. And they did.
Biden then tells the Yale class that it's up to them to translate the "unprecedented capabilities" in math, science, and technology, "into a greater measure of happiness and meaning — not just for yourself — but for the world around you." Then, the video ends with a simple message: "Joe, run."
A source close to the vice president told CNN that there will be a "family conversation" this weekend to discuss Biden's candidacy. It's unclear whether Biden has seen the Draft Biden advertisement, but it's sure to make Biden only more aware of the emotional battles he could face in a presidential run.