Cover Up Tattoos With Makeup Using These 5 Steps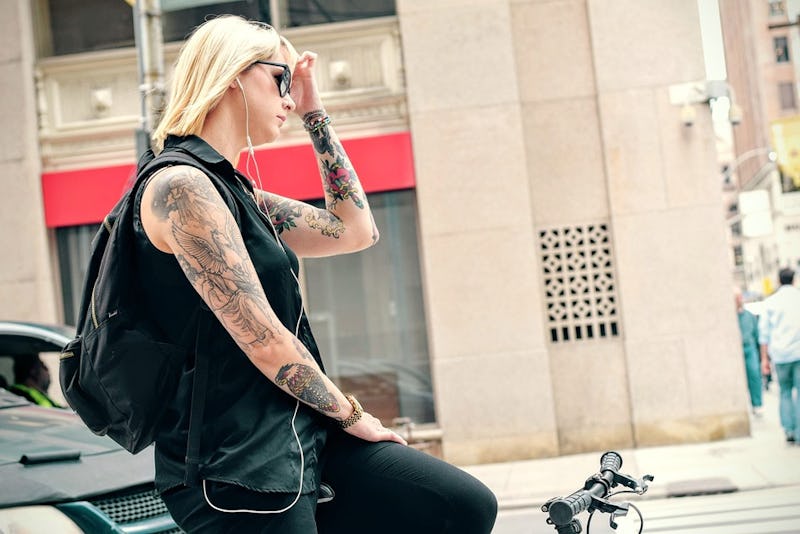 While there are likely very few occasions when you'd want to cover up your awesome tattoos, there are certain times when it can feel necessary. Whether you need to cover up tattoos with makeup for work, or you're trying out for a part in your local play that doesn't call for tattoos — you can disguise them pretty easily with the right tools. While concealing your tattoos with makeup can feel like a loss, remember: It's only temporary.
Going under the knife (or laser) isn't the only way to blend your body's unique artwork into your natural skin tone. You'll be happy to learn that makeup that covers tattoos (even the most elaborate and colorful designs) isn't tough to master, provided you have the right steps. So, whether you need to round up a friend to help you reach the amazing ink you have on your upper back, or you're going to cover up your hand tattoo by yourself — these are steps that anyone can easily work magic with.
Then, when you're done, don't forget the most important step to covering up your tattoo: Taking off the makeup! You can simply take a shower or use some makeup remover to get back to showing off your gorgeous tattoos. Zero pain required.
#1: Mist A Makeup-Holding Primer Spray On Your Tattoos
Smashbox Photo Finish Primer Water, $9, Amazon
This spray-on primer was designed to help makeup last longer and look better on professional photo shoots. By making this your first step in the tattoo concealing process, you'll help your other beauty products stay on during a long work function or formal ceremony. This primer spray will also smooth out your skin, creating a more even canvas for the makeup to go on smooth and balanced.
#2: Apply A Long-Lasting Orange Tint Stick To Mask Your Tat's Dark Colors
If you have a lighter skin tone, you may need to apply an orange cream shadow over your tattoo to tone down the dark colors. This stick can easily be smudged and has a long-lasting color that won't rub off when you put other products on top of it. Pro Tip: To best apply it, use a small concealer brush.
#3: Brush On A Translucent Powder To Eliminate Excess Oils & Shine
Tapping on a translucent powder with a large blush or powder brush will set the cream shadow in place and make it blend flawlessly with your skin. It will eliminate shine, and take away any stickiness that may be lingering on your skin.
For Lighter Skin Tones — An All-Natural Absorbent Powder:
This translucent powder minimizes the appearance of the tattoo-concealing hue by absorbing your previous product's stickiness and oil. The powder smooths out the area, prepping it for the rest of the process. Bonus: This sheer powder is all-natural with no parabens, sulfates, or synthetic fragrances. One user loves that she only needs to apply this powder once throughout the day, even though she lives in an area with hot temperatures.
For Darker Skin Tones — A Sheer, Color-Balancing Finishing Powder:
This hypoallergenic finishing powder has a deep color that's ideal for blending in with darker skin tones, and it has a triple-milled formula that makes skin feel soft and smooth after application. It also absorbs oil and will keep your skin looking natural throughout your tattoo-covering process, especially considering its non-comodegenic (non pore-clogging) properties.
#4: Trace Your Tattoo With A Concealer Stick & Blend With Natural Concealer Brush
At this point in the process, you'll probably still see a little bit of your tattoo's dark colors still showing through. By tracing the entire tattoo with a concealer stick that matches your skin tone, you'll be able to blend it in with the cream shadow and completely neutralize the darkness for a bare skin look.
For Lighter Skin Tones — A Smooth Stick With Non-Greasy Coverage:
This beige color will blend great with many light skin tones and will give great coverage on your tattoos with an easy-to-apply lipstick design. This concealer is also chemical-free, so it won't cause breakouts, and it will last you throughout your event — after you blend it in with a concealer brush. One user loves this concealer because it is strong enough to cover up any spot, but soft enough to glide on smoothly.
For Darker Skin Tones — A Maximum-Coverage, Blendable Stick:
This concealer stick made for dark skin tones will easily glide over your tattoo, naturally blending in when you use a concealer brush to push it into your skin. The color is rich and provides great coverage — even to the most vibrant colors that are still peeking through on your skin.
And Apply Concealers With A Vegan, Tapered Blending Brush
The tapered shape of this concealer brush will help you apply the concealers and blend them into your tattoo for the best possible coverage. The vegan brush has the highest quality synthetic hairs for a smooth application. Users rave about this makeup tool across the board, saying it's incredibly soft and makes makeup look much better.
#5: Mist An Organic Makeup Setting Spray To Make Your Coverage Last
After you apply the creams and powders to your now-camouflaged tattoo, spritz a refreshing setting spray onto the area. It will lock in the products you blended in, so you won't have to do any touch-ups throughout the day or night. The organic ingredients in the setting spray (like green tea) will keep your skin feeling hydrated and natural. One user raved about this spray, saying it's perfect because "the smell is fresh and it dries very quickly, within about 10-15 seconds."
Bustle may receive a portion of sales from products purchased from this article, which was created independently from Bustle's editorial and sales departments.
Images: Pixabay (1); Amazon (9)