14 Dessert Ideas For Your Graduation Party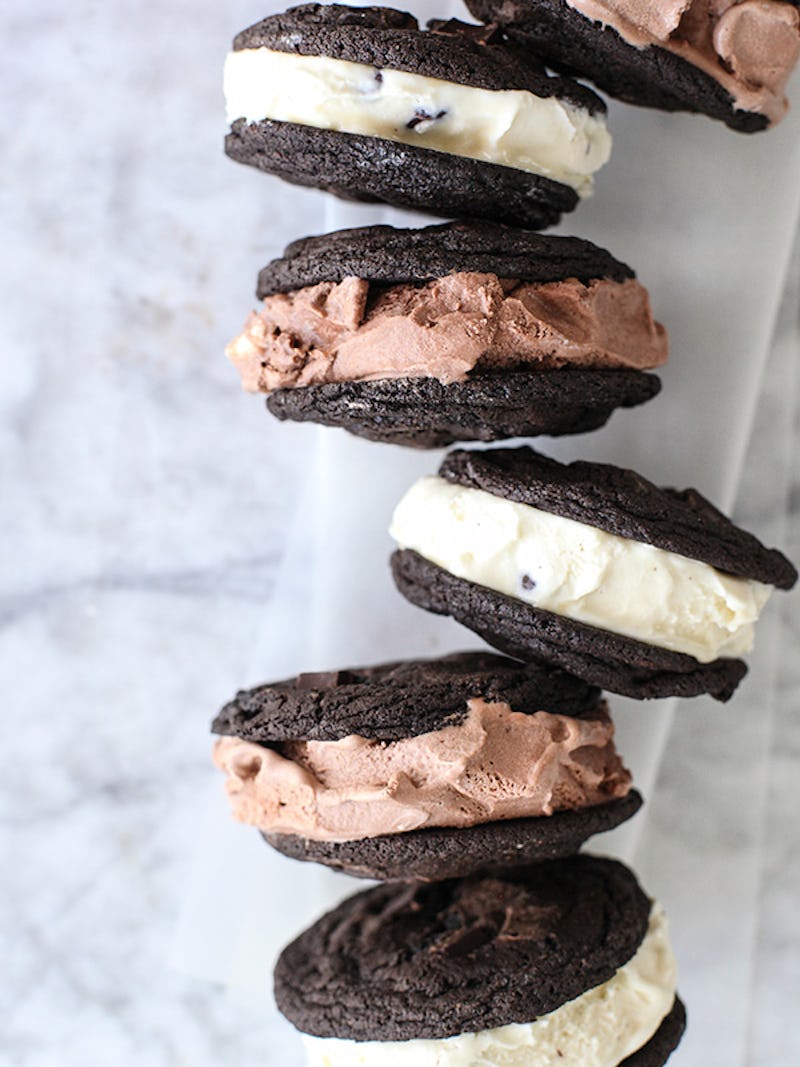 Hear that noise? That's the sound of thousands of graduates leaving the comfort of their schools and homes to enter into a whole new chapter in their lives. It's also the sound of thousands of parents scrambling in a panic to find the best graduation party dessert recipes. Hey, we all have different priorities right now.
Graduation parties can come with a lot of pressure. If you're hosting the party, you want to make sure yours is one of the most memorable because, let's face it, many of your guests are probably hitting at least three or four throughout the course of each weekend for the next month. If you really want to win over your guests, there's really only one way to do it — through the food.
Not just any food though. Through delicious, seemingly complicated but actually super simple graduation party dessert recipes. Dessert is the last thing everyone eats, and even if they've been eating all day, everyone seems to be able to save room for more dessert. Trust me, I would know. I am a foodie dessert-eating expert after all.
So throw some burgers and brats on the grill, and take time to focus on the real main event — dessert. Well, and the graduate too. Naturally.
1. No-Bake Banana Split Cake Dessert
Worried about heating up the house on a hot day? Go with this over-the-top dessert from Brown Eyed Baker, which is thankfully no-bake and low-stress to pull together for a party.
2. Oreo Fudge Brownie Pizza
If your graduate loves chocolate and Oreos, this dessert from Dessert Now, Dinner Later will be their ultimate dream come true. Just look at all that gooey fudge sauce on top…
3. Roasted Strawberry Goat Cheese Squares
If you've got a lot of foodies coming to your event, whip out the big guns with this recipe from The Kitchn. It's the perfect balance of sweet and savory to really wow everyone.
4. Potluck Cheesecake Dessert
Preparing dessert for a crowd can be a little intimidating, but Cookies & Cups makes it easy with this cheesecake dessert recipe.
5. Four-Ingredient Ice Cream Pie with Peanut Butter Krispie Crust
This ice cream pie from Foodiecrush will cool everyone off at your party. It looks so fancy, but really it's one of the easiest recipes to bust out at the last minute.
6. Strawberry Shortcakes
Strawberry shortcakes for a crowd? That's right; The Kitchn has the ultimate way to churn out the classic dessert without having a complete panic attack.
7. Five-Ingredient Triple Decker Chocolate Peanut Butter Bars
These gooey, peanut butter-loaded bars from Half-Baked Harvest look absolutely sinful, and would make a perfect little take-home dessert idea for those party hoppers you'll have passing through.
8. Funfetti Gooey Butter Cookies
It wouldn't be a party without a little funfetti, am I right? Cookies & Cups pairs that fun and festive feeling with gooey, chewy cookies that'll have you melting with every bite.
9. Double Chocolate Chip Cookie Ice Cream Sandwiches
How fun would a pile of these ice cream sandwiches from Foodiecrush be at the party?
10. No-Bake Oreo Layer Dessert
Layers of Oreos in this no-bake dessert from Brown Eyed Baker have me all heart-eye emoji over here.
11. Rocky Road Pudding Parfaits
These chocolate-layered treats from Half Baked Harvest are easy to whip up for a party. Simply create all the elements beforehand, and assemble just before the party starts.
12. Chocolate Peanut Butter Dream Bars
With just one look, I know exactly why Averie Cooks calls these dream bars. You seriously can't go wrong with chocolate and peanut butter, ever.
13. Fudgy Avocado Brownies with Chocolate Ganache Fudge Frosting
Sneak a little green in your dessert, and no one will be the wiser. Half Baked Harvest understands just how much creaminess avocado brings to chocolate desserts, and this recipe couldn't be more on point if it tried.
14. Easy Homemade Funfetti Cake
Funfetti is meant for parties. I mean, it already has the word "fun" in it. Averie Cooks knows how to get the party started.
Your party is about to dominate. You're welcome.
Images: Brown Eyed Baker; Dessert Now, Dinner Later; The Kitchn ; Cookies & Cups; Foodiecrush; The Kitchn; Half-Baked Harvest; Cookies & Cups; Foodiecrush; Brown Eyed Baker; The Kitchn; Half Baked Harvest; Averie Cooks; Half Baked Harvest; Averie Cooks