7 Wedding Manicures That Aren't French Tips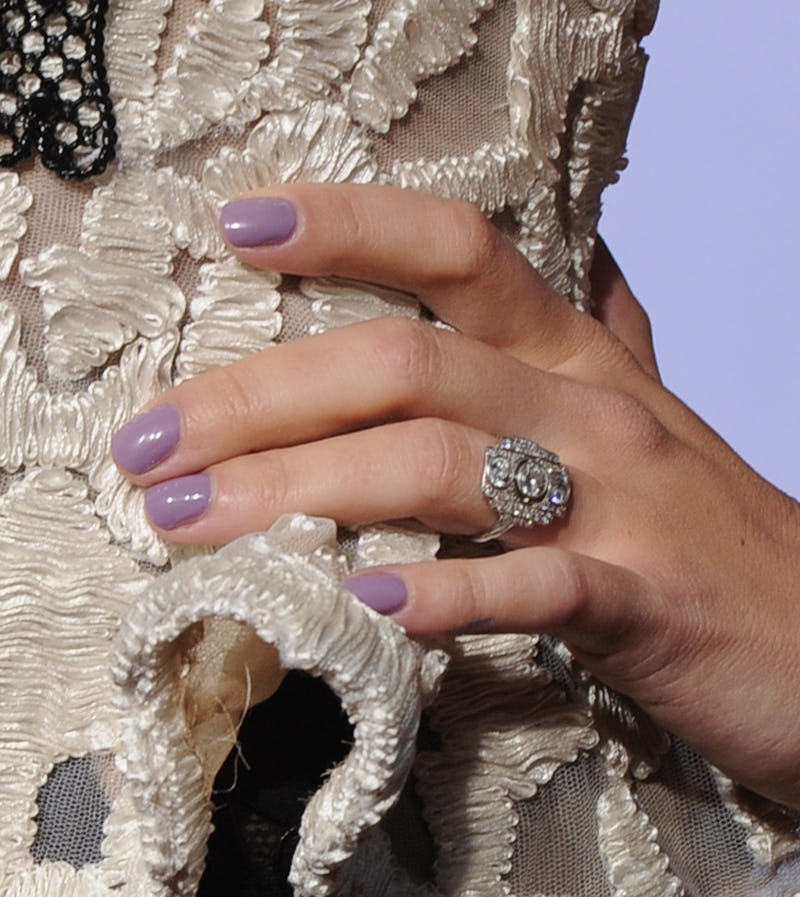 Kevin Winter/Getty Images Entertainment/Getty Images
It's time to reconsider the wedding manicure, just as we've reconsidered almost everything about traditional weddings, from mandatory religious ceremonies to hideous matching bridesmaid dresses (thank God). The reigning popular choice, the standard-bearer, the "It" of "It" of nail colors for one's nuptials has long been Ballet Slippers by Essie. This pinkish hue is pretty and always appropriate, but come on, it's been done, in weddings and outside of them — by everyone from Bachelorette Ashley Hebert to Queen Elizabeth II. It's time for something fresh.
Let's chart some new territory in this wild-and-crazy 2014 world with rhinestones, lace, glitter, polka dots, and all kinds of other crazy stuff on our nails. And if you're not into nail art and would prefer to keep it somewhat simple, you may want to consider a less-traditional color, like light blue or turquoise (for your "something blue"), or hues that match the bouquet or wedding color scheme. A "party nail" is always a fun idea, too. So whether you're the bride, a member of the bridal party, or a wedding guest, you're sure to like one of these less-traditional wedding manicure ideas. I promise you there are no classic French tips involved. Can we finally let that look die forever?
1. Lace
It's a meticulous job, but completely worth the gorgeous results. Sandals Wedding Blog shows that you can do it with any color base and lace fabric. Get creative!
2. Polka Dots
This party-ready manicure from Top Coat It looks like champagne bubbling up on your tips.
3. Half and Half
Amber Michelle from 365 Days of Nails dreamt up this super-easy, eye-catching mani — perhaps to match a hot-pink color scheme.
4. Glitter French Tips
For a French manicure with a sparkly twist, Penny Pincher Fashion recommends using Essie Cocktail Bling as the base color and Orly Tiara for the tips.
5. Party Nail
Sea-green is such a popular wedding color — why not accent it with a super-sparkly "party nail"? Glitter and Nails gives some color reccs in case you want to copy this look (yup, her blog is in French — just let Google translate it for you).
6. Caviar Manicure
Bring on the bling, bring on the fun: The Daily Varnish suggests picking up microbeads at your local Michael's to texturize your nails.
7. Something Blue
If you want to go monochromatic, try a cool sky blue.