30 Things Only College Radio People Understand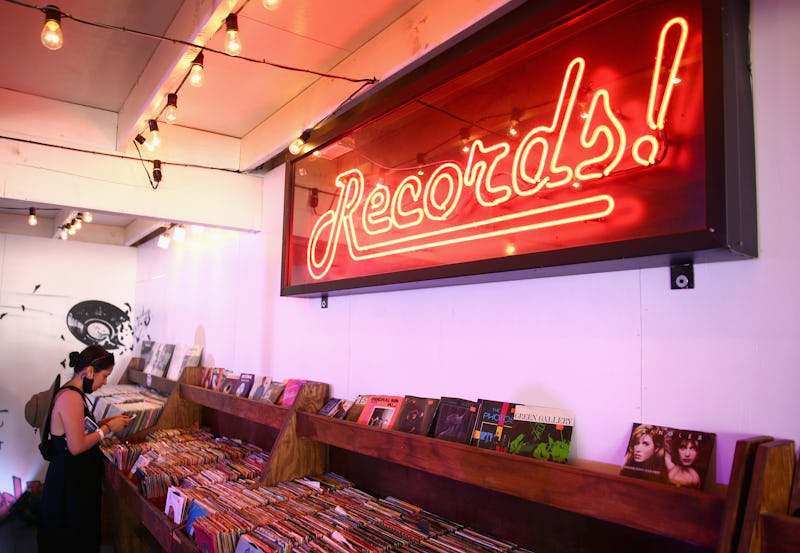 Rich Fury/Getty Images Entertainment/Getty Images
When it came time for me to choose a college, I had two requirements: the caliber of the English department and, even more importantly, the caliber of the radio station. I knew I wanted to study writing, but what I knew even more was that I'd willingly pass on a college all together if it didn't have a killer radio station.
The University of New Hampshire, outside of a handful of professors, wasn't anything special, but their radio station, 91.3 FM WUNH, was what a college radio station should be: mainly, bleeding with music snobbery. I knew it was the perfect place for me. I am the music snob I am today thanks to their four years of strict training.
If you've ever considered being a college DJ, I urge you to go for it. The training will be a bitch, because, yes, college DJs are the snobbiest of the snobs. You'll get some hellish time slot for the first semester, because that's just how it is for newbies, and your taste in music will always be up for scrutiny, but in the end, you'll be a better person.
Because you will have found your soulmates. College radio people are freaks: They're socially awkward and really can't talk about anything but music — nor do they want to. If you ever felt alone while all your friends talked about Taylor Swift, a "musician" that you think is anything but, then your college's radio station is calling your name.
If you join, by mid-semester, this list will be you, realized.
COMMERCIAL MUSIC sounds like FINGERNAILS ON A CHALKBOARD to you
Turn. Off. The. Katie. Perry.
in fact, YOU DON'T EVEN KNOW THE LAST TIME YOU LISTENED TO COMMERCIAL RADIO
What's there to listen to? Fucking Coldplay?
YOUR BUDDING VINYL COLLECTION IS YOUR PRIDE AND JOY
It is the only way to listen to music.
YOU KNOW SITTING ON THE STATION'S FURNITURE MEANS TAKING A RISK
It would be nice if there was enough funding to get a new couch, but since there isn't, all furniture has either been found on the side of the road or donated before you were even born. I won't even get into the smell.
YOU LIVE FOR CMJ EVERY YEAR
Because it's always a fight to see who gets to go, thanks to lack of funding.
AND IF IT'S YOUR TURN TO GO, YOU BRAG ABOUT IT for WEEKS
Oh, who are we kidding? You're going to brag forever.
YOU'RE CONSTANTLY JEALOUS OF HOW MUCH MONEY OTHER UNIVERSITY ORGANIZATIONS GET
Especially the college newspaper.
YOU DON'T TAKE IT PERSONALLY WHEN THE STATION SPONSORS A SHOW AND TURNOUT SUCKS
Outside of your fellow DJs, you know you're surround by music plebes.
BUT THAT DOESN'T STOP YOU FROM CAMPAIGNING FOR MORE AND MORE OBSCURE BANDS
One of these days the plebes will get it. (Although you really don't want them to.)
YOU HAVE CREEPY 'FANS'
You're pretty sure it's just the same guy calling every 10 minutes from that blocked number and just altering his voice.
YOU'VE SAID THIS SENTENCE MORE TIMES THAN YOU CAN COUNT:
"I don't listen to [band name] anymore, now that they're on a major label."
AND THIS ONE:
"Indie music means 'independent' not music from India."
AND OF COURE THIS ONE, WHEN ASKED YOUR FAVORITE BAND:
"You wouldn't understand." (Because they wouldn't.)
YOU'LL SKIP A CLASS IF IT MEANS KEEPING THE STATION ON THE AIR
It's called true love and devotion.
EACH SEMESTER IS TOUCH AND GO, BECAUSE YOU'VE BEEN SPENDING TOO MUCH TIME IN THE STATION
YOUR DORM ROOM IS NEVER WITHOUT NEW BAND POSTERS
There's only so much space in the station, so someone needs to take home the extras. Might as well be you.
YOU LOSE YOUR SHIT WHEN SOMEONE, PROBABLY A NEW DJ, PLAYS SOMETHING MAINSTREAM ON AIR
So, of course you're in full support of sanctions. Hell, just ban 'em.
YOU DREAD TRAINEE SEASON, BECAUSE THEY STILL THINK ARCADE FIRE IS COLLEGE RADIO MATERIAL
You just end up making them cry when you explain why St. Vincent isn't college radio material anymore either.
YOU've TURNed DOWN A PAID OPPORTUNITY TO DJ A FRAT PARTY
Because, come on! Like you'd play their shitty music!
BESIDES, YOU'VE NEVER BEEN IN A FRAT HOUSE AND YOU WANT TO KEEP IT THAT WAY FOREVER
Those douches called you guys freaks one too many times anyway.
ALTHOUGH THEY'RE STRANGE AS HELL, YOU THINK THE COMMUNITY MEMBERS ARE AWESOME
Who doesn't want to continue to DJ every week for decades after graduation?
AND YOU KINDA HOPE TO BE ONE someday, TOO
At least during the holidays, when the students are away.
YOUR BIBLE IS 'HIGH FIDELITY'
Making endless 'top 5' lists with your fellow DJs is your thing.
YOU STILL BELIEVE IN THE IMPORTANCE OF THE MIX TAPE
It's about love, man.
YOU HAVE EVERY INDIE LABEL AND ALL OF ITS ARTISTS MEMORIZED
That way you can easily say things like, "Oh, this is on Barsuk? Weird. It sounds like it should be on Constellation."
YOU THINK WORKING FOR A LABEL AFTER GRADUATION IS PROBABLY THE BEST WAY TO STAY IN THE LOOP
Because god forbid you don't know what's cool.
YOU HAVE A DEEP APPRECIATION FOR 8-TRACKS
Because you've actually played with the 8-track player in storage. (College radio stations hang on to everything forever.)
YOU CONSIDER YOURSELF A GENIUS AT MAKING PSAS
You somehow manage to make even the most serious subject funny, but not overly so... and your use of sound effects! Slammin'!
any other club meeting REMINDS YOU THAT ALL THE OTHER ORGANIZATIONS LACK radio PERSONALITY
Not to mention, kinda scary, too.
yup, it's clear, YOU'VE FOUND YOUR PEOPLE
It's so nice to be able to talk to somebody about how great Slint's deluxe Spiderland boxset is.