The "Everything Bath" Is BeautyTok's Fave Form Of Self-Care
It's the lazy girl alternative.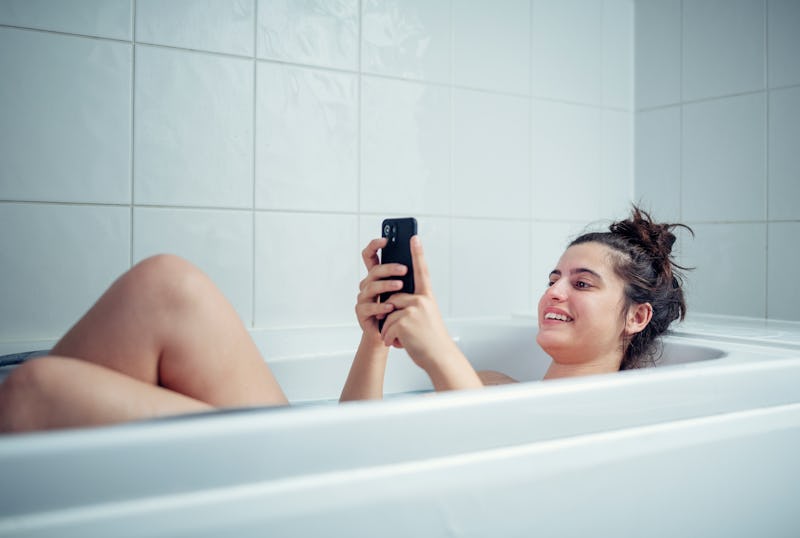 When was the last time you soaked in a bathtub — like really took the time to lay back in a heap of bubbles like a character in a romcom? It may not be the most practical way to bathe, but soaking is definitely the most luxurious — and that's why "everything baths" are suddenly taking off online.
With over 46 million views on TikTok, the appeal of the everything bath is quickly catching on, and it's especially appealing to the lazy and the tired. Unlike a speedy rinse — where you jump in and out — an everything bath is a lot closer to the infamous everything shower. The main difference, though, is that you get to sit down and chill while your muscles slowly turn to Jell-O.
To take an everything bath, TikTokers gather all the items they'd typically have on hand for an extensive shower, like hair oils, scalp massagers, and body scrubs. Then, instead of standing woozily in the steamy downpour for an hour, they leisurely complete their self-care to-do list while soaking in nice, warm water.
It's a simple change, but one that makes a huge difference when it comes to how relaxed and refreshed you feel post-cleanse.
Everything Showers Are ~Exhausting~
For the uninitiated, an everything shower is an intricate process that involves doing, well, absolutely everything in the shower in order to feel extra clean from head to toe.
It often starts with hair oiling and a scalp massage, which often happens earlier in the day so that the oil can soak in. That's often followed by dry brushing, a double application of shampoo, a deep conditioning treatment, an exfoliation ritual that removes a few layers of skin, and an all-over shave. Once you emerge from the cloud of steam, that's when you'll apply lotions, serums, and more oils to get that dolphin skin.
If it sounds like a lot, it's because it is. Many creators, like @alysonbeauty, have posted videos calling out how common it is to feel wobbly and woozy after an everything shower. And when @hebontheweb posted an ode to the everything shower in the form of a song, her comments immediately flooded with jokes about how exhausting they can be.
One person said they tend to collapse on their bed post-everything shower because they're so tired from the steam as well as all the effort that comes with shaving, scrubbing, and shampooing.
Another joked that they're even sweatier after their shower thanks to how long it takes, while someone else admitted they often space their everything showers a month apart so that they have time to recover. Enter: the now-viral alternative.
The Appeal Of The Everything Bath
There is a time and a place for the all-encompassing everything shower. But if you're looking for something a little more relaxing, go ahead and bring back the bath. If you're lucky enough to have a tub — even if it's a small one in your studio apartment — you can easily turn it into an oasis by lighting candles, folding up a towel for a headrest, and arranging a pile of books and snacks nearby so that you can go full spa-mode.
On TikTok, creators are also lining up their shower products alongside their tub so that they can complete their usual hygiene routine. Once you're done reading and snacking, you can lazily reach over for your loofah and begin the slow, languid process of washing yourself from a comfy, horizontal position.
As a bonus, immersing yourself in water has been shown to be one of the best ways to relax your muscles, which is a godsend after a long day or a tough workout. Soaking is also a go-to way to reduce feelings of stress and anxiety, which explains why a bath always makes you extra mellow.
It's easy to forget about the relaxing powers of a bath, especially when you're caught up on ShowerTok. But there's a reason why so many hygiene influencers are making them a part of their routines again — consider it a more productive take on bed rotting.
Studies referenced:
Goto, Y. (2018). Physical and Mental Effects of Bathing: A Randomized Intervention Study. Evid Based Complement Alternat Med. doi: 10.1155/2018/9521086.
Lee, S. (2012). Physiological functions of the effects of the different bathing method on recovery from local muscle fatigue. J Physiol Anthropol. 2012 Sep 16;31(1):26. doi: 10.1186/1880-6805-31-26.