Meet The Fragrance Brand Resurrecting Extinct Florals
Future Society's scents are unlike anything you've smelled before.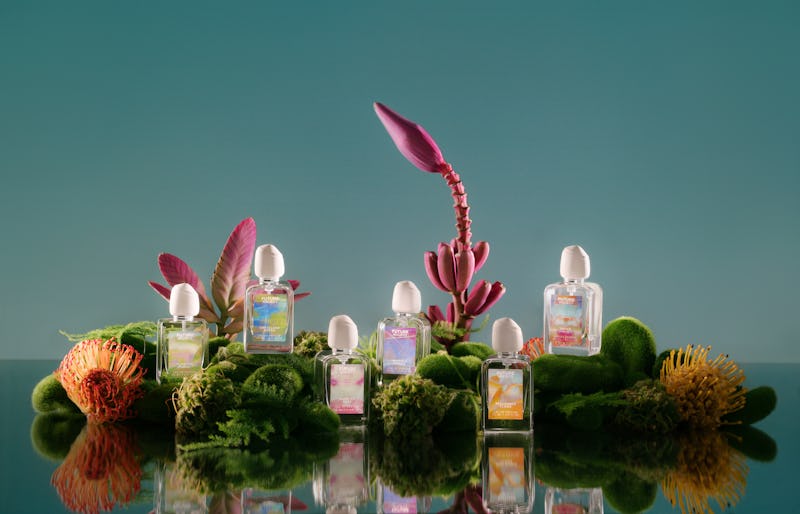 Future Society
Smelling florals that no longer exist is a concept that's hard to wrap your head around. But, thanks to one just-launched beauty brand, it's now a reality.
Using biotechnology and DNA sequencing, Future Society is bringing the aromas of extinct flowers to the fragrance world. It sounds like something out of Jurassic Park — which the brand was inspired by, BTW — but the boundary-pushing concept and futuristic technology is exactly what the line is doing.
"We want to talk about nature in limitless ways," says Jasmina Aganovic, the brand's founder and CEO. "To do this, we're using biology as technology to bring to life elements of nature in ways that we've never seen before."
Since smell is so associated with nostalgia, Aganovic decided to apply her brand's biotech capabilities to the fragrance realm. "We reached out to the Harvard Herbarium and asked if they had any specimens in their collection of flowers that are presumed to be extinct," she tells Bustle. They allowed Aganovic and her team to take tweezer-sized samples, and, from there, Future Society sequenced the specimens' genes and translated them into scents.
To then transform these aromas into complex perfumes bottled for the consumer, the brand worked with world-class perfumers who paired the extinct flowers' DNA with more familiar notes — like bergamot, cedarwood, and rose absolute — to create a unique fragrance story. "Their mandate was really to imagine and recreate what they believe these flowers may have smelled like from their perspective as fine fragrance perfumers," says Aganovic.
The end result? Future Society's Scent Surrection Collection, a line of six fragrances from flowers that existed all over the world. Grassland Opera, for example, features the orbexilum stipulatum, a flower from the northern American plains that disappeared due to the changing pattern of buffalo migration.
There's also Reclaimed Flame, a fresh scent centered around the leucadendron, a flower from South Africa that disappeared due to wildfires, and Solar Canopy, a fragrance based on the bright and fruity hibiscadelphus wilderianus from Hawaii. You can pick one to add to your perfume collection, or snag the brand's discovery set of minis for $35 to experience them all.
Overall, Aganovic is excited to bring something entirely different to the industry. "We've started to see a sea of sameness in beauty, and I believe that's because we've been working with the same tools for a really long time," she says. "Biology presents new tools that we can work with, and therefore new stories, formulas, and product experiences."
Besides gracing the beauty world with scents we previously couldn't even fathom, the brand wants to instill people with some much-needed optimism about the future (hence the name). "People seem to have resigned themselves to the fact that the future's going to be sh*tty, and I don't know why — it hasn't happened yet," says Aganovic. "This brand is intended to be a reclaiming of possibility, and a reminder that we can still choose to create the tomorrow we want. It's meant to remind people of even their own capacity for reinvention."
While Future Society is debuting with fragrances, note that this is only the beginning. "Eventually the brand is going to be getting into other categories and bringing more mind-blowing-type products," says Aganovic. With the combination of biology and biotechnology, the possibilities are quite endless.
Shop Future Society Fragrances