"Milk Tea" Hair Is So Refreshing For Fall
It'll match your iced coffee nails perfectly.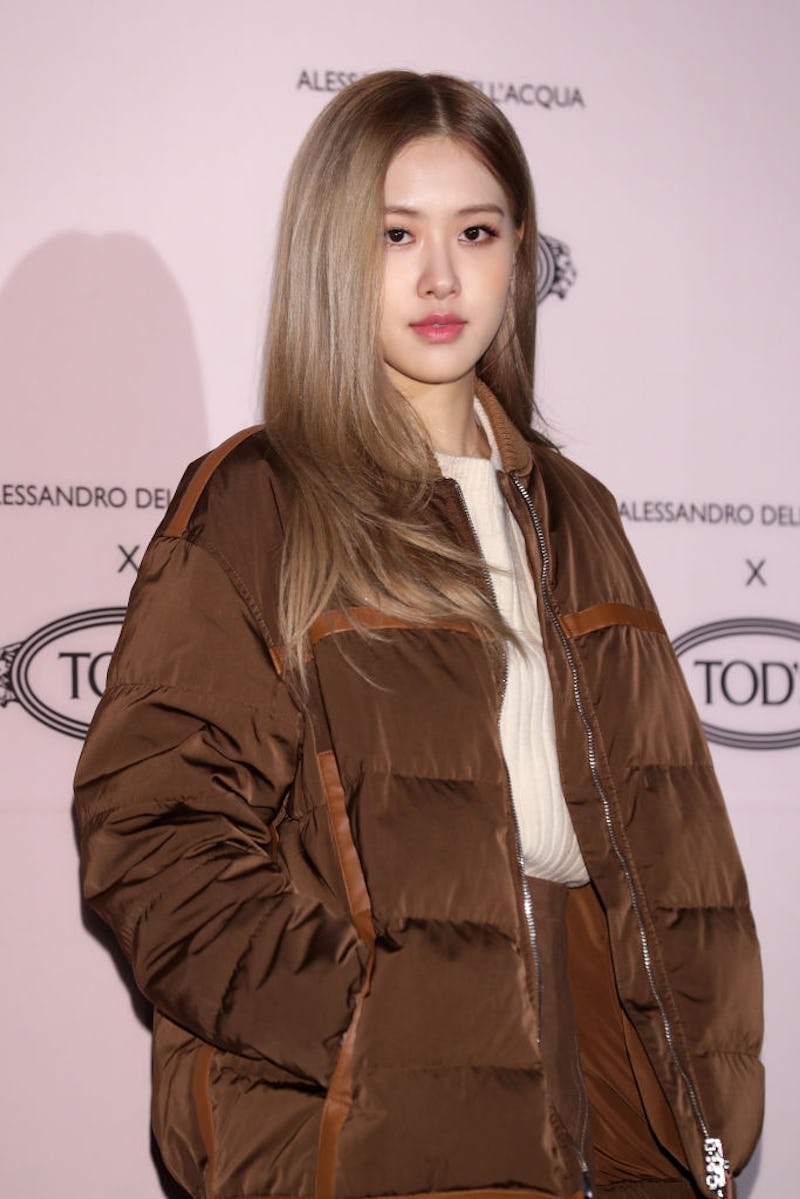 Getty Images/Han Myung-Gu / Contributor
There's no shortage of ways to rep your love for coffee shop culture. You can deck yourself out with latte makeup, get a set of iced coffee nails, and now you can even rock "milk tea" hair. With over 28 million views on TikTok, milk tea is not only the next big hair color trend — it's très cafe chic.
Milk tea is best described as a cool-toned light brunette, says Juliana Ohlmeyer, a colorist at Bassia Bassia in New York City. Rosé from Blackpink has long been a stan of the color, and has sported it in light and dark variations (everyone likes their bubble tea with different amounts of milk, after all). The trend is inspired by the pale shade of brown that happens when you mix black tea and milk, or when you shake up your boba. "Milk tea is a great option for those with naturally dark hair who still want to live in the brunette family, but are craving lightness and softness without being too blonde," she tells Bustle.
This light brunette also works as a transitional color if you went blonde in the summer and want to add a bit more depth as the weather gets colder. As Ohlmeyer says, the milk tea hue is a baby step towards eventually adding more darkness to your hair. The shade also pops against all the jewel tones of fall fashion, she says, which is another fun perk.
In a sea of warm tones — like cowgirl copper, espresso, and toasted brunette — this shade definitely makes a statement. And it can be customized based on your skin tone, notes Ohlmeyer. The milk tea color can run the gamut from a sandy beige blonde to light brown with darker roots or a slightly brighter brunette with blonde highlights. Here's what to know about the shade, straight from a colorist.
How To Ask For "Milk Tea" Hair
While some brave TikTokers are attempting to recreate this color at home, it's always wise to go to a pro colorist — especially when lightening your hair. "Milk tea hair has a balance of warm and cool tones but definitely leans more towards the cooler end," Ohlmeyer says, and that can be tough to nail.
Some key words and phrases to use when asking for milk tea hair are beige, cool-toned dirty blonde, and ash light brown with dimensions. Of course, showing your colorist a few examples is always helpful, too.
Another pro tip? "Finding a colorist who understands your skin tone and your lifestyle is the most important aspect," Ohlmeyer adds. "[It's helpful if they know] you will keep up with the color, or if it's just a fun experiment to do in between changing your hair color."
How To Maintain Milk Tea Hair
According to Ohlmeyer, cool tones tend not to last very long on hair that's been highlighted or bleached. To maintain your milk tea hue, you'll want to go back to the salon every four to six weeks for a gloss. "You can also use a pigmented shampoo or a mask that your stylist recommends once a week," she says, pointing to Christophe Robin Baby Blonde to prevent yellowing or the Christophe Robin Ash Brown to correct orange tones.
As with all color-treated hair, avoiding hot tools is another big help, since the heat is known to accelerate fading. Ohlmeyer also suggests using a color-safe shampoo and conditioner, washing less frequently, and using a filtered showerhead, if possible. "My clients and I swear by the Jolie," she says. All practices will help ensure color lasts and stays fresh and hydrated — just like yourself whenever you drink a milk tea.
Source:
Juliana Ohlmeyer, colorist at Bassia Bassia NYC