Niacinamide's Skin Benefits Prove It's The Swiss Army Knife Of Beauty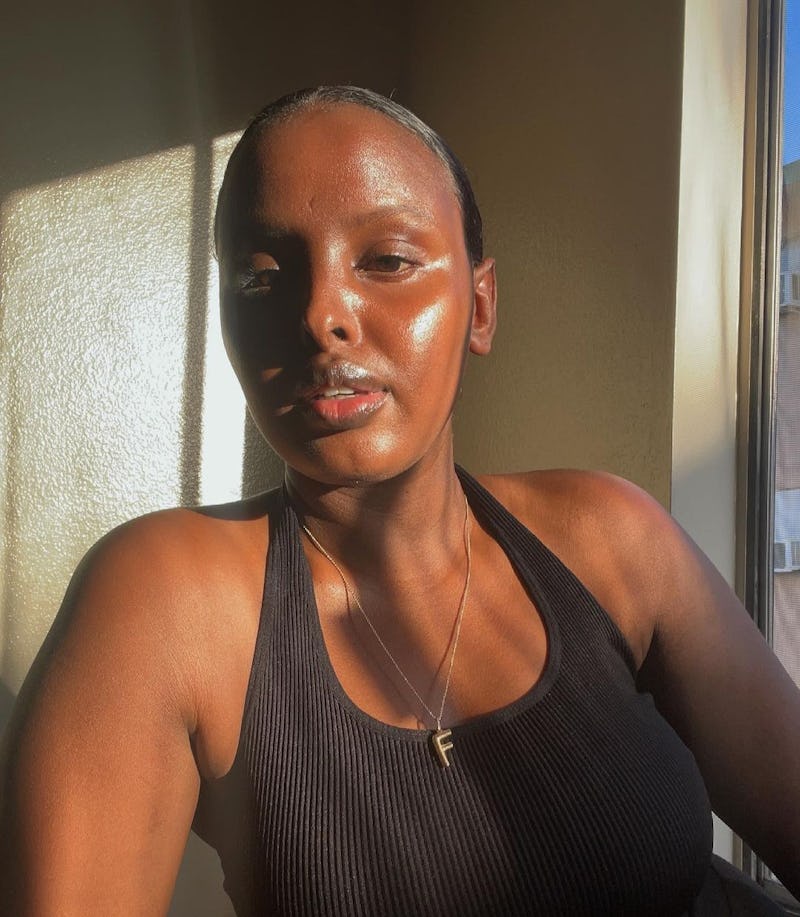 We may receive a portion of sales if you purchase a product through a link in this article.
There seems to be a new buzzy ingredient entering the skin care scene every day, and each one of them makes the biggest claims. But there is one that truly stands up to the hype, and that's niacinamide, a form of vitamin B3.
Niacinamide has so many benefits when it comes to improving the look of your skin, which is why you're seeing it all over the shelves. And, because it's water soluble, it's found in a wide array of products from toners and serums to creams and moisturizers, making it super easy to get your hands on, says Dr. Kiran Mian, DO, FAAD, a medical and aesthetic dermatologist with Hudson Dermatology & Laser Surgery.
Not only is it multitasking on your skin, but it has the science to back it up. The many clinical trials that have been done so far — including one on melasma and another on treating uneven skin tone — have shown that this stuff can help with almost any minor skin concern, whether you're looking to treat acne or just add a little more brightness to your complexion.
While you should always check with your dermatologist before adding any ingredient to your routine, there's a reason niacinamide is considered a one-stop shop for a multitude of issues. Here's what to know.
What Does Niacinamide Do For Your Skin?
According to Dr. Toyin Falola, M.D., a board-certified dermatologist and senior director of clinical product strategy for Ro Derm, niacinamide performs several different roles that can benefit the health of your skin, including increasing your skin's production of keratinocytes, which results in brighter, stronger skin. This is why it's often found in dark spot treatments.
"Niacinamide is a key ingredient to treat age-related skin changes and skin discoloration," adds Dr. Jeffrey Hsu, M.D., FAAD., a board-certified dermatologist with Oak Dermatology. "It naturally calms the skin and provides dramatic skin brightening for a wide variety of skin types."
The ingredient can also improve the look of fine lines caused by sun damage, Falola tells Bustle, making it an ideal serum ingredient for smoother skin. As a bonus, niacinamide also helps keep acne at bay. According to board-certified dermatologist Dr. Meghan Feely, M.D., FAAD, topical and oral niacinamide have both been used to treat inflammatory skin conditions like acne vulgaris. See? One-stop shop.
Is Niacinamide Safe To Use?
According to Mian, niacinamide is generally considered gentle and safe to use on all skin types, though it's best to look for products that contain between 2% and 4% of the ingredient, at least to start. Anything above 6% might cause some irritation to the skin, she says, though studies have shown that even up to 10% niacinamide won't cause a stinging sensation.
It's always wise to check in with your dermatologist before adding something new to your regimen, especially if you're using other acne products, says Falola. If you experience any side effects, like itching or burning, she recommends stopping usage.
That said, it typically works well with other skin care ingredients, so chances are this active will seamlessly blend into your routine. Falola says she has patients pair niacinamide with tretinoin, vitamin E, and ceramides, for example, depending on their needs.
How To Use Niacinamide
Start Slow
When trying niacinamide for the first time, Mian recommends starting with a product that contains less than 4% niacinamide concentration. And while you're at it, read the labels on your other products, too.
"These days niacinamide is found in so many products, so check your ingredients and make sure you are not using too many with niacinamide in them at the same time, as this can cause overexposure," she says.
Apply It Twice A Day
Once your skin is used to your product of choice — whether it's a cream or serum — Falola suggests applying it as directed twice a day: once in the morning and once at night.
Avoid Mixing With Alpha & Beta Hydroxy Acids
Be careful when mixing the ingredient with chemical exfoliants. "I would avoid mixing niacinamide with acids like alpha or beta hydroxy acids, as the combination can produce irritation," Mian says. If you're going to use a skin care acid and niacinamide, Mian recommends spacing out the application by at least 10 minutes, or using one in the morning and the other one at night.
Use It With Most Other Ingredients
Niacinamide plays nicely with vitamin E and ceramides, according to Falola, as well as retinol to help fight breakouts. It also works well with hyaluronic acid, as they both help to strengthen your skin barrier, Mian says.
Shop Niacinamide-Infused Skin Care
Studies referenced:
Bissett, DL. (2005). Niacinamide: A B vitamin that improves aging facial skin appearance. Dermatol Surg. doi: 10.1111/j.1524-4725.2005.31732.
Boo, YC. (2021). Arbutin as a Skin Depigmenting Agent with Antimelanogenic and Antioxidant Properties. Antioxidants (Basel). doi: 10.3390/antiox10071129.
Cosmetic Ingredient Review Expert Panel. (2005). Final report of the safety assessment of niacinamide and niacin. Int J Toxicol. doi: 10.1080/10915810500434183.
Gehring, W. (2004). Nicotinic acid/niacinamide and the skin. J Cosmet Dermatol. doi: 10.1111/j.1473-2130.2004.00115.x.
Hakozaki, T. (2002). The effect of niacinamide on reducing cutaneous pigmentation and suppression of melanosome transfer. Br J Dermatol. doi: 10.1046/j.1365-2133.2002.04834.x.
Navarrete-Solís, J. (2011). A Double-Blind, Randomized Clinical Trial of Niacinamide 4% versus Hydroquinone 4% in the Treatment of Melasma. Dermatol Res Pract. doi: 10.1155/2011/379173.
Papakonstantinou, E. (2012). Hyaluronic acid: A key molecule in skin aging. Dermatoendocrinol. doi: 10.4161/derm.21923.
Takino, Y. (2012). Zinc l-pyrrolidone carboxylate inhibits the UVA-induced production of matrix metalloproteinase-1 by in vitro cultured skin fibroblasts, whereas it enhances their collagen synthesis. Int J Cosmet Sci. 2012 Feb;34(1):23-8. doi: 10.1111/j.1468-2494.2011.00676.x. Epub 2011 Aug 11. PMID: 21834944.
Walocko, FM. (2017). The role of nicotinamide in acne treatment. Dermatol Ther. doi: 10.1111/dth.12481.
Yang, R. (2017). The anti-inflammatory activity of licorice, a widely used Chinese herb. Pharm Biol. doi: 10.1080/13880209.2016.1225775.
Sources:
Kiran Mian, DO, FAAD, medical and aesthetic dermatologist with Hudson Dermatology & Laser Surgery
Dr. Toyin Falola, board-certified dermatologist, senior director of clinical product strategy for Ro Derm
Dr. Jeffrey Hsu, M.D., FAAD., board-certified dermatologist with Oak Dermatology
Dr. Meghan Feely, M.D., FAAD, board-certified dermatologist
This article was originally published on