"Pearl Blonde" Is The Most Luminescent Hair Color Trend
This extra-shiny hue is gorge.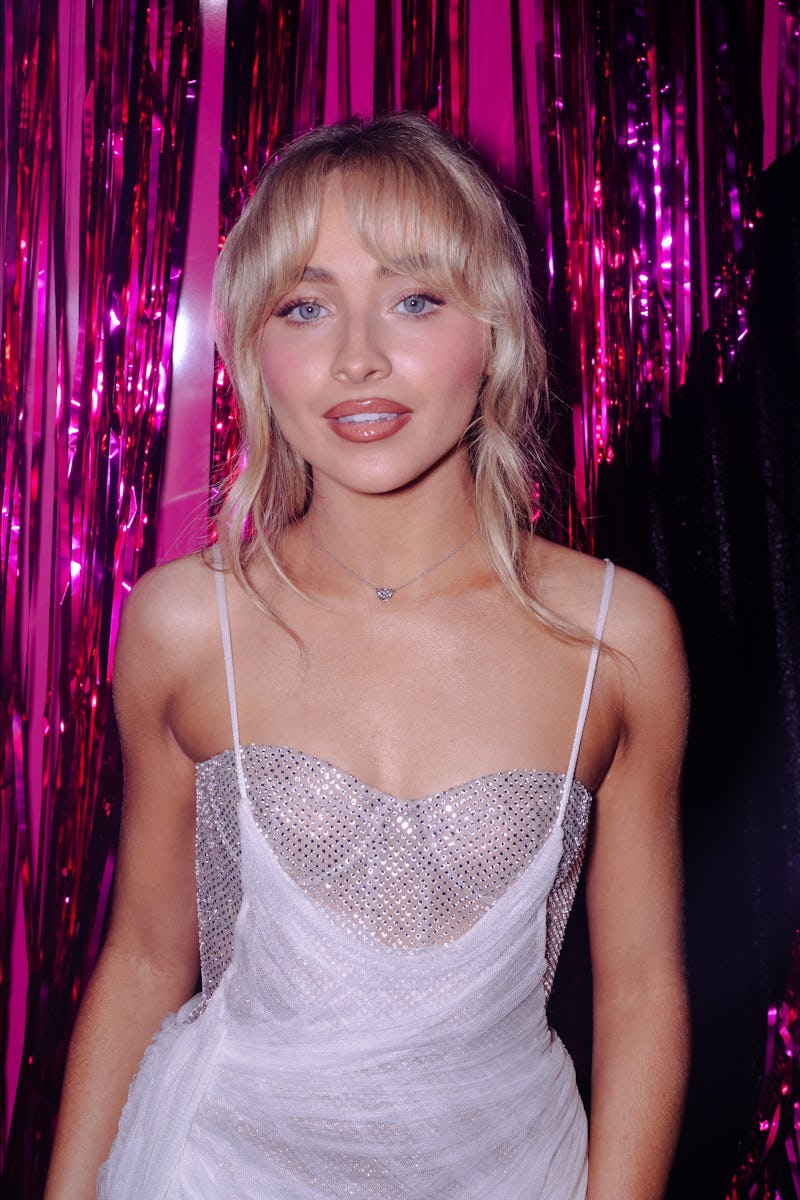 Catherine Powell/Getty Images Entertainment/Getty Images
If you've been seeing extra shiny blonde hair on your FYP, chances are it's a pearl blonde — aka the world's shimmeriest hair color trend with over 194 million views on TikTok. This opalescent hue is a nice change from warmer honey or California blonde highlights, and it has a lot more dimension than your typical platinum.
Pearl blonde quite literally resembles the glow of a pearl thanks to its soft, cool tones and hints of silver, platinum, and pale yellow, says Abby Haliti, founder of Abby Haliti Color Studio. It's achieved by lightening the hair to a pale blonde base before toning it with cool shades to create a delicate, iridescent glow. "It suits a wide range of skin tones and adds luminosity," she tells Bustle.
The flashes of platinum and yellow make all the difference when creating pearl blonde. The color gives strong mermaid vibes thanks to the seashell shade, but it'll look right at home on your head no matter the season — the same way real pearls always feel right. Haliti says you can't go wrong with this eye-catching color, especially since it adds the perfect pop of elegance to your look. Here's how to make it your own.
How To Ask For Pearl Blonde Hair
The beauty of a pearl stems from the fact it isn't all one color but multiple tones swirled together, and that's super important to keep in mind when asking your colorist for the hue. The combo of yellow, silver, and white is what sets this shade apart from other blondes. "It has a slightly deeper appearance and a subtle shimmer," Haliti says. "Ice blonde, on the other hand, is extremely light and pale, often appearing white or silver."
Note that since it's so dynamic, pearl blonde can be tough to achieve. According to Haliti, it involves bleaching your hair, toning it to create the iridescent effect, and then keeping it up with regular maintenance. To learn more about the process, she recommends consulting with your colorist to talk about the best shades and tones to use based on your hair and skin, as well as any damage that might occur if you lighten your strands.
As you talk to your colorist, use key words like platinum, ash, or cool-toned blonde — versus warm or golden blonde — and ask for a toner to neutralize brassiness. Haliti also recommends bringing in a reference photo to show your stylist so they know what you want.
How To Maintain Pearl Blonde Hair
Nothing beats walking out of the salon with luminescent hair. To keep it that way, Haliti says it's all about the touch-up. "Schedule touch-ups every four to six weeks to maintain the color and prevent noticeable root growth," she says. In between, it'll help to wash your strands with a purple or violet-toned shampoo so your hair stays pearly — not brassy.
Since bleached hair is prone to dryness and breakage, Haliti says it'll also help to deep condition, limit how often you shampoo, and apply heat protectant whenever you style your strands. That way, your hair will stay shiny and vibrant — just like a pearl.
Source:
Abby Haliti, hair colorist, world-renowned master of the contemporary European technique of French Balayage, founder of Abby Haliti Color Studio