Adam Brody Revealed What Was Really Happening During His O.C. Spider-Man Kiss
The actor also clarified if he will be making a cameo on Netflix's You.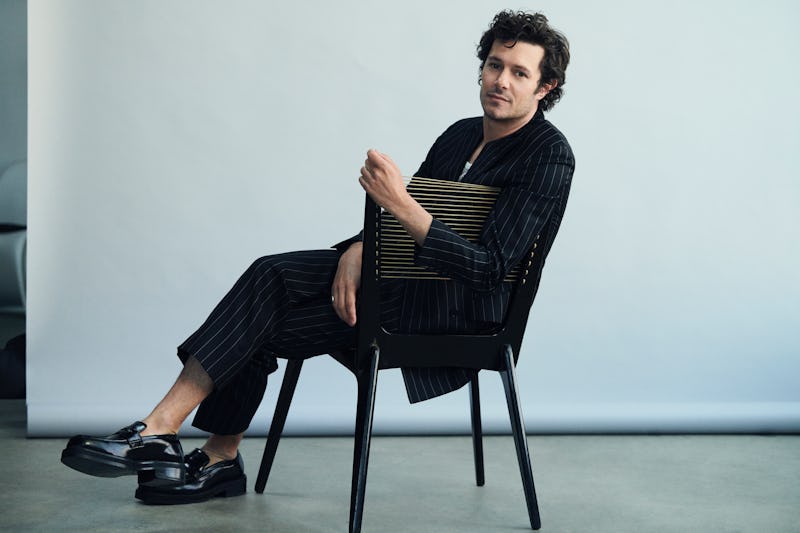 Matthew Brookes
From Scott Speedman in Season 3 to (surprise!) Greg Kinnear in Season 4, You has a track record of bringing mysterious, very attractive dads into Joe's orbit. But is there room for one more in Season 5? In a new interview with Inverse, Adam Brody addressed whether or not he planned to make a cameo on the Netflix series at Penn Badgley's request. The actor also shared surprising new details about what happened behind the scenes of his Spider-Man kiss on The O.C.
But first, he denied getting a You cameo request from Badgley. "I've never heard of that," he told Inverse. "However, [Badgley] did text Leighton [Meester] recently to ask if I would do his podcast, and I said yes."
Meester, of course, is married to Brody and starred on Gossip Girl with Badgley — so it makes sense the You star would use that mutual connection for some creative networking. Brody was surprised to hear the report that Badgley wanted him on You, though. "To my knowledge, that never... I don't know, I'll have to talk to my wife," he said.
The possible source of confusion could be Badgley's recent BuzzFeed interview, where he indeed said Meester was the last Gossip Girl co-star he texted. "[I was] trying to get her husband on my show," he said. It seems that by "show," he might have actually meant his podcast, Podcrushed, and not the series where he plays a serial murderer with a relentless internal monologue.
While it may not be a You cameo (we can keep dreaming, though), an appearance on Podcrushed would definitely be a natural next step for Brody. The show defines itself as "the podcast where Penn Badgley reads your middle school story," and several of Brody's recent roles have ties to adolescence — like The Kid Detective or, more recently, 2023's Shazam! Fury of the Gods, where he plays the grown-up, superhero version of Jack Dylan Grazer's Freddy Freeman.
Speaking of superheroes, Brody also touched on his iconic Spider-Man kiss from The O.C. in Inverse's interview. As it turns out, the scene wasn't quite as romantic to film as it was to watch. "I really liked the director, and we got on well," Brody said. "But one time, he left me hanging up there a little longer than I thought. And I remember just feeling mad, because I was powerless. And all the blood was rushing to my head. And he was like, 'We're gonna go again.' And I was like, 'Put me down.' And he didn't."
For more on Adam Brody's latest superhero movie, read the full "Adam Brody Lets The Muscle Suit Do The Work" cover story on Inverse, written by Ira Madison III and shot by photographer Matthew Brookes.
Top Image Credits: Rhude suit, AMI tank top and shoes, David Yurman ring