Twitter Is "Heartbroken" As Adele Cancels Las Vegas Residency In Tearful Post
Adele shared a tearful update about her shows on Jan. 20.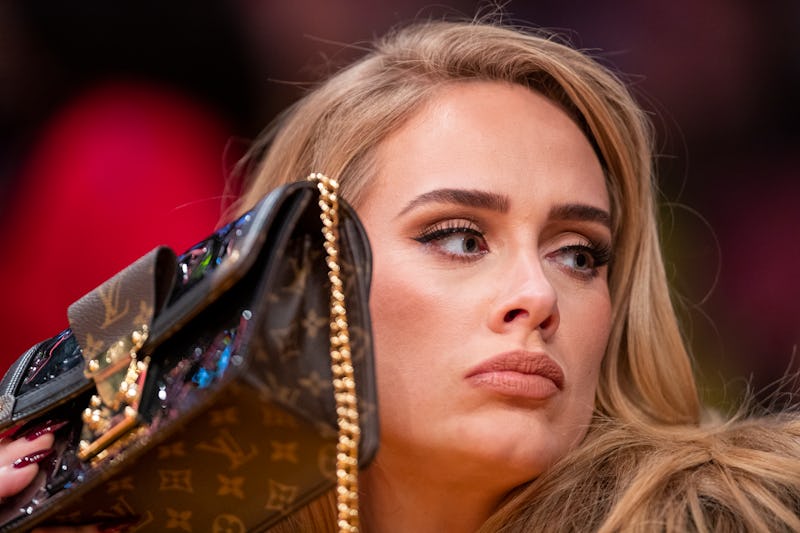 Allen J. Schaben/Los Angeles Times/Getty Images
Following her electrifying celeb-packed Adele One Night Only CBS TV special and ITV's An Audience With Adele this November, Adele announced she was finally set to perform her 30 tracks for normal people with a 2022 Las Vegas residency called "Weekends With Adele." However, devoted fans who scored the coveted tickets will have to wait, as Adele just announced the shows have been postponed and cannot go on at this time.
Taking to Instagram on Jan. 20, the star tearfully shared, "I'm so sorry, but my show ain't ready. We've tried absolutely everything that we can to pull it together in time and for it to be good enough for you, but we've been absolutely destroyed by delivery delays and COVID." She continued, "Half my crew, half my team are down with COVID — they still are — and it's been impossible to finish the show."
Saying her team has been awake for more than 30 hours trying to figure out solutions, Adele added, "I can't give you what I have right now, and I'm gutted. I'm gutted, and I'm sorry it's so last minute ... We've run out of time and I'm so upset and I'm really embarrassed and I'm so sorry to everyone who has traveled, again. I'm really, really sorry. I'm really sorry."
While this was clearly a tough decision for Adele, she is prioritizing everyone's safety and the integrity of her shows. However, as with most celebrity decisions that affect the fans, there has been backlash to the postponement of Adele's shows. "Super bummed that Adele has postponed all of her shows in Las Vegas. I've already spent $1200 between airfare, hotel, and the concert tickets. Not to mention vacation time from work," one fan wrote on Twitter. While another said: "It's a slap in the face."
On the other hand, fans and celebrities alike have taken to social media to publicly support Adele after she made the announcement. "Sweetheart, I have been there," singer P!nk wrote under Adele's Instagram post. "The pressure is immense and I'm gutted for all of you. It will come together and it will be amazing when it does."
"Good for you being honest and open about it," added Adam Lambert. "I'm sure the show is well worth the extra wait. Sending a big hug." Also on Twitter, CW news anchor Brandon Pope wrote: "I respect that Adele only wants to give a show that is her best effort for the fans. And you can tell she is really pained by inconveniencing people. Wish more artists showed heart and empathy like this when canceling shows. Adele has nothing to be embarrassed about!"
Elsewhere, there has been an outpouring of support for the star over social media, with some fans already in Las Vegas planning to sing 'Hold On' outside Adele's hotel in an effort to show support and "cheer her up".
Still, there's hope for those who were ready to see the singer live. Toward the end of her video, Adele said she is working to reschedule the residency and "get it to where it's supposed to be." She didn't share when fans might be able to join her in Vegas, but with the omicron variant looming, plans can change quickly.
Adele's Las Vegas residency was supposed to launch on Jan. 21 and continue until April 16. Within that timeframe, she would've performed two shows each weekend. Tickets went on sale via Ticketmaster's Verified Fan program in December and sold out almost immediately. As Rolling Stone reported in 2021, if presale ticket demand ended up being "too high," general tickets would not be available to the public for purchase. Of course, the ticket demand was through the roof.
Amid the initial Vegas residency rumors, Adele told the magazine in November she didn't "want anyone coming to my show scared" due to ongoing public health concerns, and she refused to get sick with the virus either. In fact, her performing almost wasn't going to happen because, as Adele put it, "there's f*cking nothing available."
This article was originally published on Jan. 20, 2021
This article was originally published on