Aniela Gumbs Shares The Advice She Got From Ellen Pompeo On Grey's Anatomy
In her role as Meredith and McDreamy's child, Gumbs represents nearly a decade of Grey Sloan history.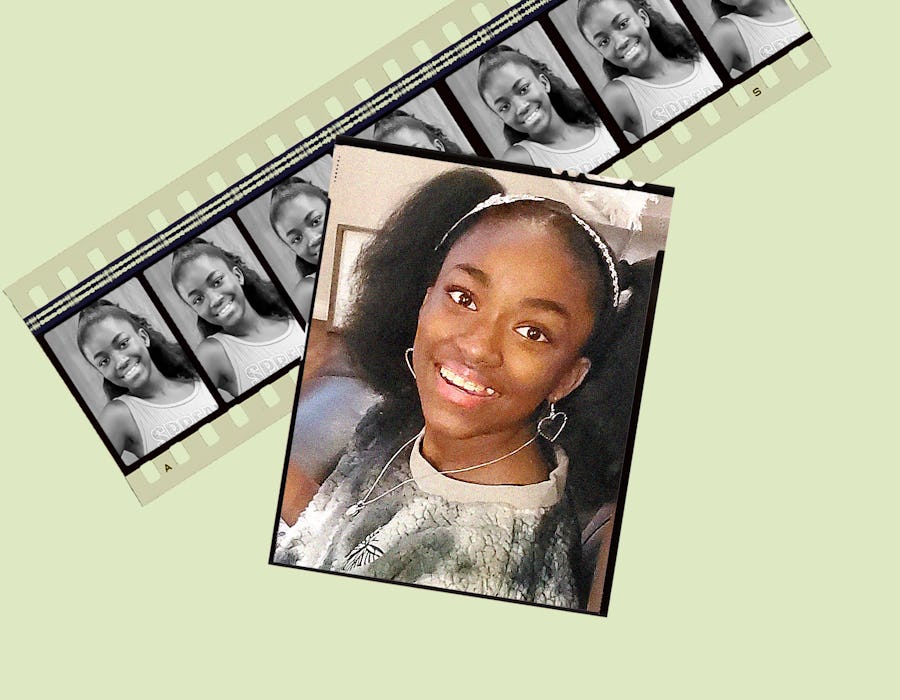 After countless near-death experiences, Meredith Grey is finally trading Seattle for a new — and hopefully safer — coast. While Ellen Pompeo has long hinted at leaving Grey's Anatomy, it finally became clear how her character would step back from the show when her daughter, Zola, experienced panic attacks that prompted a move to a new school for gifted students in Boston.
But Grey's fans needn't worry about missing Meredith and her family for too long. "There's more to come," Aniela Gumbs, who plays Zola, tells Bustle, though she was tight-lipped on details. Gumbs, 14, hopes this change ushers in a new era for Zola and her family. "It can grow my character, in a sense," she says. "Because if she's moving away, it can make [her] responsible for more things."
The cross-country move marks the end of a chapter for Gumbs, who joined Grey's when she was six years old at the end of Season 11 in 2015. She was immediately thrown into some serious material: namely, the aftermath of Derek's death, and Meredith's life-threatening pregnancy complications that forced Zola to act fast to save her mom in her first episode. "When I was walking out the ambulance with my little brother and looking at my mom — that was my favorite," Gumbs says.
Technically, Gumbs' journey to Grey's started way before that. Her dad, Richard Gumbs, is a TV producer, and she would visit sets with her mom, Gena Sexton Gumbs, to watch her older brother on his own acting jobs. Remember Wallace, Arizona's 10-year-old patient who died, which led his parents to donate $25 million to the hospital in Season 6? That would be Gumbs' brother, Khamani Griffin. So when Gumbs herself caught the acting bug, it's fitting that Grey's became her onscreen home. "This was actually the first thing that I got," Gumbs says of the pivotal part. "And it just exploded."
Today, she credits Pompeo for giving her acting advice. "Sometimes in between scenes, she would give me tips on how to be present or in the moment," she says. "And that really helped me throughout all the seasons that I've been in." Gumbs is also aware of the fan theories floating out there, like the one where the whole show is Zola reading her mom's journals after she gets Alzheimer's, as Meredith did with Ellis. Gumbs doesn't personally subscribe to that theory, but she's all for Zola and her siblings becoming surgeons. And, yes, she'd "absolutely" be down to play the part.
While Gumbs' relationship to the show is different from fans' in many ways — she's one of a select group of people who can actually call Meredith Grey "mother," and mean it — it's also the same in one crucial respect: she knows the pull of a Grey's crush. "I really like the guys," she says. "Jesse [Williams], Jason [George], and Scott Speedman. You know, teen girls, they like guys and everything. But they're foine. Like, fine!"
Learn more about Gumbs in her Bustle Booth questionnaire below.
In The Bustle Booth
What's your coffee order?
I don't have one.
What are the saved weather locations on your phone?
North Hollywood, Hawaii, San Francisco, and Virginia
What's your sign?
I don't believe in astrology.
Favorite overused movie quote?
"With great power comes great responsibility." - Spider-Man
What was your favorite cartoon as a kid?
Tom and Jerry
What's one movie or TV show you're currently obsessed with?
I'm more of a YouTube watcher.
Who is your celeb idol?
Debbie Allen
If you had to be on a reality TV show, what would it be?
Kids Baking Championship
Go-to karaoke song?
I've never done karaoke.
What's something that's inspiring you lately?
Academic excellence. I've gotten all A's through middle school so far, and I want to continue.
What is something you would want people to say about you?
"Wow, she's a phenomenal actress!"