Anna Nicole Smith's Family Members Appear In A New Netflix Documentary
In Anna Nicole Smith: You Don't Know Me, several relatives reflect on the starlet's life.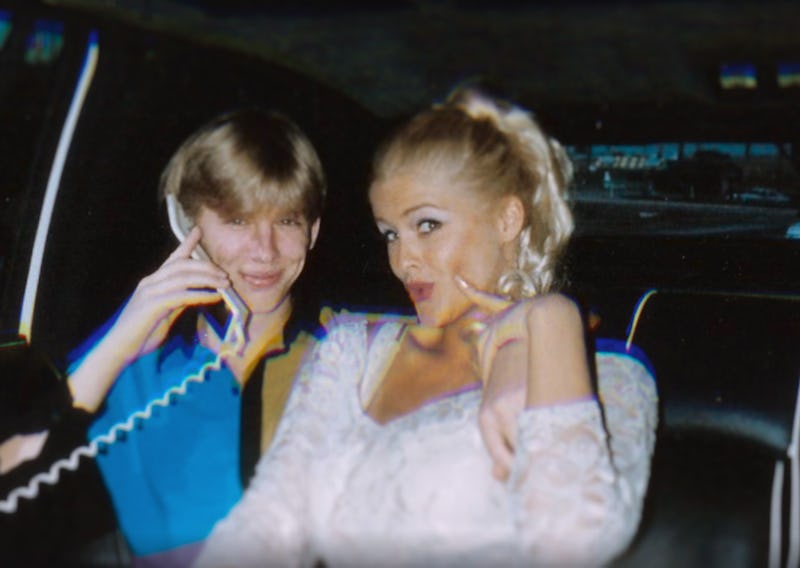 Netflix
Content Warning: This piece discusses sexual assault allegations.
Netflix's new Anna Nicole Smith documentary, Anna Nicole Smith: You Don't Know Me, the Texas-born starlet's life is revisited through a modern lens. "I feel like many previous books and films about Anna Nicole twisted her narrative, so I felt fortunate to have access to a wealth of audio and TV interviews including personal phone calls that involved Anna Nicole," director Ursula Macfarlane told Netflix. "I really feel like she is telling her own story in her own words. And with the contributions of people in her life who genuinely knew her, I feel that we've been able to get closer to her truth."
The people interviewed for the documentary include Smith's family members. Below, a recap of the relatives you'll meet (or hear about) in the new Netflix doc.
Anna Nicole Smith's Uncle, George Beall
In an archival interview that opens the documentary, Smith reflects on her childhood and says she spent most of her time with her aunt "because of [her] home life." George Beall, her uncle by marriage, is the first family member interviewed in You Don't Know Me. He says he nailed Smith's windows shut to prevent her from sneaking out to meet with an older man. "She hated Mexia [her hometown]," he says. "Ours was a life of deprivation."
Smith married (and later divorced) her co-worker at a local restaurant, Billy Smith — and they had a child, Daniel. "She had big dreams ... but she couldn't see where all of this was going," George says in the documentary. "We miss her."
Anna Nicole Smith's Brother, Donald Hart
Smith's younger brother, Donald Hart, is also interviewed in the documentary. He recalls going to church with Smith (then called Vickie Lynn), and says his sister always made him laugh.
Later in the documentary, Donald refutes his sister's claims that their mom abused Smith. "My mother was a very sweet, loving person," he says.
Anna Nicole Smith's Brother, Donnie Hogan
Donnie Hogan is Smith's brother from her father (Donald Hogan)'s side of the family — and she didn't connect with them until she was in her 20s. In the documentary, Donnie recalls Smith reaching out to him and his dad via private investigator. Later, they went to Disneyland and Smith's Playmate of the Year party together.
However, Donnie says he was compelled to tell his newfound sister that their dad was a "monster," and alleges that Donald Hogan once raped his wife's sister. "I wanted Vickie to know the truth," he says. "My father is not the type of guy you want to be alone with … you're not gonna feel safe."
Anna Nicole Smith's Father, Donald Hogan
In the documentary, Smith's friend, Missy, alleges that Smith claimed her father tried to rape her. Donald Hogan has passed away, but the producers ask Donnie about the allegation on camera. At first, he doesn't believe it. "That would be like him. But is it true? It couldn't be," he says. "I was there every step of the way. But you know what? I wouldn't put it past him."
Donnie then acknowledges: "I guess I wasn't there all the time, so it could be true."
Macfarlane told The Hollywood Reporter this was a "tricky" allegation to approach in the documentary. "Getting these things right is difficult, but we felt he ought to know because we wanted to know his take on it," she explained — adding that "it felt too important to not include."
Anna Nicole Smith's Mother, Virgie Hart-Arthur
Smith's mother, Virgie Hart-Arthur, also passed away before You Don't Know Me. However, her voice can be heard via archival interview footage throughout the documentary. She claims that Smith told her she liked to tell sad stories about her childhood, "true or false," because they made more money in the media. Similarly, Missy says Smith's stories of an abusive childhood were taken from her own life. "That was my childhood," she says. "That was exactly what happened to me, and the way I relayed it to her."
According to Hart-Arthur's obituary, she served on the Harris County Sheriff's Department for 29 years.
If you or someone you know has been sexually assaulted, you can call the National Sexual Assault Telephone Hotline at 1-800-656-HOPE (4673) or visit hotline.rainn.org.