Are Colleen & Matt Still Together After Love Is Blind?
Plus, they share what we didn't see of their relationship onscreen.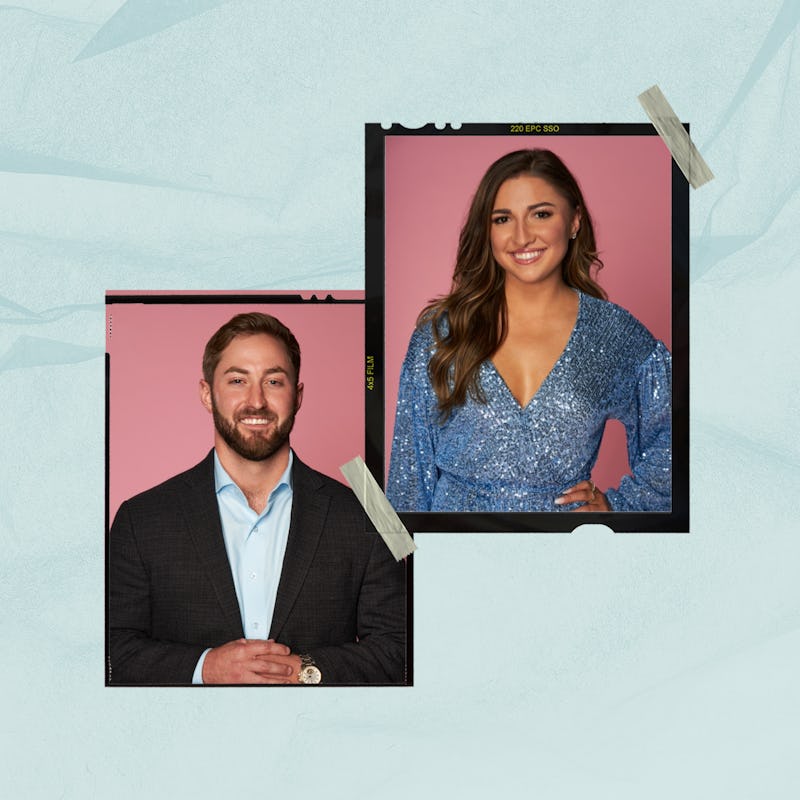 Netflix
Love Is Blind Season 3 was not easy for Colleen Reed, who continually fell for two men who then rejected her in the pods. But they say everything happens for a reason, and in Colleen's case, getting dumped only gave her the space to fall hard for Matt Bolton. The duo left the pods together, and from the moment they touched ground in Malibu, they couldn't seem to take their hands off of one another.
At the cocktail party in Episode 4, they seemed like one of the stronger couples at the time. They clearly had physical chemistry, and their conversation flowed easily. While Colleen bragged to Zanab Jaffrey (who actually ended up with Cole Barnett, Colleen's pod ex) about how good the sex had been, Matt exclaimed over and over again that he was "in f*cking love with this woman."
However, Colleen and Matt's relationship quickly went through some growing pains. In Episode 5, Matt seemed ready to end things with Colleen over a misunderstanding about her conversation with Cole, where the pair said they'd be into each other "in the real world." The pair ultimately worked through that obstacle — but Colleen tells Bustle there's still more to her pool conversation with Cole that we didn't get to see.
"There was a lot of discussion that was actually during that conversation [about how] there's a reason why me and Cole didn't work in the pods ... a lot of the comments that are shown are me [trying] to make a very uncomfortable conversation for me, more light," she says. "And I'm a people pleaser, and I was just trying to be nice." Colleen adds that she's talked to Zanab "countless times" and loves her to this day, so there's clearly no bad blood between Cole's and Matt's respective pod partners.
The couple ran into more drama in Episode 7 when Matt was upset that Colleen went out instead of meeting him at home one night. "Tell me how to stay, 'cause I'm out," Matt told Bartise, who tried to calm him down. He also wondered if the connection he's forged with Colleen was "even real," wondering if their relationship would last outside of the show's "fairytale f*cking land."
By Episode 10, Matt talked out his concerns about marriage with a friend, Reid, sharing his own nickname, "Two-Date Matt." His friend pointed out that his romantic history might have been clouding his judgment with Colleen. "You felt like you were f*cked over," he says, "so why wouldn't you think every little thing is wrong?" He also said if Matt loves Colleen, he should marry her.
That heart-to-heart seemed to do the trick — because by the Love Is Blind wedding finale, which aired Nov. 9, Colleen and Matt both said "I do." During the reunion, they revealed that they don't live together yet. They do, however, stay together at their own residences and are planning to move in together soon. "We got married in an unorthodox way, so we're doing marriage in an unorthodox way," Colleen said. The couple then explained that they were waiting for their leases to end before finding a place together.
Not living together hasn't stopped the couple from settling into their own adorable married routine, though. And despite having a few fights on the show, Colleen tells Bustle that Matt is "the biggest softie" in their relationship today.
"He always talks in this little kind of baby voice to me, and you don't expect that from someone who has such a hard exterior shell," she says. "He calls me his little squirrel ... He really is just the most kindest and softie that I can find."
Matt also tells Bustle that watching Colleen's "nonstop" work ethic has strengthened their relationship even further. "Being there for her to help support her through everything, just learning how hard of a worker she is, has really helped us out as well."
This article was originally published on