Are Jacob & Jill Together After The Bachelor In Paradise Reunion?
Here's where the Paradise couple stands today.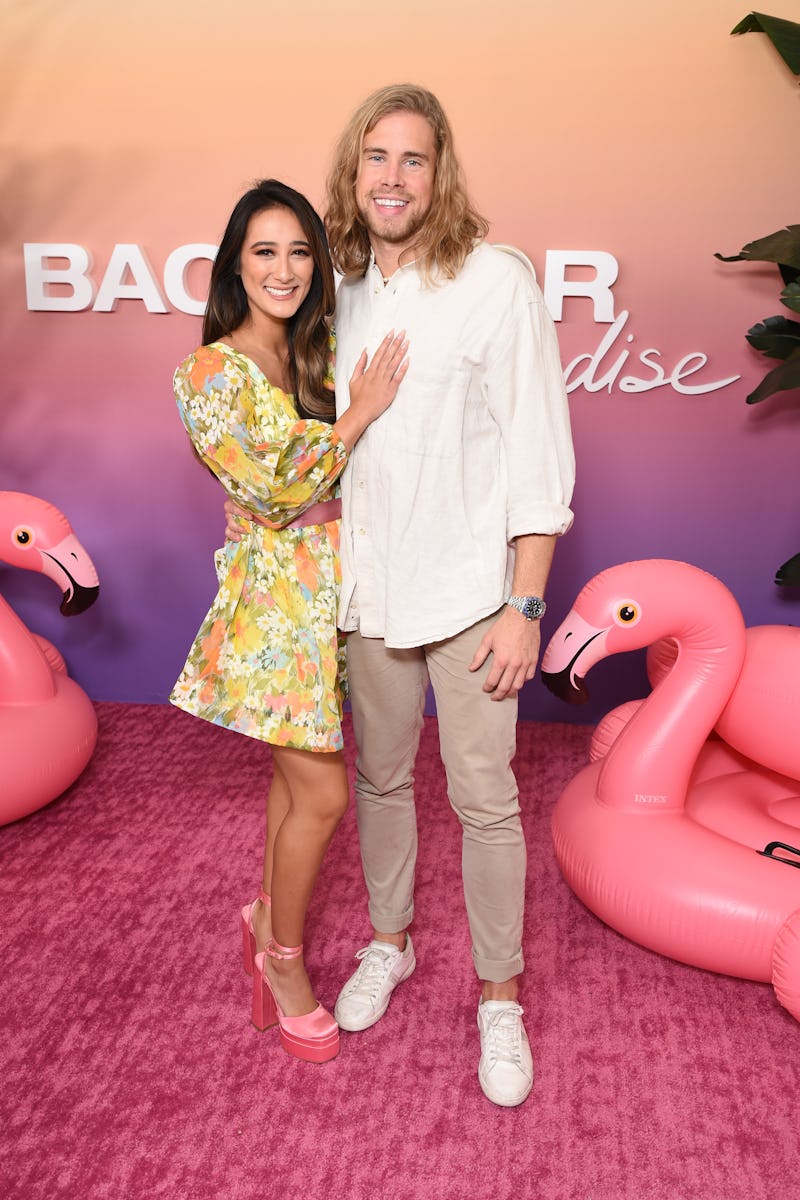 ABC/Stewart Cook
During their time on Bachelor in Paradise, Jill Chin and Jacob Rapini turned out to be one of the show's most memorable (if short-lived) couples. Right after they forged a connection on a very vulnerable one-on-one date, Jill and her fellow Paradise women were sent away from the beach — leading Jacob to explore a potential connection with Kate Gallivan instead. Even though that fling didn't work out, it marked the end of Jill and Jacob's relationship on Paradise. Or did it?
In October, Jacob told Bustle that he and Jill had "very good communication" months after filming. "We call each other a lot," he said at the time. "That's the best part about it, that we can still find that sanctity, that togetherness, even though she's on the East Coast and I'm on the West Coast. We can laugh and talk about what's going on. Even through the breakup [episodes], I'm like, 'Here we go!' And she's just joking around like, 'Oh, you're done.' So we have a really good relationship still."
By the time the Bachelor in Paradise reunion was filmed this fall, Jacob and Jill were in a good place and open to getting back together, too. "As far distance as we are, I think you and I do actually have a real connection," Jacob said during the Nov. 22 special. "I'm open to a relationship with you, if you are."
"I am open as well," Jill responded. The pair shared a passionate kiss before Jacob swooped her up and carried her offstage, Tarzan style. (How else?)
So, are Jacob and Jill together today? Jill appeared on the Dec. 1 episode of Click Bait with Bachelor Nation, and dropped a pretty major update. "The relationship [was a] failure to launch, some may say," she revealed, adding that she had "no other choice" but to end things, though she said she has no "ill will" for Jacob.
"The trust had been broken," she said. "And in a long-distance relationship, you need communication and trust, and we had none of those things."
The split happened "immediately after [Jacob] hard-launched it," Jill said, apparently referring to Jacob's Nov. 23 Instagram post in which he told Jill he was "honored that I can call you mine."
Jill also made her feelings clear with a tweet — quoting her past tweet with Jacob with, "This didn't age well."
This article was originally published on